Pattern: Tea Leaves by Melissa La Barre
Yarn: an unnamed honey colored wool found in the "seconds" bin at a the fair stall of a New York fiber mill.
I've been wanting to make myself one of these for a while now.  Even before I made Little Rosebud hers.  With my favorite cardigan getting more ragged by the day, the conclusion that no one else in the family was in desperate need of anything, a big pile of dirt cheap wool and a long car ride to knit away, the time was ripe.
This has been done for a couple of months now, but is just starting to see regular use in cool mornings and evenings.  Within a month I foresee myself wearing it pretty much constantly.
I had considered adding some crocheted patch pockets, decided against it and am now waffling again.
And, since I never shared the details on the dress I happen to be wearing (though you did get a glimpse of it in one of my Week in the Life posts)…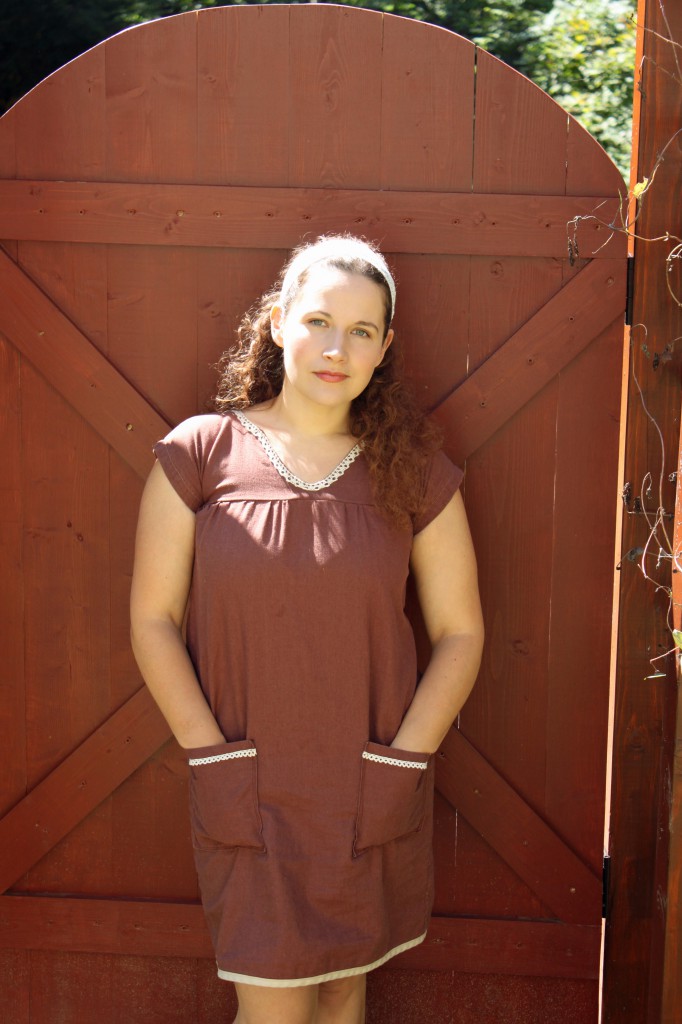 It's a heavily modified dress, more or less based off of the Big Button Dress Tutorial and made out of chocolate brown linen.  I didn't have any fabulous big buttons (for shame!), so I skipped that part.  I also didn't have a zipper of the right size and color.  I gave it a notched neck so that I could slip it over my head, I want to say easily, but that's not exactly true… more like carefully, with much shimmying, but it works.  The top part on my version is fully lined.  Originally I used a decorative stitch on my machine to trim the edges, but I didn't like that at all, so I covered it all with some cotton lace, which I like very much.  And the bottom was trimmed with bias tape because I was feeling lazy and pressed for time and didn't feel like hemming it properly.  I wear it often, but if I were to make it again, I'd add just a bit more length to the top piece to give a little more ease in the arms.  Just a friendly little tip in case someone out there wants to make one as well!