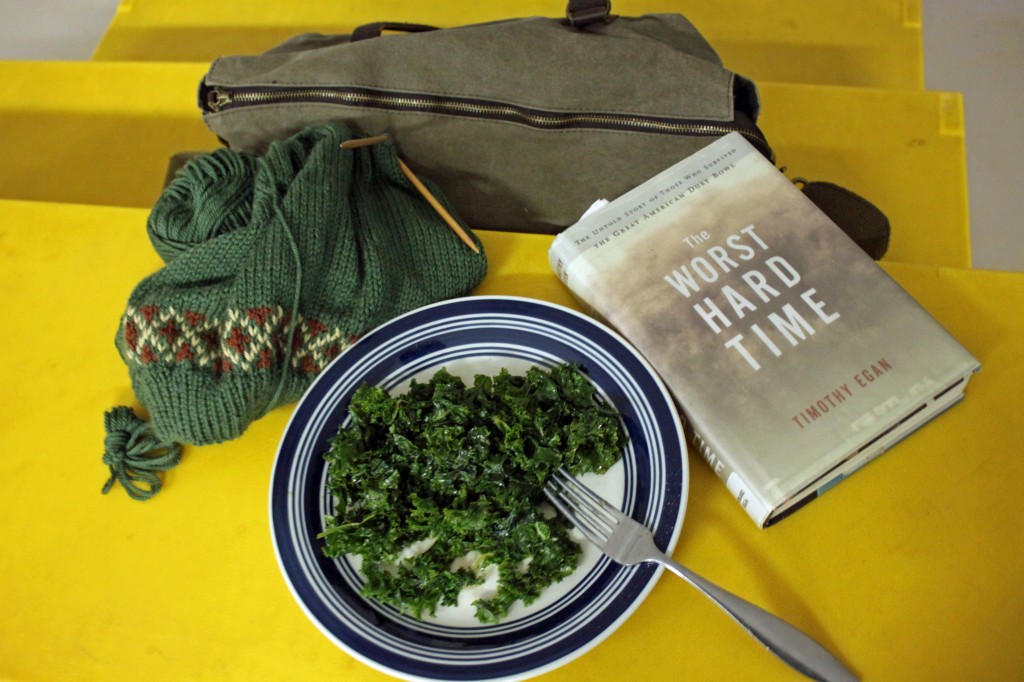 Although Ginny, the creator and "host" of Yarn Along, seems to have drifted away from it, I've always kind of liked that weekly check in of reading/knitting, especially as a way of easing back into blogging after an absence.
There has been a shift in my knitting since I last wrote about it.  I've actually been knitting a great deal, just not posting about it.  My Ravelry notebook is woefully behind.  I've been working on a number of projects for my kids and feel as though I've comfortably settled back into the way things should be.  It would have been better if I was preparing for autumn, but I'll settle for preparing for winter instead.  I'm currently finishing up the last strap on a romper for Seraphina, when I have the patience I'm working in the roughly eight-zillion ends on a sweater for Iain, and I'm well underway with a sweater for Elijah (pictured above).
I'm currently reading Little Britches: Father and I Were Ranchers by Ralph Moody with the book club for adolescents that I run at our homeschooling co-op and  The Worst Hard Time: The Untold Story of Those Who Survived the Great American Dust Bowl  by Timothy Egan with my high-school group.  The upside to leading the groups is that I get to re-read some fantastic books and share them with these children that I adore.  The down side is that it leaves precious little time for me to pick up a new book on my own!
These two actually have a great deal of overlap and relate to each other.  This was not planned, it just happened that way.  Both groups read at a different rate and they just happened to line up.  It's been interesting for me to re-read the two of them together.  The first is the author's memoir of  moving to and working the land on a ranch in Colorado at the beginning of the twentieth century.  It's sort of like the Little House books, only rather harsher.  The second is a collection of information and real-life accounts of the brutal dust storms that absolutely devastated the high plains during the Depression.  Dust storms that were largely due to the settling and plowing up of the prairie sod in places like Colorado, where people where flocking at the turn of the century!  The politics throughout both are just mind-boggling; horrific in many ways and yet somehow not surprising.  Both books are well worth reading and sharing.
I would love to hear suggestions of your very favorite books for the 13-15 year old range!
Save
Save
Save
Save
Save
Save
Save