Two bundt cakes stack bottom to bottom sort of make for a pumpkin shaped pumpkin cake.  We used carrot juice to color the icing and matcha green tea to tint the marzipan.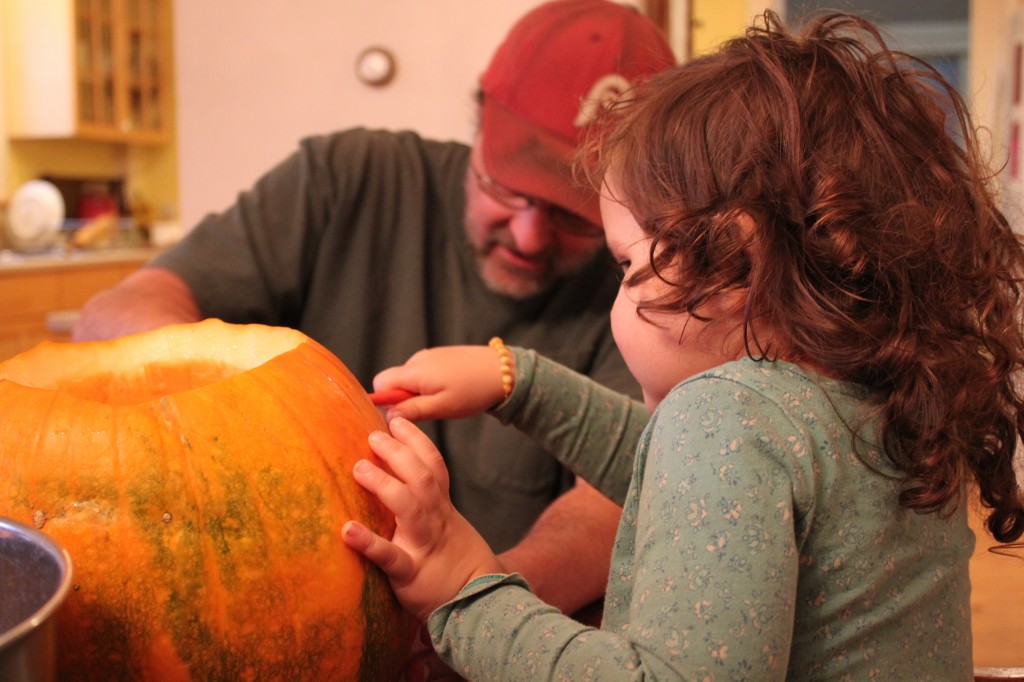 They were adorable, carving a pumpkin together.  She sings happy birthday to the pumpkin every time we light a jack 'o lantern.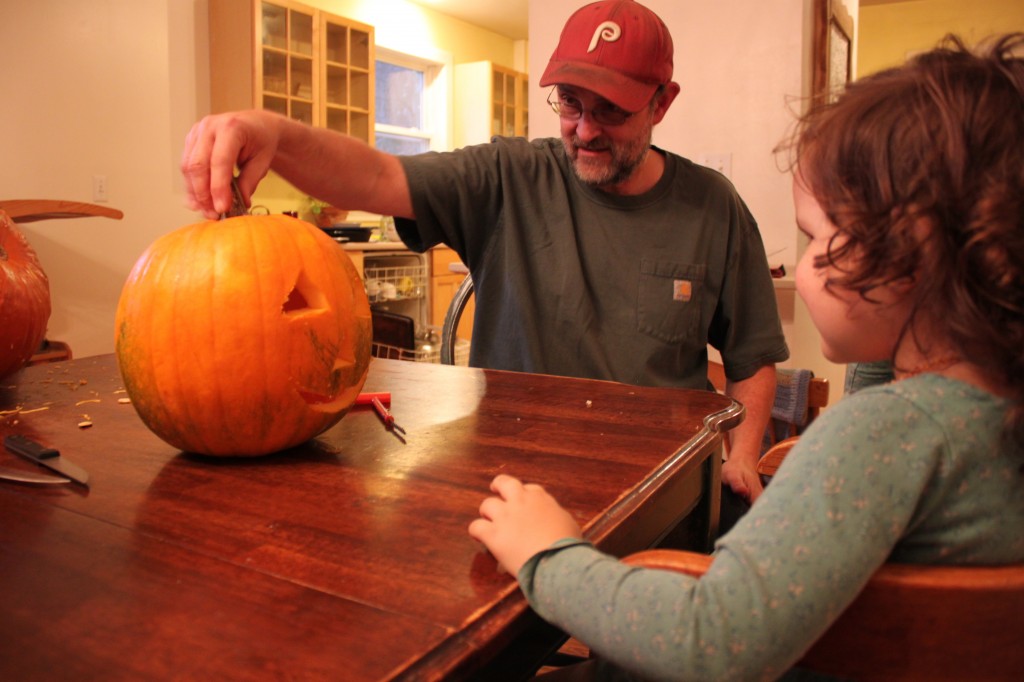 Elijah has started making Halloween costumes for his friends as well.  This is Gandolf the Grey's staff….
and Gimli's helmet…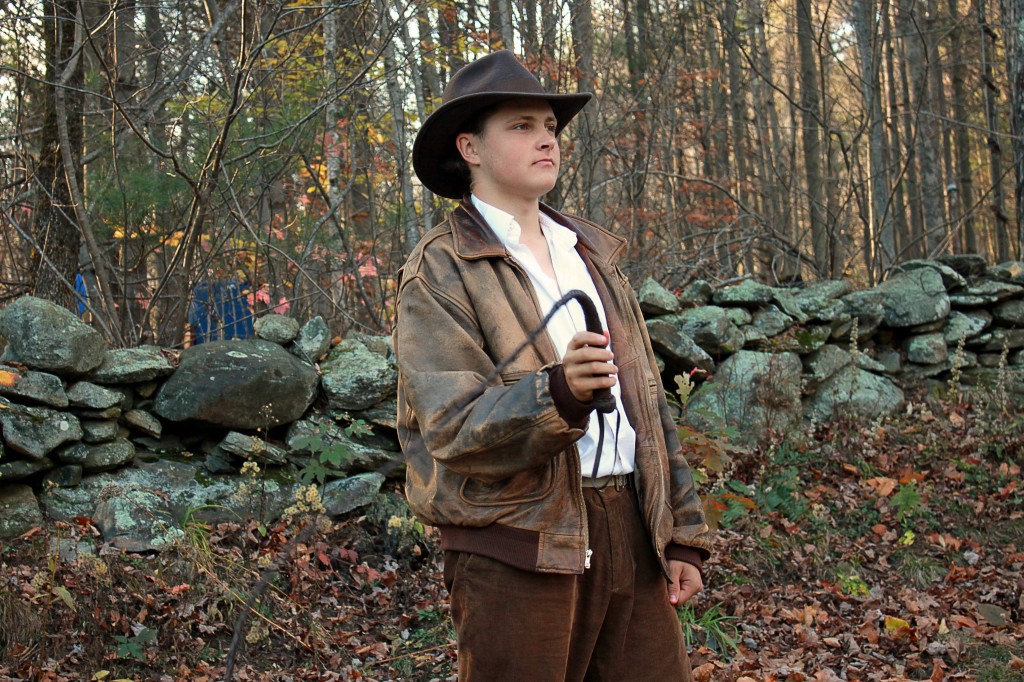 Indiana Jones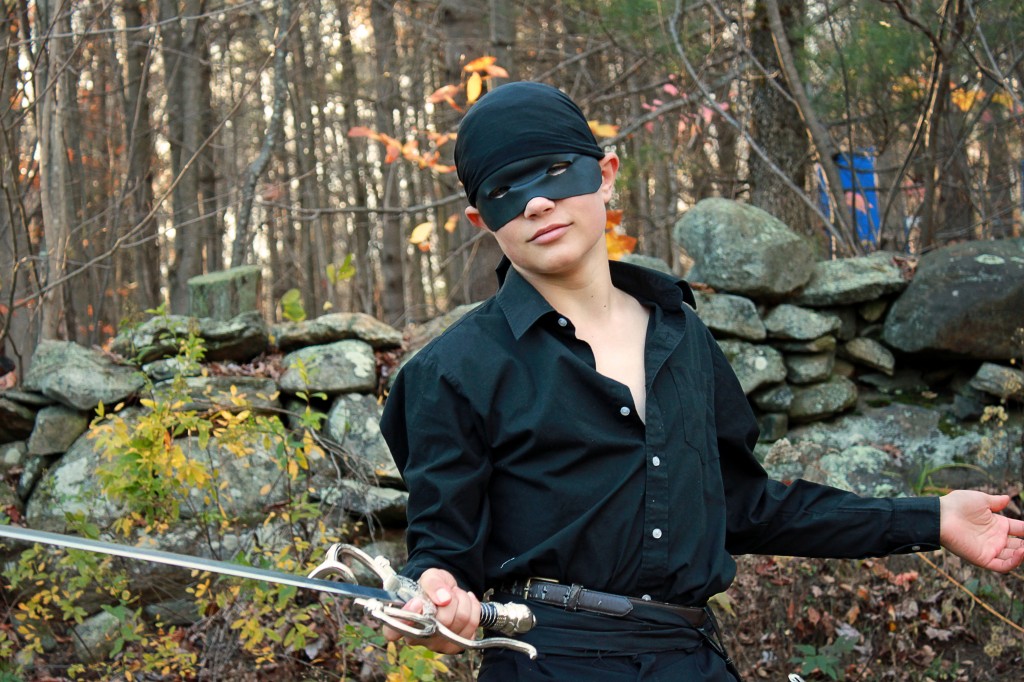 The Dread Pirate Roberts, a.k.a. Wesley
And my darling Anne-girl.
It was really nice of our neighbor's black cat to drop by on Halloween for ambience.
Anne of Green Gables dress details:
I started with the geranium dress pattern.  I used the bodice extension and sash straight from the expansion pack.  I took the straight sleeve from the expansion pack and modified it for the oh-so-important puffs using this tutorial.  I made the sleeves first and she came in to kiss her puffs several times each day.  I took the hem band from the pack and made it 1 1/2 times longer and used that to craft the ruffle at the bottom.  The collar is an actual hand-pieced, antique collar.  After some repairs I added a button and bound button loop so it could be worn, but still remain a separate piece.  The rest is just trim.
   It is brown of course.  Because Mathew bought Anne a brown dress with puffed sleeves.  Mairi Rose was so offended when he gave her a blue dress in the movie!  This was hands-down one of my all-time favorite costumes.  I couldn't stop watching her in it.  She's like a china doll.  And that she picked Anne?  Oh my, well this mama heart couldn't be happier!
This littlest one was seriously too excited to stand still for a picture.  All of these rather poor ones were taken in rapid succession over the course of like 45 seconds, which was way, way longer than she wanted to spend on it.  Which explains why you can't really tell what her dress looks like in any of the pictures.  I'll have to get a better picture of it at some point.  She informed me that she plans on wearing it everywhere so I should have plenty of opportunities!
Ever since we were matryoshkas together two years ago, Seraphina is convinced that we require coordinating costumes, which is how I ended up as a Mama Kitty last year.  And really now, how long is this last baby of mine going to want her mama to wear a matching costume?  Not very long at all.  So I humor her.  This year I was informed that herself, myself, Unicorn, and her doll Milky were all to be princesses for Halloween.  Sometimes I humor her a lot.  I asked her if it wouldn't make more sense for me to be the queen and she assured me it would not.  I was the mama princess and her, Milky and Unicorn where the baby princesses.  End of story.  Yes ma'am.
Seraphina's dress is also a geranium, with the gathered sleeves from the expansion pack.  The only modification I made was to add three large, lace trimmed ruffles in tiers down the skirt.  I was also told that her dress must be pink.  I had other ideas in mind, but set myself the challenge of making it entirely from what I had around the house.  Adjustments were made and this is the result.  She seems happy with it!
My dress is a heavily, heavily modified Darling Ranges dress, altered to the point of no longer being recognizable as such.  Mine was a freebie sew as well.  I found the material at our local fabric swap.  Since I was taking the time to sew it, and I happen to really need clothing, I was trying to make something that she would consider a princess dress, but that I could get away with for everyday wear.  I'm not 100% sure that I've made a success of it, it's awfully red for one thing, but I'm going to see how it works out.
Save
Save
Save
Save
Save
Save
Save
Save
Save
Save
Save
Save
Save
Save
Save
Save