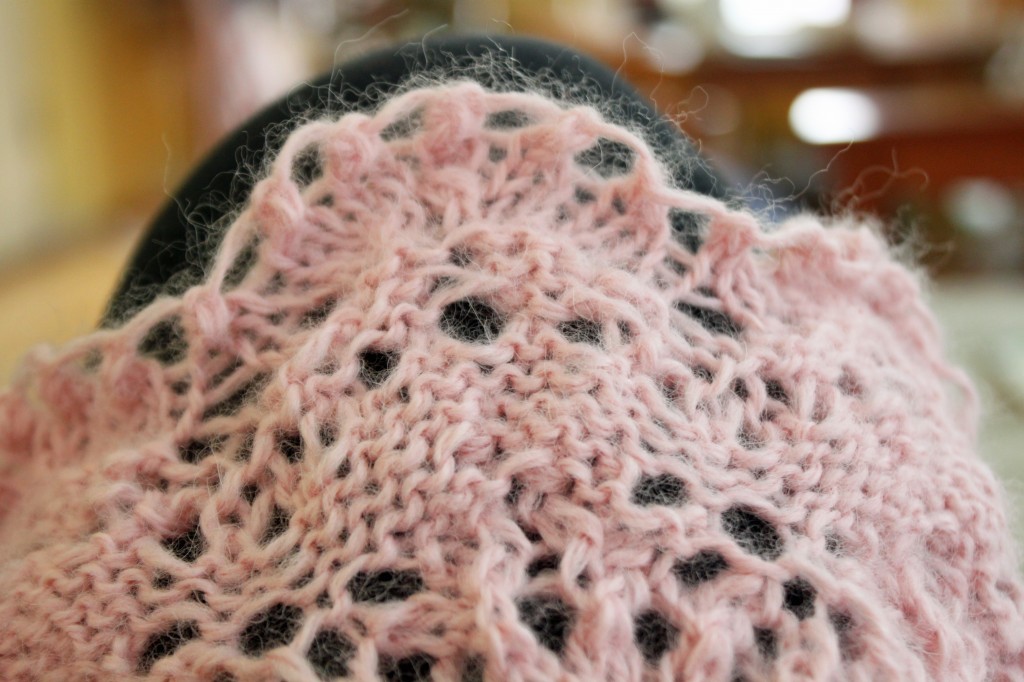 It would be nice to be with a man who wants to know what's underneath my cardigan. FYI, it's another cardigan. ~Amy Farrah Fowler
No, my ideal cardigan is not of pink lace, though this yarn is heavenly…baby soft, both in tone and texture, like knitting wisps of pearly cloud at sunset.
I'm in a period of self examination.  As a mother, do you find yourself over-looking yourself?  I know I do.  I'll put the greatest of care and thought into decisions and purchases for the children and others, but for myself I just take whatever comes my way.  Whatever is easiest.  Whatever requires the least amount of thought and effort.  I'm trying to be better about caring for myself.  If nothing else, I really want to be a better role model for my girls.
A big part of this process seems to be about paying closer attention to the things that I truly love.  It's a little startling to realize that I often don't really know my own likes and dislikes!
For the last, gosh, 20 years or so, I've always had a go-to cardigan.  There are others in my collection.  I do love me a good cardigan- that much I know!  But there is always one that I grab consistently, most of the days of the year.  Sad to say, so far I've never made a sweater that has been elevated to this status.  My current everyday cardi is on it's deathbed; pilling, threadbare and well past being presentable in public.  Which has left me considering the elements of my perfect everyday cardigan…  Grey- my last two were grey, that seems to be a theme.  It has to be fairly washable.  At least half wool, just cotton doesn't cut it.  Not too fitted, but also not too bulky.  Pockets, there must be pockets.  At least thigh length, I think.  Some sort of closure.  Soft.
This pattern was love at first sight.  I think I literally gasped when I saw it.  I really don't know why, but it just felt entirely right.  The only item off my list that it lacks is some sort of closure, which I think can be remedied with a pretty clasp.  Inconveniently for me, the pattern isn't available on it's own, but only as part of a $22 book, which adds a considerable amount to the final sweater cost.  I've tried to convince myself of the merits of other patterns, but this one seems to be the one.
Yarn wise I'm thinking Swish Worsted in Dove Heather.  I really should do Marble Heather or Cobblestone Heather.  They would be more practical.  Sometimes I resent practicality.  I've really been drawn to lighter colors lately, but with five kids, a garden to tend and most of my day being spent in the kitchen….  Still, I really would prefer the Dove.  Do I risk it?  I think it might just be worth it…  It will be a while before I'm able to put aside the money for it, so I have some time to decide.
Are you as cardigan crazy as I am?  What would be your ideal?