Swiss chard and leeks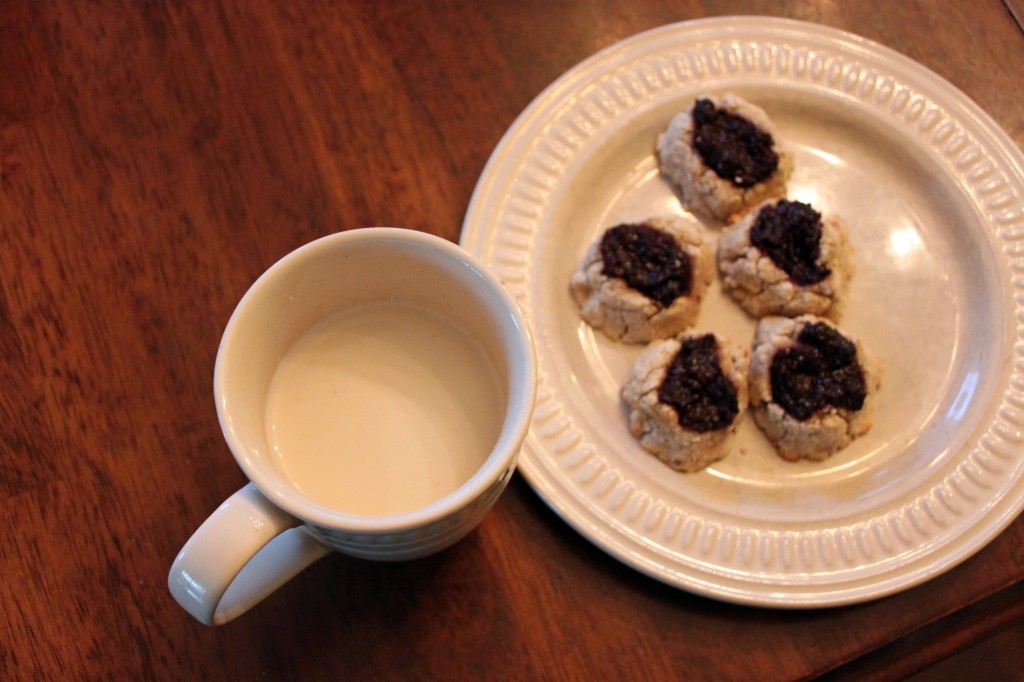 Thumbprint Cookies- we used this recipe.  The recipe is only so-so, but it's fun for each of the kids to be able to mix up their own batch.  We topped them with some of our mixed berry jam before baking and served them with home-made cashew milk.
This month I'm mostly trying to get back on track here; in the kitchen and in life, stepping out of that newborn haze and back into real hands-on, nitty-gritty Life.  I seem to have convinced myself that if I plan everything out just so and am meticulously organized, then everything will go smoothly at all times.  Ha!  As if meeting the physical, emotional, educational, nutritional, social, spiritual needs of 7 people on a daily basis, year in and year out, could possibly be effortless!  But there you have it.  This is the way my brain works sometimes.  The fact remains that it certainly can't hurt to be a little more organized.  With that goal in mind, over the last couple of weeks I've been slowly (very slowly, I do everything slowly these days, hence my usual Monday post appearing mid-day on Thursday…) working on creating a master grocery list.  This is a document that I'm typing up of any and all items that we might buy on a semi-regular basis at various food stores.  The idea being that every week I can print a new one out, post it on the fridge and check off things as we run out.  Also having everything right in front of me will hopefully help with my constantly forgetting little odds and ends, resulting in extra shopping trips.  I will see all the possibilities right in front of me, and therefore (hopefully! fingers crossed!) be reminded.  And as a side benefit, poor Steve won't have to try to interpret my hand writing, which isn't the best to begin with and these days is mostly done on a book, balanced on my knee, while trying to contort around a nursing babe….a situation that is not likely to improve it's quality.
My other project is to get back to meal planning.  Somehow I fell out of this habit and we were really so much better off when I was keeping up with a seasonal meal plan.  You can read more about my meal planning process here.  I'm also looking to update our breakfast menu for the season, but feeling rather uninspired on that front, so suggestions are welcome!  Thus far we've switched out our hot cereal for a lighter and cooler grain-free granola.
Also on my mind this month is getting the garden off to a good start.  The couple of photos above are from syrup making this year, because really that's our very first harvest of the growing season.  It wasn't the best year, between the strange weather and the timing.  We sugared off once at the very end of my pregnancy.  Seraphina's first trip outside was to sit fireside during the day long process of evaporation.  Followed by one more somewhat disastrous attempt right before Easter.
The garden is coming along.  Largely thanks to the efforts of the older children.  Though something ate many of our starts, while they were still inside (!).  That was a completely new one for me.  I still have no idea what got to them.
Expect posts this week by: