Bread birds ~ We used this recipe for the bread
It's finally starting to feel a bit spring like here.  We've had some warm days.  Slowly, slowly, slowly there is a bit of work and a bit of growth happening in the garden.  The weekend before last we planted a couple of trees, including an apricot for Seraphina.  Steve brought home a whole tray of various violets and her brothers and sister planted them all beneath her tree in the warm spring sunshine.  It snowed two days later because that's the way spring is here…give and take, back and forth, really almost right up until summer when the steady warm weather truly settles in.  The pansies and violas made a cluster of little snow mounds under her tree.  The patch of wild ginger that Galen and Mairi Rose planted didn't fair well under the snow.
We hung swings in the front yard.  Just four of them for now, dangling from beams of wood, strung from tree to tree.  We did this once before, at our old house, the Easter that Galen was a baby.  Rosebud excitedly told me that all we need is a slide and it will be just like we have our own real playground.
It was all the rage to try to extract the treats from your Easter basket as though you were a horse.  This is perfectly reasonable behavior, yes?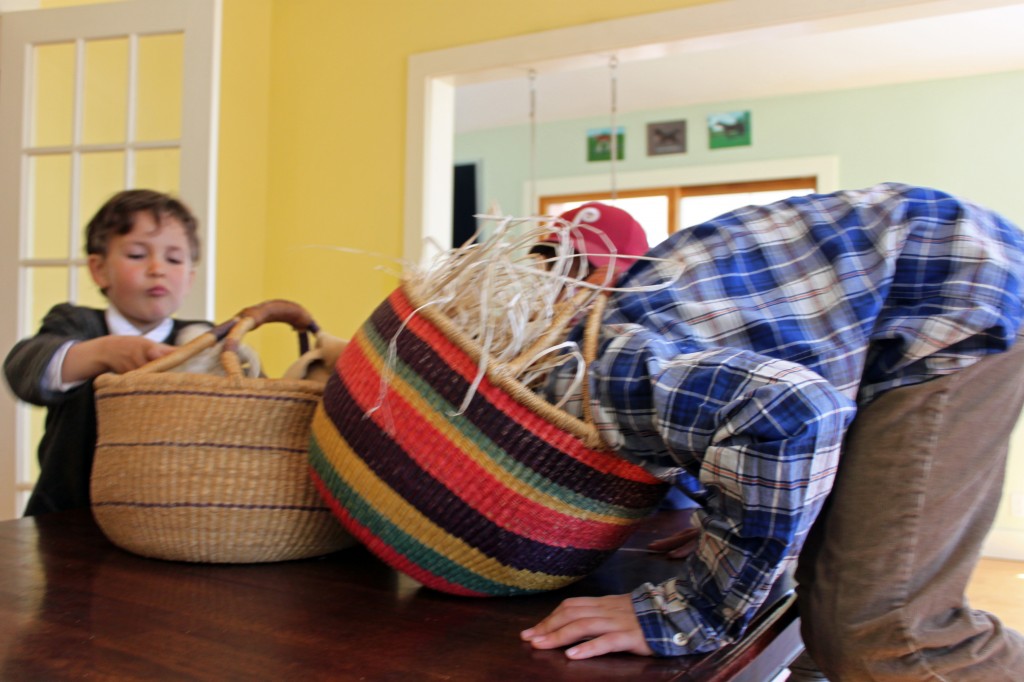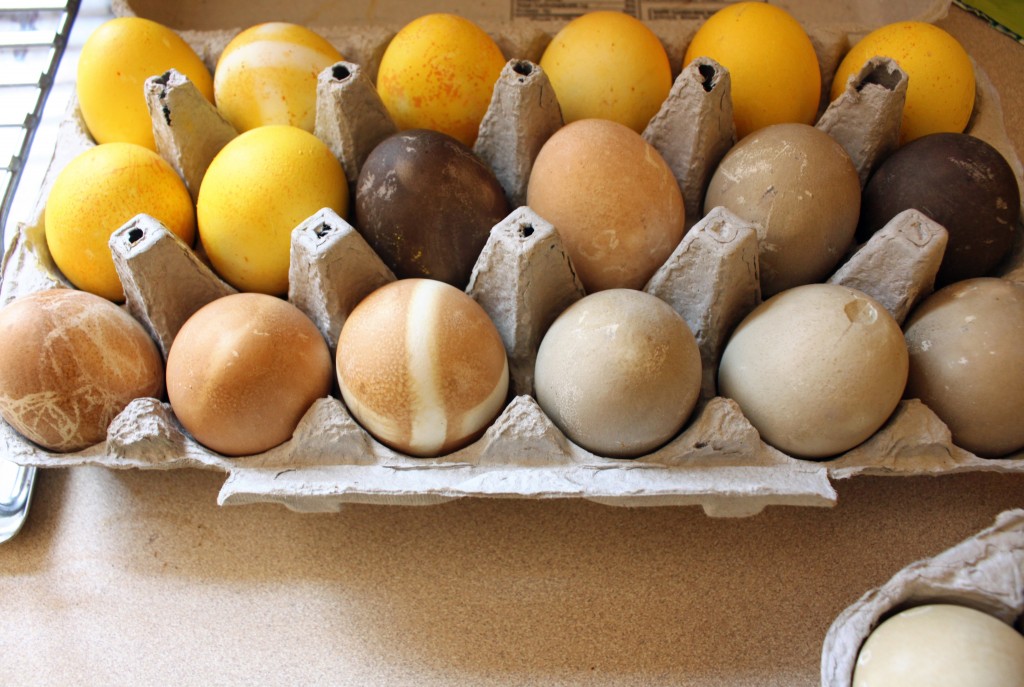 We ended up with some strangely colored eggs this year.  We didn't have our usual dye stuffs on hand so did some experimenting.  If anyone is looking to make grey eggs, we unwittingly discovered about 4 different options for you.
Baby girl received a new Easter bonnet and such a rosy-posy, kissable little dumpling was she.  She has officially been sick more than half her life at this point.  Just a little cold really.  Unless you happen to be a very tiny person with a very tiny nose, in which case it's a pretty big and overwhelmingly miserable thing.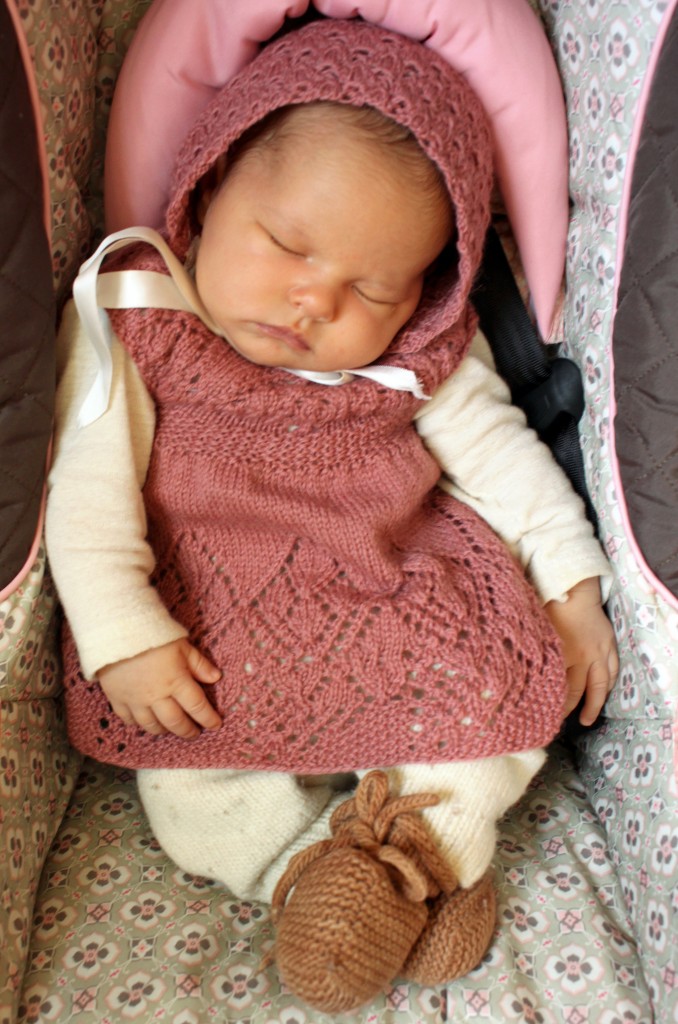 Sunday was glorious, with the temperature hovering around 60.  I spent a lot of time trying to convince my children that this does not constitute "swelteringly hot" nor "scorching hot", neither is it justification for a water fight to keep them from "dying of heat".  They wholeheartedly disagree.  I'll happily keep my sweater on, thank you.  After the egg hunt the Papa Bear and boys started up a game of wiffle ball, while Mairi made sand cakes, complete with real birthday candles, on the sidelines.  In between games they pitch to her and let her hit a good many balls before going back to their play.  My sister and I sat field-side; watching, knitting (both of us) and nursing (just me).  Her making an ascot with a pretty leaf pattern at the ends, me going back and forth between a cardigan for me and Elijah's birthday sweater, depending on how free my hands were at the time.  Wiffle ball morphed into football, with Steve on his knees in the end zone, and teammate Galen jumping joyously into his arms.  After a very long while we decided to go for a walk, just to the edge of the woods, where the water was rushing and falling under and around the path and the kids settled in to game after game of "Pooh Sticks", before heading home for dinner.
Our neighbor brought us over some beautiful Pysanky.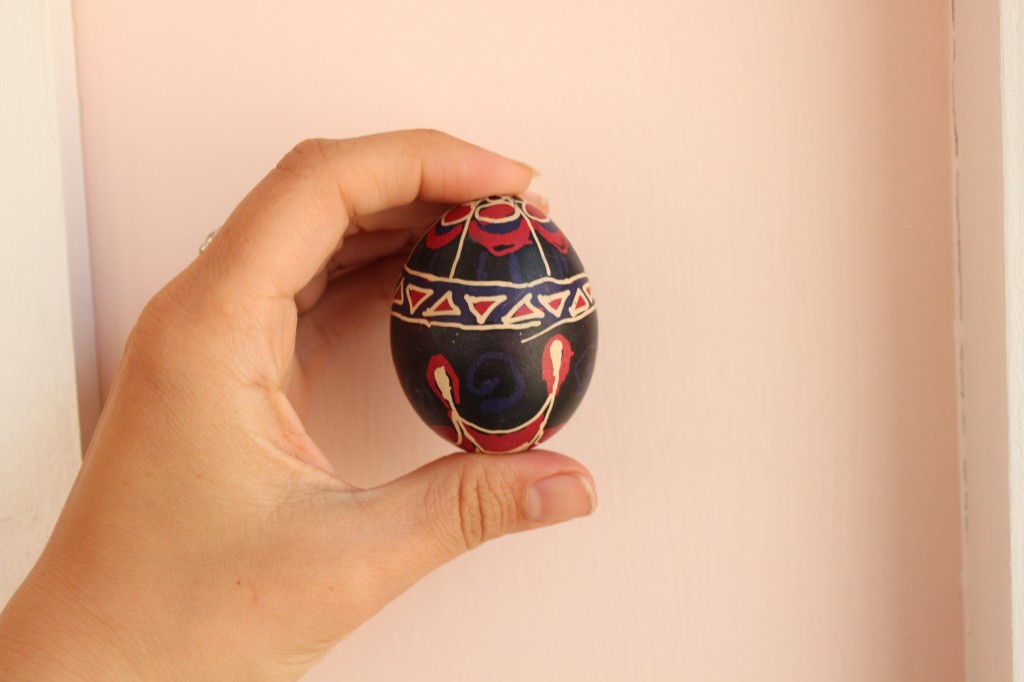 This blue and orange one was painted specifically with blessings for Seraphina in mind.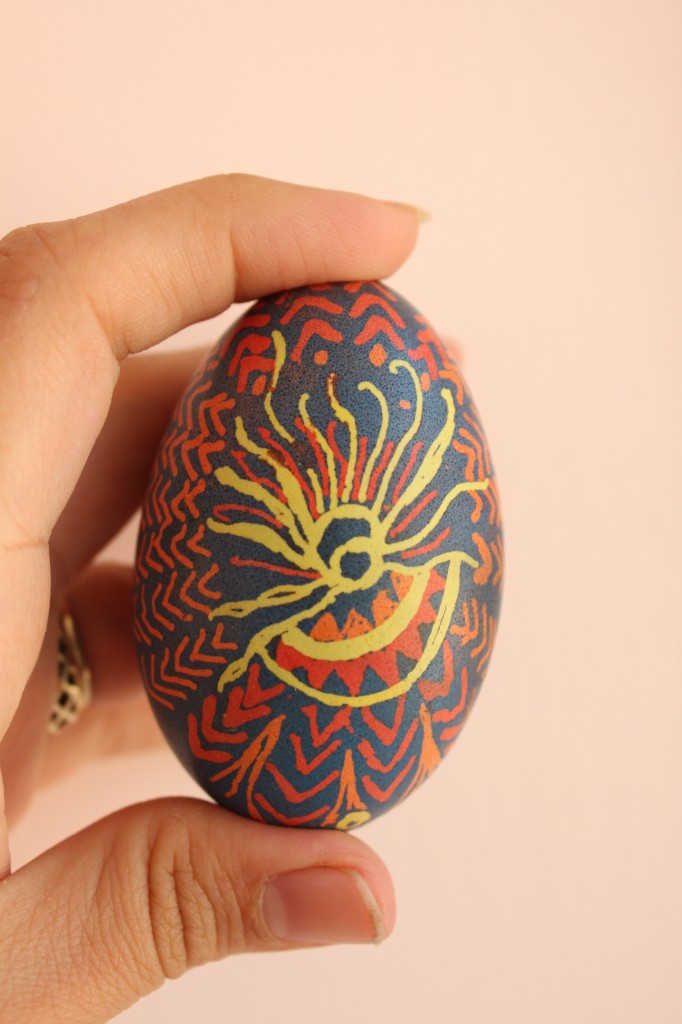 Wasn't that a lovely gift?