When Iain was born there was just the two of us to feed and absolutely zero thought was given to planning food for the postpartum period.  Steve would come home with plastic cups full of prepared fresh fruit salad from the grocery store and we'd eat baked potatoes and pasta in bed and I don't believe it felt like a strain at all.
By the time Elijah came along I had made some serious dietary changes.  Our kitchen life wasn't quite so easy anymore.  We had just moved and the situation over-all wasn't ideal.  It was really Steve's first time caring for Iain alone and I think that was kind of over-whelming.  It's not that he wasn't an involved father before, he's always been that.  It's just there was no real need for him to be involved in the day to day caring aspects.  He would come home from work and everything would be under control.  There might be a couple of dishes to do, but otherwise he was free to devote his time to playing with and reading to our little guy.  This time around things felt stressful.  We ate a lot of prepared food the first couple of days, that did not do well by our bellies and I really felt pressured (not at all by Steve, just by the situation) to be back to "normal" much sooner then was reasonable and I seriously paid for it health-wise.
I was ill for much of my pregnancy with Galen and very worried about being able to care for everyone after.  With the memory of our last experience in mind I went manic- Type A and prepared a binder full of several weeks worth of food schedules.  Every possible detail was in there, right on down to how to prepare the herbal baths and infusions from the blends I had made during my pregnancy.
With Màiri our life circumstances were such that I couldn't have possibly done anything in advance to prepare.  Every day was full to overflowing with just the tasks that needed to be accomplished to survive that day.  Luckily we had a wonderful community around us that organized around 3 weeks worth of home-cooked dinners for us, for which I will be forever grateful.
And here we are again, with more dietary restrictions then ever and more mouths to feed.  We have no real community nearby to speak of at them moment.  From the beginning I've felt that I would need to be really thoroughly prepared if things are to run smoothly after the baby comes.  And I thought the timing of this post would be just perfect because by the beginning of March, surely I would have just about everything in order.  While I'm not truly expecting this baby anytime soon (I tend to have very long pregnancies), the fact is we're at the point where any time is fair game.
And so, as of yesterday this is what I had to share with you….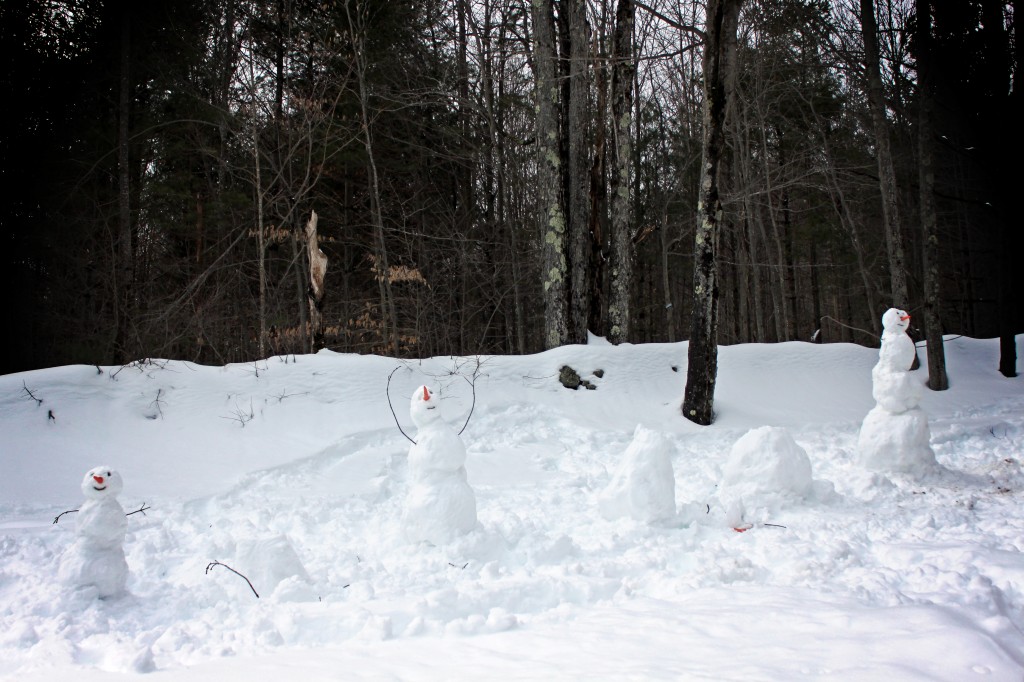 Pictures of snowmen.  Do I get any kind of credit for the snowmen having carrot noses?  These ones were supposed to be our family, in snowman form, on an unfortunately melt-y day.  Some of us didn't make out too well.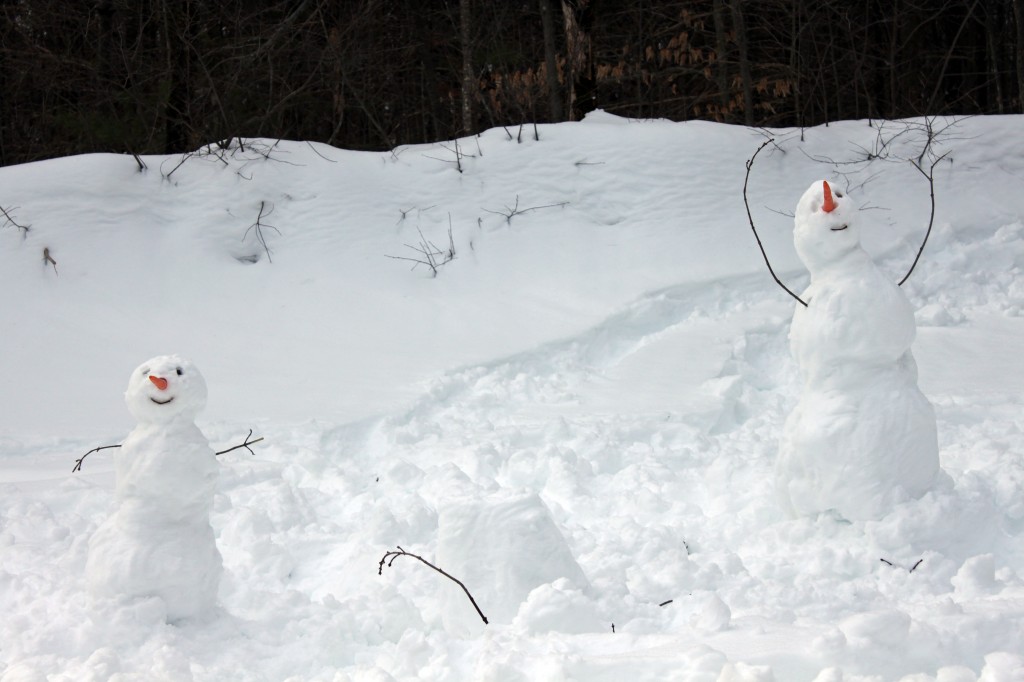 And this one appeared outside my window to cheer me up on a day when I wasn't feeling well…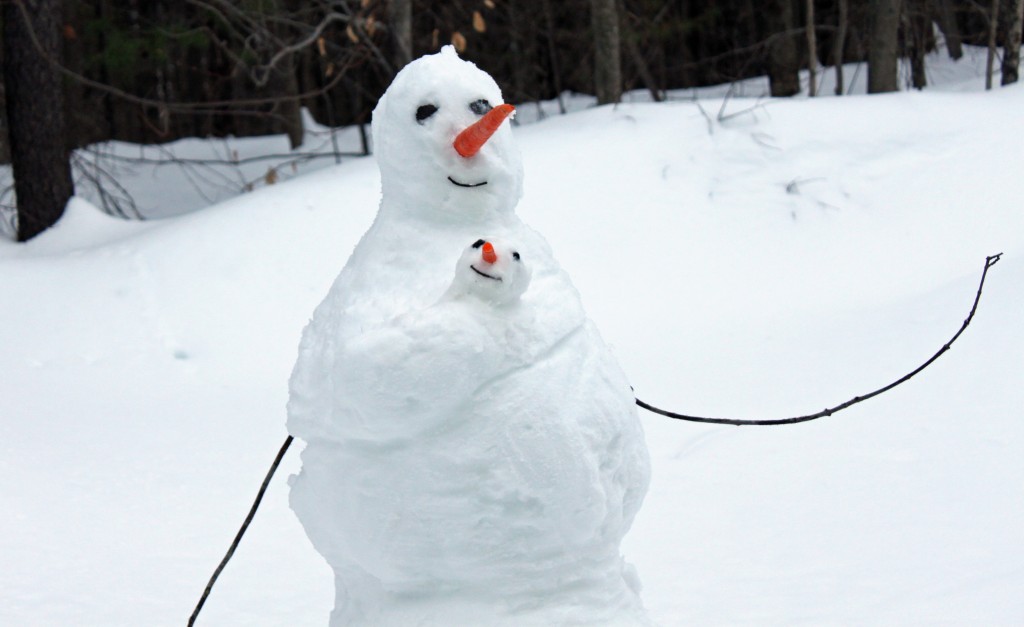 Complements of Iain and Elijah, dear sweet souls.
In other words I was pretty much no where.  I believe I had two meals in the basement freezer.  Which is enough to get us through all of 2/3 of a day, provided nobody needs a snack.
I started off well.  In autumn when we were putting up the bounty of our garden, I did a lot of baking to preserve food with this time in mind; zucchini bread, chocolate zucchini bread, roasted pumpkin muffins.  One day I got well into making a large batch of apple sauce, only to discover I was out of canning lids, and so I made batch after batch of applesauce muffins instead.  The problem was that between then and now there have been more then enough occasions where we've just needed to grab something quick when running out the door or I was in need of an easy middle of the night snack, that, well every single last one of those things is long gone.
Trying to get back on track now, yesterday I spent the entire afternoon making Beef Bolognese.  I used the recipe found at the bottom of this page, times six, switching out coconut milk for the cream.
Currently there is a double batch of Carrot-Ginger-Coconut Muffins cooling on the counter and headed for the freezer.
I'm making lists.  I'm a great one for making lists you know.  I can plan and plan until the sun comes down, it's the follow through that is sometimes lacking.  I have a list going of easy to prepare foods.  A list of food the kids don't mind cooking and a list of foods to try to freeze.  I'm measuring out all the ingredients for our Wednesday morning hot cereal and storing it in jars with cooking instructions, making sauces and freezing chicken in them so that it can marinate and be ready to cook as it thaws.  We'll have baking day twice this week, eating just a bit and freezing the rest.  And whenever I can I'll be doubling the meals I make and freezing half.
I would love to hear other people's experiences with postpartum meal planning.  What worked for you?  What didn't?  Any fabulous meal suggestions?
Expect posts this week by: