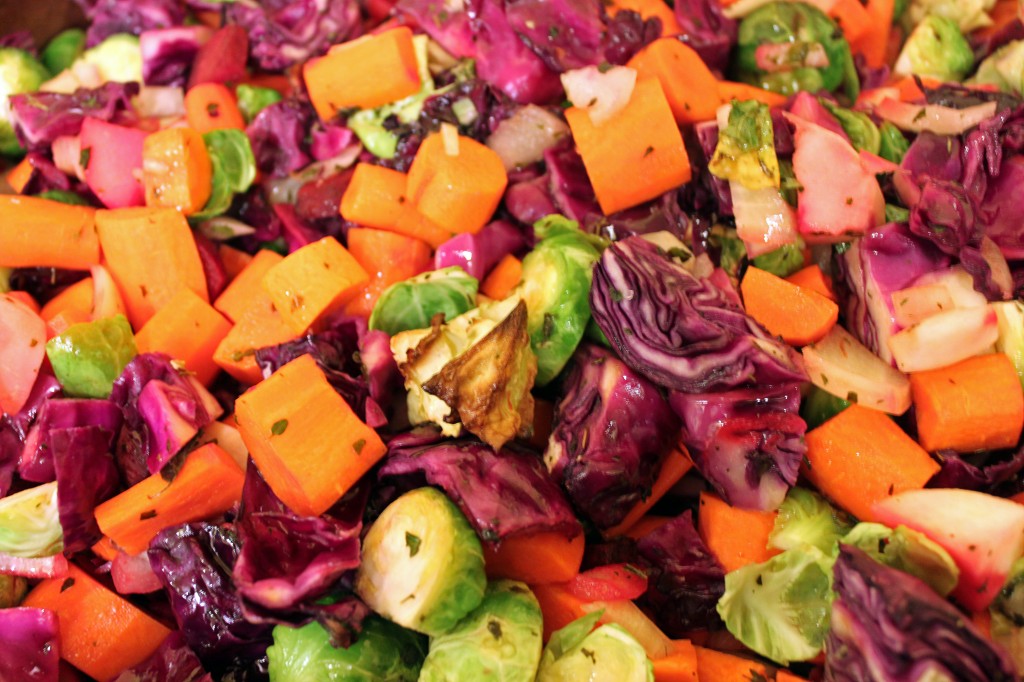 Lunch one day over the weekend; roasted veggies and fried eggs.  The veggies: carrots, turnips, beets, red cabbage, green cabbage, onions, brussel sprouts, heirloom sweet thyme.  I always used to restrict the contents of my roasting pan to root veggies, but the cabbage and sprouts roast up beautifully and add a nice flavor dimension to the dish.  The turnips, cabbages and beets were the last of the veg from our garden, they held up well all this time!  Thankfully there is still lots more of that thyme.  I love that thyme.  There are huge snow covered patches of it in my garden and a small pot on my windowsill, along with many jars of dried herb in my pantry.  I think a pot of it, in tea form, might be in order on this damp and dreary day.
I made the veggies late the night before.  Steve fried me 2 eggs while they heated up, which was just what I needed and I ate them on the futon with my feet up and under blankets.  Such a long week we have had!
In this new year, I've been invited to join some talented bloggers on a new series called, "Feeding Our Families", spearheaded by the lovely Renee of Heirloom Seasons.  We'll be posting once a month, covering all sorts of related topics, with each writer bringing her own personal experience and views to the topic.  I can't wait to see what comes out of this collaboration.  Inspiration is sure to abound.
Expect posts this week by: