Dates covered in home-made chocolate with orange zest as an advent treat.  YUM.
On the agenda today: the hand-me-down dress that was deemed "just perfect" for wearing to 'The Nutcracker' but that as it turns out needs quite a bit of mending to make it wearable.
We've been filling jars with chocolate covered raisins for the neighbors, with bows finger-knitted by Galen and Mairi.
An answer to the age old question of exactly how many sets of hands it takes to knead a batch of shortbread.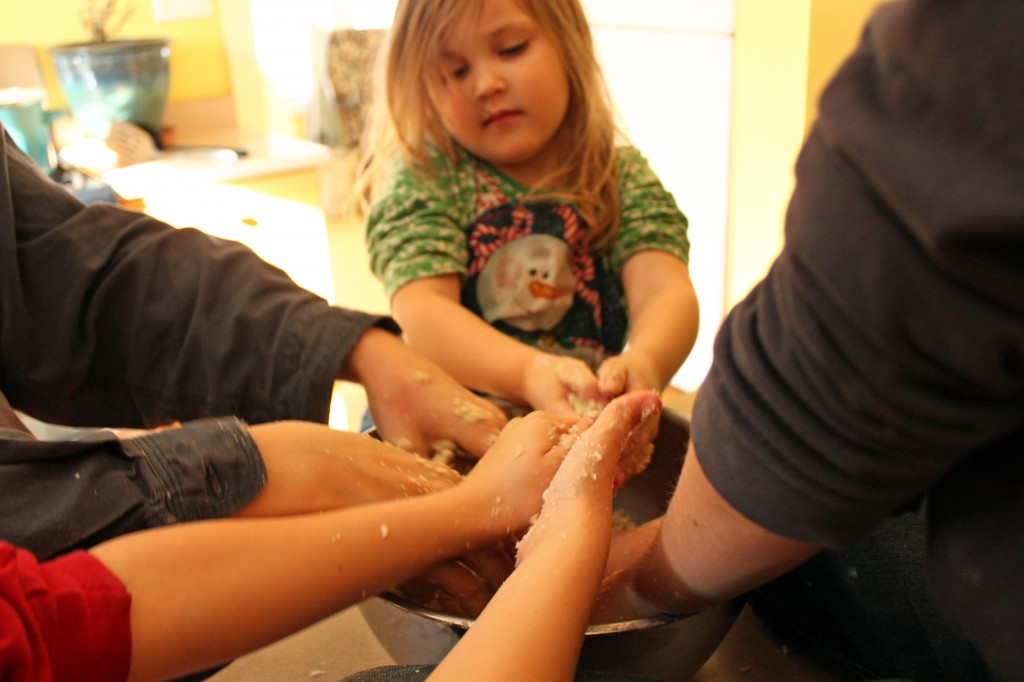 We've had so much snow already this year.  Galen has to wear snowshoes to take the compost out.
As far as I can tell there are finger knit garlands pretty much everywhere there isn't snow.
There is a good deal of crafting going on here.  Woodworking, painting, sewing, you name it.  I've made a couple dolls, several hats, one birthday sweater is complete with the second well underway.  I seem to have stalled out on my quilting project, but three sets of Christmas pajamas have been folded up and tucked into their fabric gift bags, all ready for Christmas Eve.  The fourth is all cut out and waiting for me to find a quiet moment to sit and turn it into something.
My sister arrived a couple of days ago, Galen is currently teaching her how to make apple sauce, with a second sister due in this afternoon.  All is well here, merry and bright.