First a Spiced Pumpkin Ice Cream recipe for you…
1 C pumpkin puree
5 C frozen bananas
1 tsp powdered ginger
1.5 tsp cinnamon
1/2 tsp nutmeg
pinch of salt
1/8 cup of honey (optional)
Blend all ingredients in a food processor or Vita-mix and serve immediately.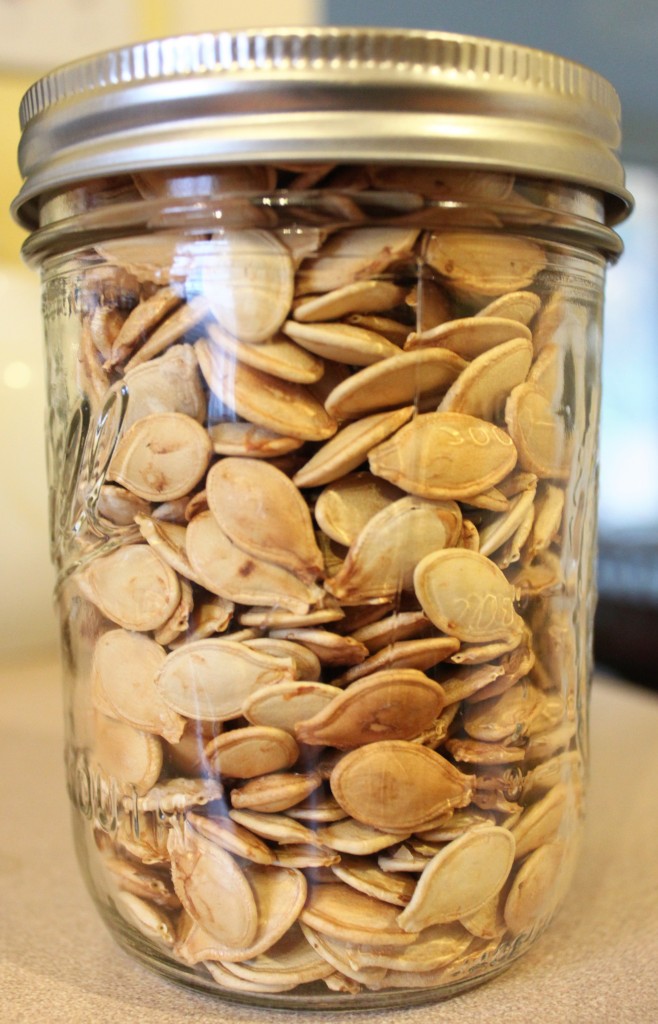 Some seeds for snacking on.  We've been loving this Pumpkin Spice Muffin recipe lately.  They taste like spice cookies!  Such a treat.  I've actually saved a lot of the pumpkin from our garden by baking up multiple batches of these muffins at a time and freezing them.  One of the things that I love about them is that they use roasted pumpkin, instead of pumpkin puree which saves me the tedious and messy step of straining all the juices from our fresh pumpkins.
Poor Steve in the background here!  In case you are wondering, he's anxiously supervising Galen carving his pumpkin.  Not always a task for the faint of heart! ~I've been informed that he was not, in fact, watching Galen in concern in this picture, but trying to make him laugh using "eye control".  I stand corrected!
My precocious little girl insisted on writing everyone's name on her pumpkin, with a bit of help; Daddy, Mommy, Iain, Elijah, Galen, Mairi and Baby.
Some among us take pumpkin carving very seriously.  Like several days worth of work on one pumpkin seriously…
I'm not sure if it's done yet even now!
And lastly a little pumpkin for baby.  Adaptation again, in Knit Picks Wool of the Andes, color: Pumpkin.  This one is a size large, I'm thinking for next autumn.