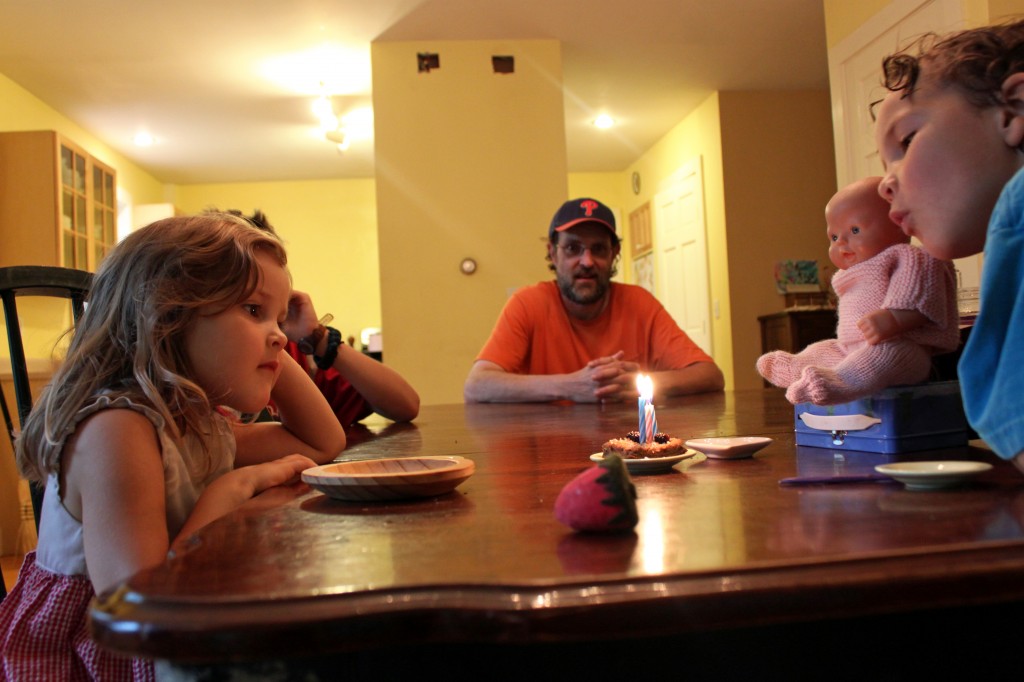 one of Boobie's many, many birthday parties
There are fires many mornings now, to take the chill off and occasionally in the evening as well.  It's rare the night that the windows can stay open, even a little bit.  Everyone keeps talking about the slow quiet days of autumn, with images of quietly knitting by the fire, long hours spend reading aloud, peaceful walks through the woods.  Somehow that doesn't seem to be our reality just now.  Some days I try to plan for those things, but it never seems to actually pan out.  Too many other, "important" things to do.  Maybe as we settle further into the season.
All of my window sills are full of green tomatoes.  Not just a few like in the picture above, taken last week, but overflowing.  A large section of our plants succumbed to late blight and had to be pulled to keep the disease from spreading.  We salvaged what we could from them.  The plants on the other side of the garden seem alright for the time being, though they are not long for this world anyhow.  We've had several threats of frost already, it's only a matter of time before a hard killing frost settles on everything.
  High winds bent and broke many of our sunflowers, so we get to enjoy them inside, in a vase, for a bit.
Lots of indoor endeavors underway at the moment.  I might wish for a few less in fact, as I'd like to enjoy this season before it passes into one of bitter cold.  But such is life!