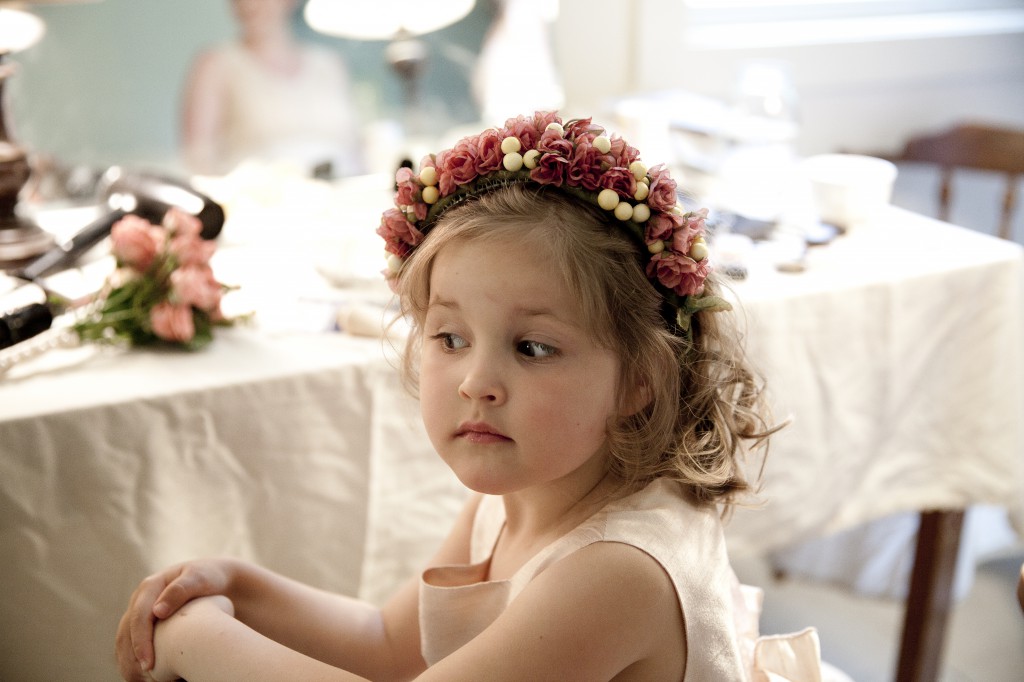 (that one above is one of my all-time favorite pictures)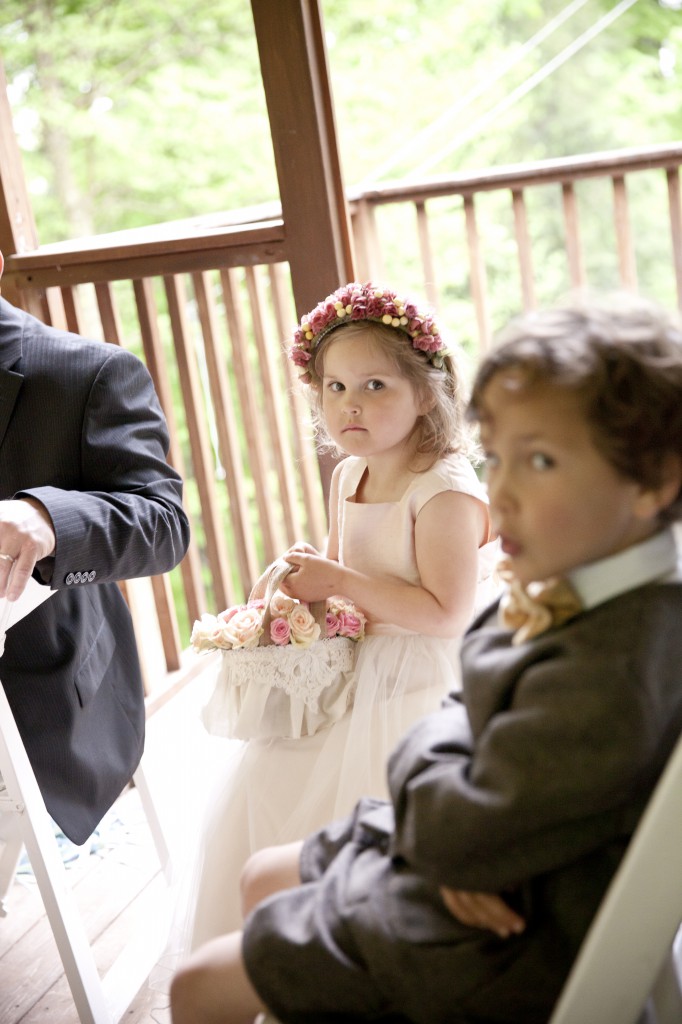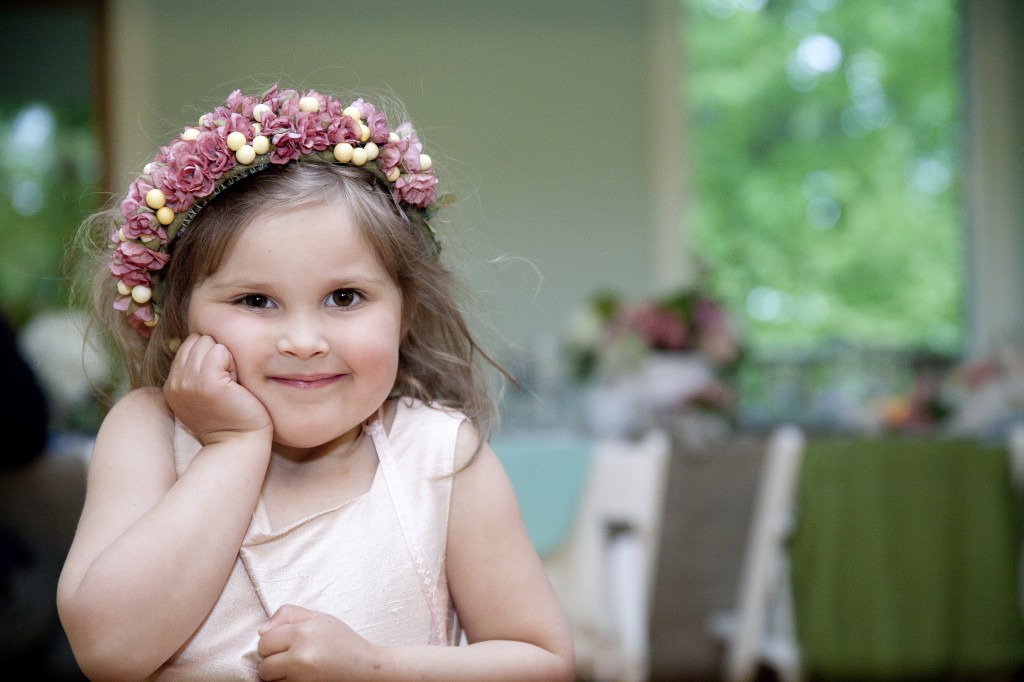 I loved the idea of Màiri wearing flowers in her hair.  My preference would have been for fresh flowers, but since we were doing our own flowers, I didn't want to add in another last minute project.  I was kind of inspired by the shapes of '50′s style half hats (also sometimes called half bonnets and probably other terms I don't know).  But I didn't want to go too-too far with it and have it be overwhelming.  So I kind of blended that look with a traditional flower girl halo.  As it was, I finished it and smiled because it was exactly what I had envisioned.  Then I placed it on her head and was shocked at how visually over-whelming it was on a little 4 year old head!  But I got used to it and over-all, I think it turned out pretty sweet.
I considered using a Juliet Cap frame or something of that sort, but couldn't find any locally and eventually decided it was cheaper and easier to make the frame myself.
My apologies for the picture quality.  They get progressively worse as the project goes on!  Something about hot-gooey glue and trying to juggle a camera.
How to Make a Floral Crown:
You will need…
2 lengths of 18 gauge cloth covered wire
fine gauge floral wire
floral tape
scissors
a hot glue gun
felt (preferably wool)
fake flowers, berries and leaves of your choice
ribbon (optional)
a comb (around 3″-clear or in a color to match the recipient's hair)
hand sewing needle
thread to match the felt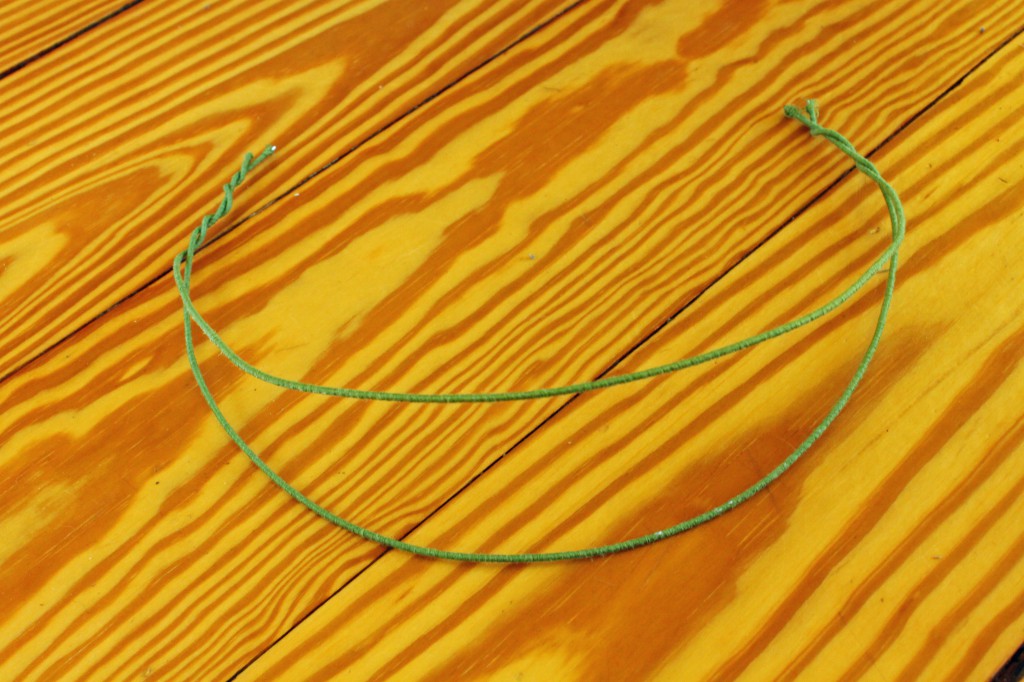 Determine where you want the frame to sit.  Take 2 lengths of 18 gauge cloth covered wire and twist the ends together at the appropriate place.  Make the wire in the back slightly shorter so that it conforms to the head.  Try it on to make sure that everything lands where you want it to.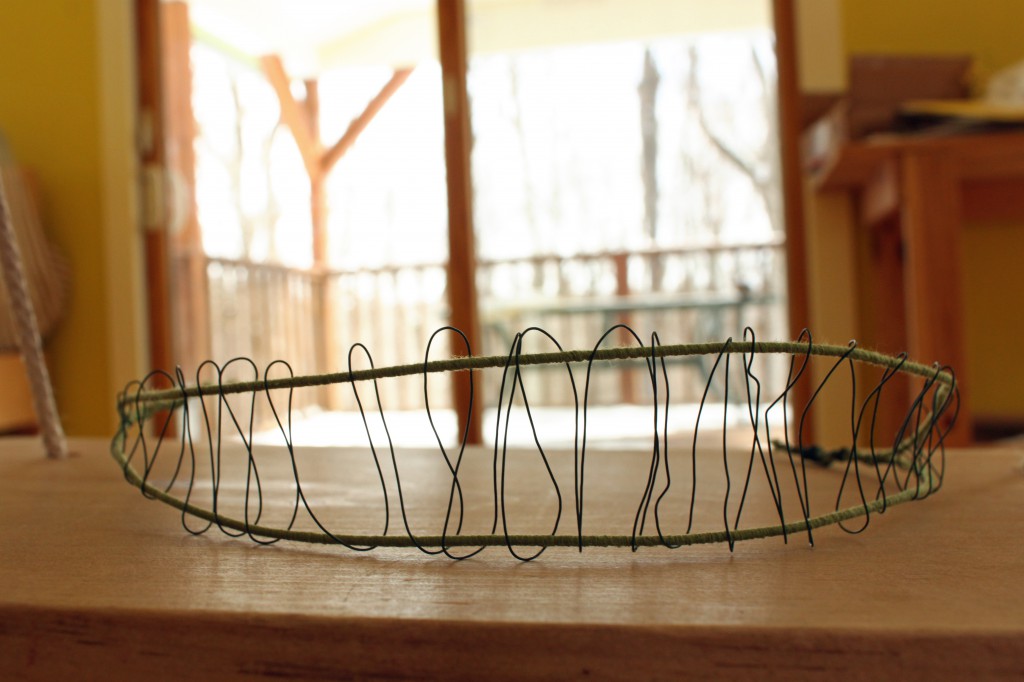 Weave thin gauge floral wire back and forth through the frame.  Wrap any extra around the end.  Trim the ends of the frame.
Optional:  You don't have to have ribbon ties, but I wanted them and I think it's nice to have the extra element to secure it.  If you want ties, pass the ribbon through the ends of the frame and double knot securely now.
Wrap the ends well, ribbon, wire and all, with floral tape.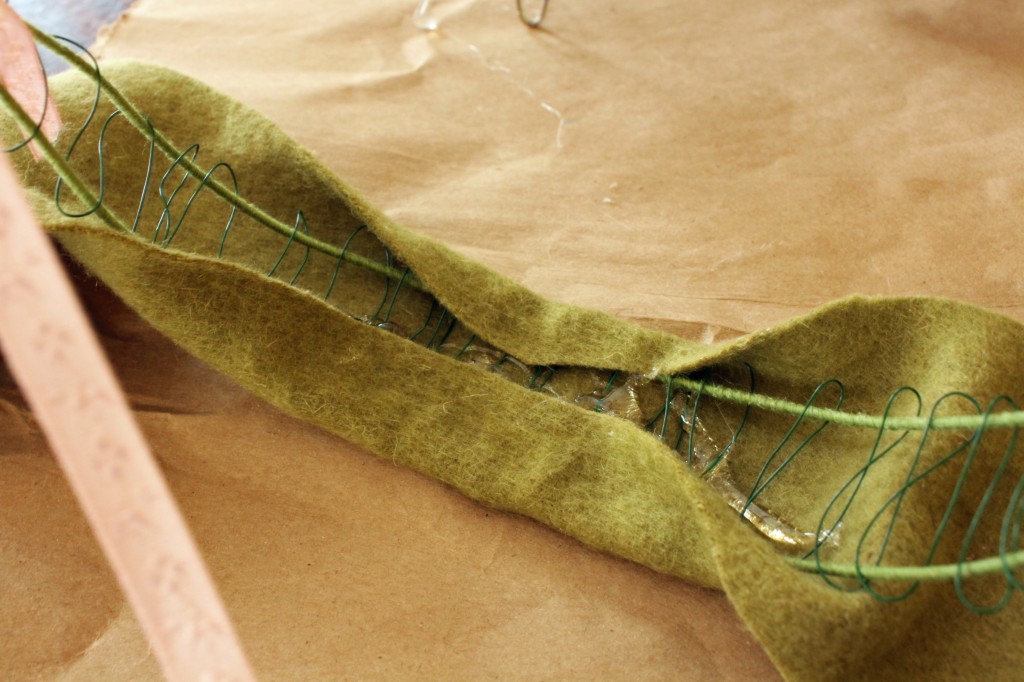 Cut a length of felt (wool works best) approximately the length of the frame and slightly wider then the widest point.  Wrap around and glue using a hot glue gun, trimming excess as you go.  It will not wrap all the way around in the middle, that's ok.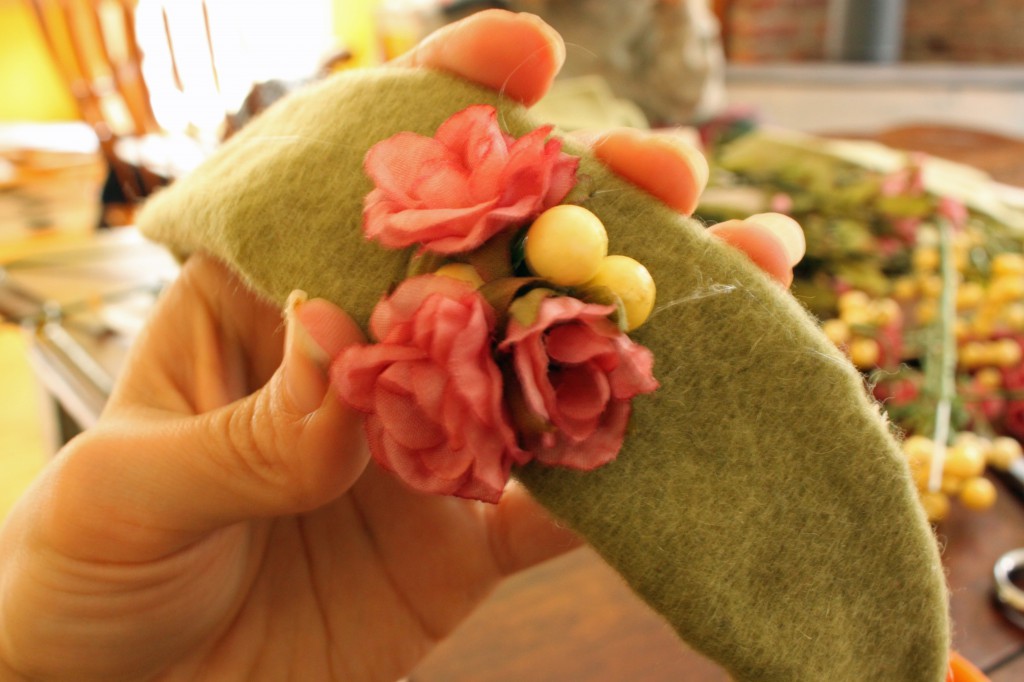 Cut the stems off of the flowers and berries, leaving a flat base.  Begin gluing them to your frame- I started with some leaves on the ends, that I knew I would want to layer flowers over and around.  Then start in the middle and glue in flower buds as clumps or three or four, nice and close together so that none of the frame shows through.
Optional, but recommended: cut another strip of felt to cover anything that was left exposed on the inside of the frame.
Hand sew a comb to the underside of the frame.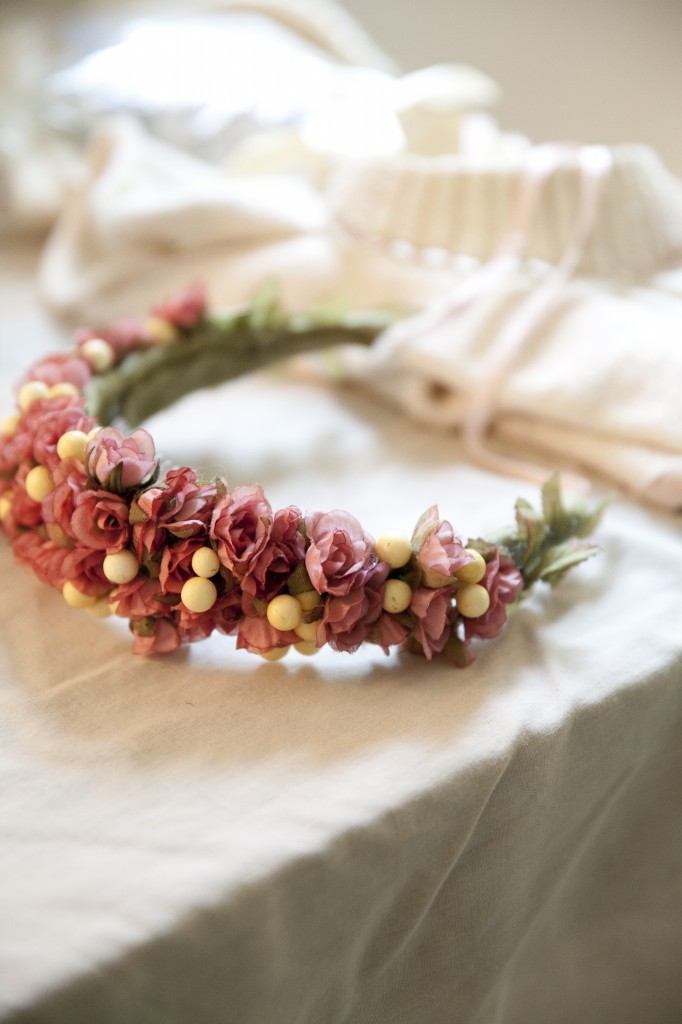 ta-da!  All done.  The only thing I would have done differently is to set the comb further back on the frame.  It bothered me that from certain angles it showed a bit.

As you can see, she got a little wild and crazy at the reception!  But the headband had amazing staying power and didn't even shift.
Many of the photos above (the good ones!) are by the lovely and talented Dawn Joseph.