Flourless Chocolate Cake
1 cup chocolate chopped- the better the chocolate, the better the cake

1/2 cup ghee- I use homemade ghee, I think that coconut oil might work as a substitute, but I've not tried it.  If you do, please let me know how it works!

3/4 cup sugar
 1/8 tsp salt
 2 tsp vanilla extract
 3 eggs
 1/2 cup cocoa

Heat the ghee and chocolate in a double boiler then transfer to a mixing bowl. Add the sugar, salt , vanilla and mix together. Then add the eggs beating briefly until smooth. Add the cocoa powder mix just to combine. Spoon into a prepared 8″ or 9″ cake pan and bake 25 minutes at 375*.
Remove from oven when a thin crust has formed. Cool in pan for 5 minutes and then turn onto a serving plate. Allow to cool completely before glazing.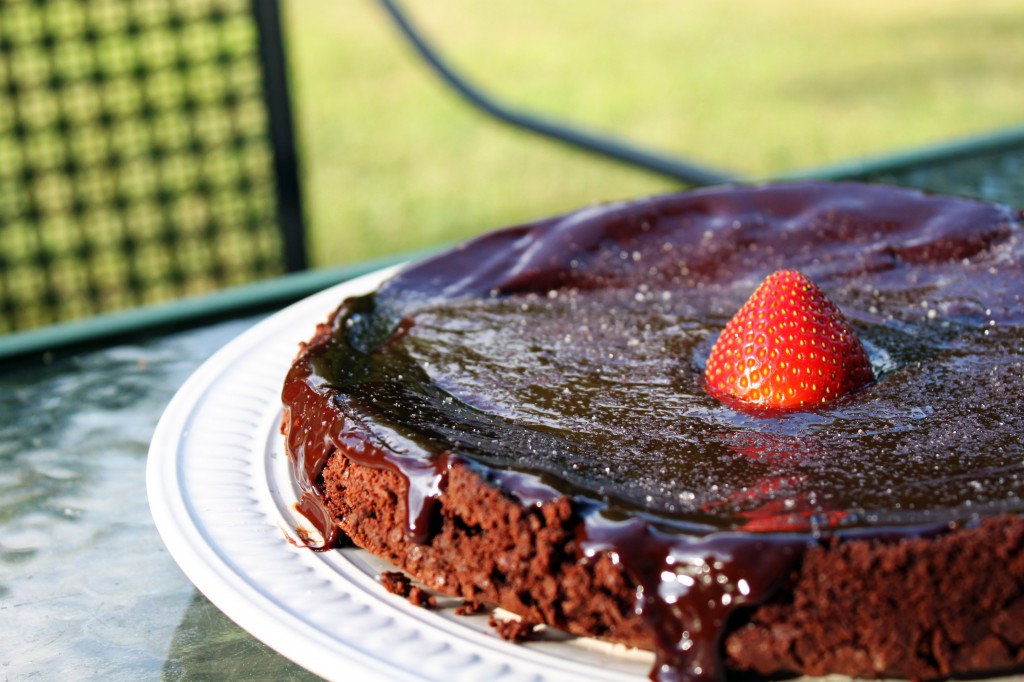 Chocolate Glaze

 1 cup chocolate chopped
 1/2 cup cream from the top of a can of coconut milk
 Heat together in a double boiler until smooth and pour over the cake and spread to the edges. Cool the cake again and enjoy.  The top can be dusted with powdered sugar before serving.
For our Vow Renewal cake we made 6 batches of the cake above divided between 3 nine inch pans and 3 six inch pans.  I think we made 3 batches of the glaze and thickened it with extra chocolate so that it could be spread all over the outside of the cake.  Once cooled it made a hard chocolate shell around the whole thing.
For the marzipan flowers I used this Paleo Marzipan recipe colored with India Tree food coloring.
For the caramel filling we used this Nut Butter Caramel recipe only cooked for less time so that it remained spreadable.
Dairy Free Almond "Buttercream" Icing
2 tsp almond extract
1/2 tsp vanilla
1/2 C soy free earth balance
1/2 C palm oil shortening
4 C powdered sugar
2 T coconut milk
1 T honey
1) Cream shortening/earth balance, vanilla and almond flavoring.
2 ) Add powdered sugar, one cup at a time until it's all mixed in.
3 ) Add milk and beat at medium speed until light and fluffy (a bit more or less may be needed depending on desired consistency)
4) Beat in honey
5) Can be stored air-tight, in the fridge, for up to a month. Allow to come to room temperature and whip with mixer before using.
More on our fancy cake making experience can be seen here.