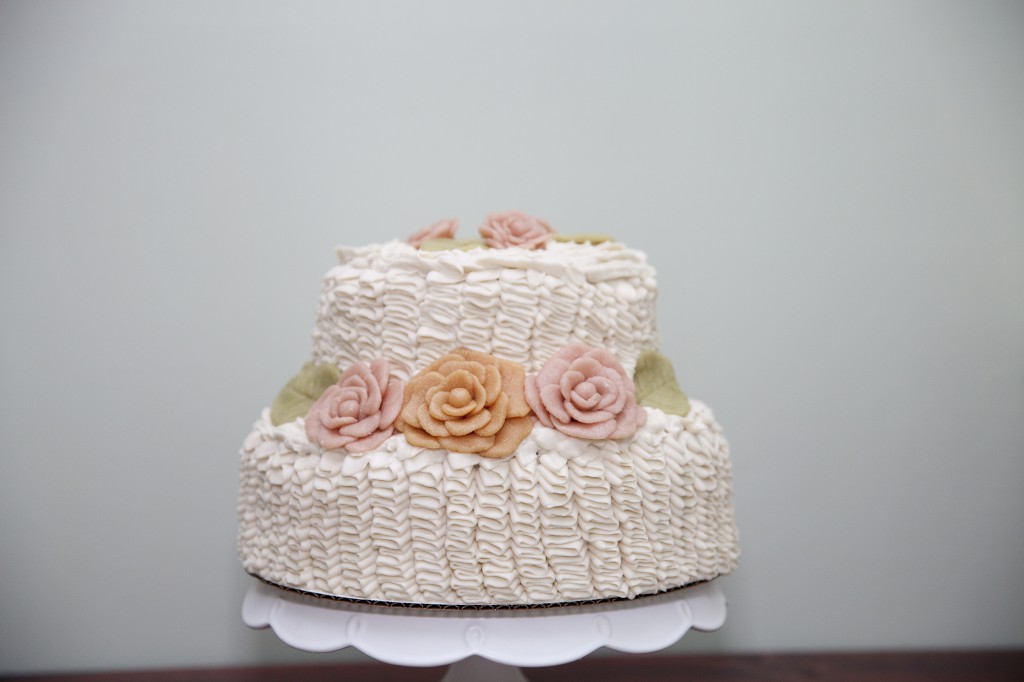 Considering all of our food and budget restrictions, making our own cake was a no brainer.  Besides, I wanted something that tasted GOOD!  And in my experience most bakers botch low-allergen cakes, giving a bad name to all things gluten and dairy free.  I wasn't about to spend a small fortune on something I wasn't even interested in eating.
My sweet sister was so wonderful to help me with this project.  She made everything go so smoothly.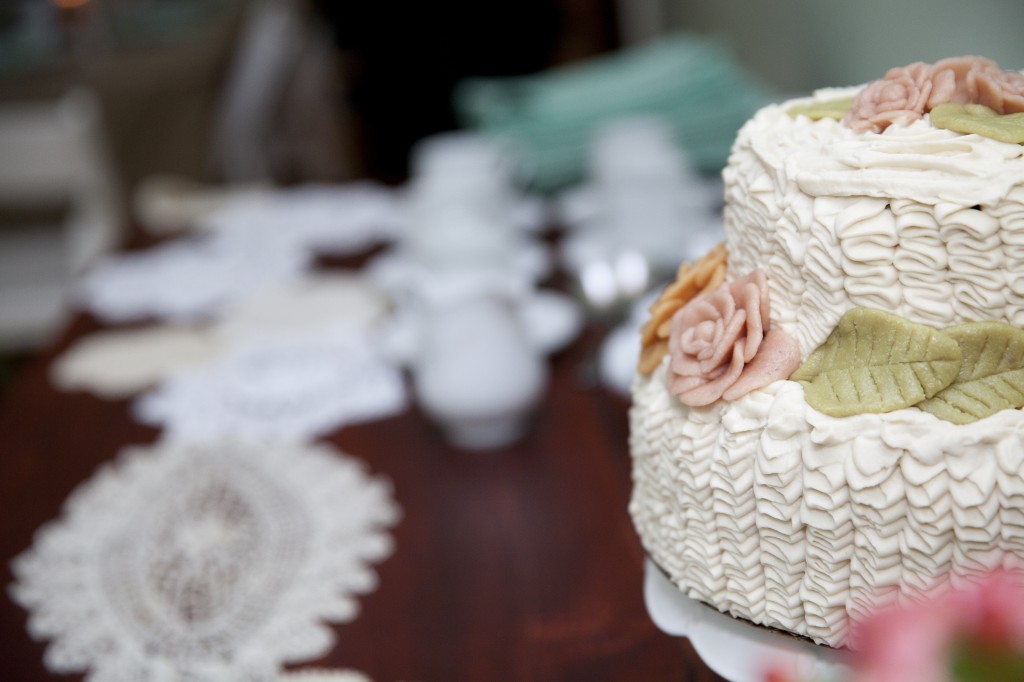 So the cake….oh my goodness…it was kind of the cake to end all cakes.  I wanted something delicate and light.  Something with kind of a fresh, artisan feel to it.  Steve wanted CHOCOLATE and had no interest in anything beyond that.  Since it was one of the few things he had a clear and decided preference in, I conceded and made my flourless chocolate cake, which is his favorite dessert.  In between layers of cake we alternated nut butter caramel and coffee icing.  The whole thing was glazed with two layers of chocolate ganache, followed by almond (mock) butter cream icing and decorated with honey marzipan leaves and flowers.  It was rich beyond rich and made quite the impression.  We all laughed when the photographer sent us the link to our on-line gallery with the password: flourlesscake.  To by honest, my sister and I were a little afraid we might kill someone with it.  Not your typical plain-Jane wedding type cake for sure!
DIY Wedding Cake Tips and Tricks:
Make a practice cake or three or four!  Do some taste tests, experiment with different decorating styles.
Let a least one of your practice cakes sit out for a while to get an idea of how it will hold up while sitting out on display.  You can obviously skip this step if you are not planning on displaying your cake.
Take scrupulous notes on exactly what you did and how you did it: Any modifications to any recipes, baking time, number of batches, etc.
An extra set of hands is always nice.
Be flexible.  Make adjustments if a recipe or decorating method isn't working for you.  Better to make a simpler cake well then a more complicated one poorly.
Your timer is your best friend, don't forget to use it.
Choose a cake that is very sturdy.  The flourless chocolate cake we used is an excellent example.  Pound cake is another good option.
Do your math and double check it.  Figure out exactly how much batter you need to make enough layers to feed your guests.  Then figure out exactly how it should be divided into each cake pan.
Always grease your pans well.
Make as much as possible in advance.  We baked the cakes, made the marzipan decorations, as well as the caramel filling well in advance and froze them.  I froze the flowers and leaves on was paper in a pyrex container.  The caramel was also stored in a pyrex.
Take great care with freezing your cake.  Make sure each layer is entirely cooled before doing anything.
I wanted to use ziplock bags to cut down on the risk of freezer burn, but was concerned about the cake developing a plastic-y flavor.  We put each layer on it's own cardboard cake board for support (packs of these can be gotten very inexpensively at most major craft stores), then wrapped them in wax paper, followed by foil and then into the bag.
Gallon bags were big enough for the size layers we were working with, check your measurements.  Make sure to get as much air out of the bag as possible.  A nifty little trick; take a drinking straw and place an end in the bag.  Seal the bag all the way up to the straw.  Suck out all the air and quickly seal the rest of the bag as you remove the straw.
Use common sense with freezer placement…store them flat, try not to stack anything on top of them, etc.
Make sure your cakes are completely thawed before trying to assemble or ice them.  In most climates, overnight on the counter should do the trick.
Also consider the benefits of making other parts in advance and decide if it's worthwhile.  Our mock butter cream icing took around 10 minutes to whip up.  It didn't seem worth making in advance and risking it separating as it thawed (I've read of some people having trouble with this).
Make a cake schedule and assign dates for each step.  Write it all on your calendar and don't forget to include getting the cake out to thaw!
Again, cake boards are indispensable.  Each tier should be on one.
A thick bead of icing piped around the edge can help to hold in gooey fillings and also help one layer to adhere to the next.
Invest in or make a pretty cake stand, it can make a world of difference in presentation.
Take the time to measure to make sure your cake is centered on the stand and each layer is centered on the next, unless of course you are going for an asymmetrical look.  Then measure and make sure they are evenly off center!
Make sure nothing is going to shift.  We used a bit of painters tape, rolled on itself, under the bottom cake board to keep it from slipping off the cake stand.  You can use drinking straws to secure one layer to the next.  Just push them all the way through to the bottom and trim off the excess at the top.  To attach one tier to the next, you can use a thin sharpened dowel.  Gently hammer it through all of the layers and cake boards down to the lowest layer.
For our cake we completely coated everything in two layers of chocolate glaze which, once chilled, completely glued the entire thing together Making any extra measures unnecessary.  Very convenient!
Before decorating your cake, slip strips of wax paper under the lowest cake board, all the way around.  When you are done decorating, simply pull them out and you will have a pristine cake stand, rather then one that's smudged with chocolate and icing.
Youtube has many cake decorating tutorials.
Craftsy now offers a wide variety of cake decorating classes, from basic to advanced, including a few free mini-classes.
Above all; relax and have fun!  Pick a delicious cake.  If it doesn't turn out beautiful, your guests will enjoy it all the same and you'll have a fun/funny story to tell.
Up next: the recipes!
All the photos above are by the lovely and talented Dawn Joseph.