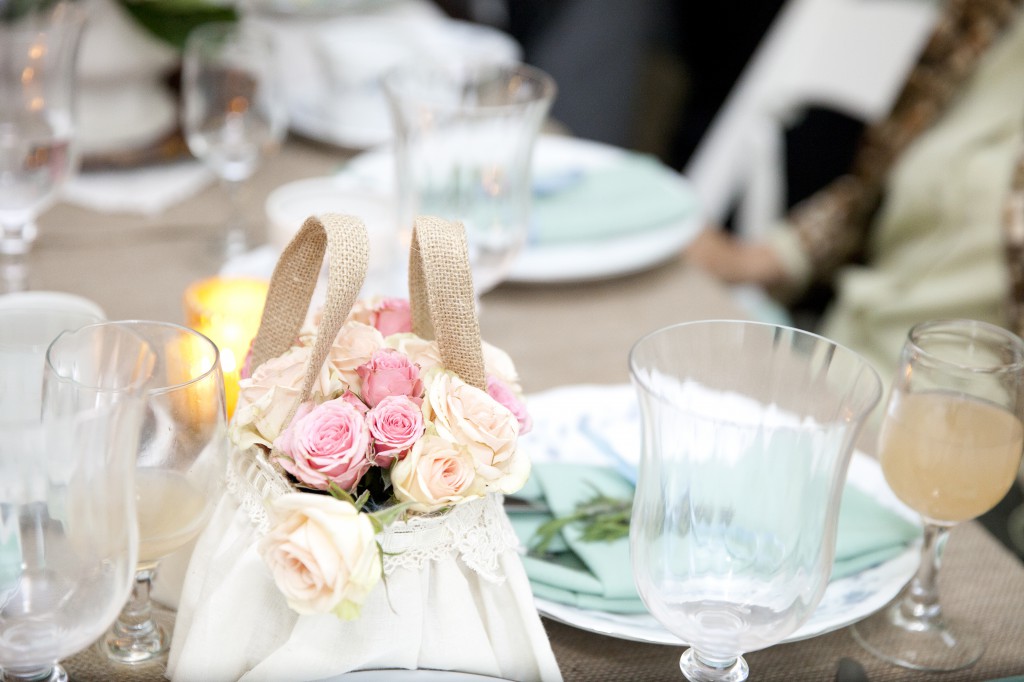 I wasn't going to bother with flowers for Màiri, but when she heard that all of the other girls were going to have some, she didn't want to be left out!
While looking at other floral supplies, I came across these bags.  I hadn't really seen anything like that before and I thought they were kind of a cute idea.  Rather then buy the $27 bag, I bought a plain, $3 one and embellished it myself.
I do not have pictures of the process, but it was fairly straight forward.
I used a bit of unbleached muslin that I had laying around for the skirt.  First I measured from the top edge of the basket to the fold for the bottom.  Then I measured around the edge of the basket.  I multiplied the second number by 2.5.
1st measurement by 2nd measurement x 2.5 is the size you need to cut your fabric.
You can finish the edges if you like.  The unfinished edges really appealed to me for whatever reason, so I just left them.
Fold the fabric in half, right sides together, lining up the short edges.  Stitch the short edges together.
Run a gathering stitch along the top and gather evenly to fit the top edge of the basket.  Pin it to the basket and stitch in place.  I used a zig-zag stitch for this.
At this point you can do whatever else you like to decorate it.  I used a strip of 3/4″ cotton lace, that I had leftover from Màiri's blessing gown.  I sewed it over the top edge of the skirt.  Then a used a little scrap of Alençon lace from my gown as an applique to cover where the lace trim was joined.  The whole thing took around 15 minutes.
To fill it, I found that a milk carton was the perfect size, so I cut the bottom off an old one and cleaned it (obviously).  Then I cut a chunk of floral foam to fit neatly inside.  Once the foam had been soaked, I simply stuck spray roses into somewhat randomly.  I really only wanted to use the peach roses, but we had so many of the other ones with short stems, leftover from bouquet making, that it just made sense to use both.
It was a little heavy because of the water saturated foam, but the Wee Miss thought it was great.  And now she uses the bag to hold all of her hair ties and things.
All photographs by the lovely and talented Dawn Joseph.