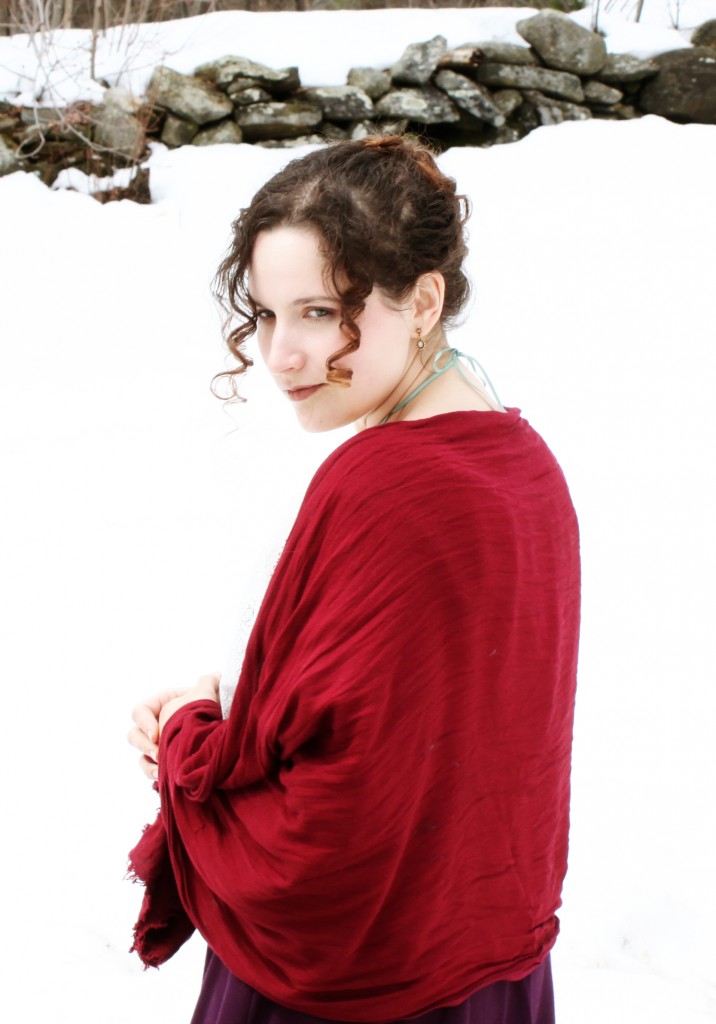 My sweet sister, who knows all about my theories involving the curative powers of twirly dresses got me two new Modcloth dresses for my birthday.  This one is the Join Us dress in purple, under a lace top I made a couple of years ago, but failed to post about.  Do you recognize the lace from my bathroom window?
Somewhat embarrassing confession: for a little while there I was writing a book.  Not because I had a book deal or anything fabulous like that, just because.  And this blouse was one of the patterns I was working on for it.  It was inspired by a blouse that belonged to my best friend's grandmother when she was young.  At 15 we used to take turns wearing the original for special occasions.  Because yes, we were exactly the kind of high school girls that thought a vintage lace blouse was très chic (not cool.  never cool.  we were better then that you see…).
The red wrap is sometimes a wrap and very often a scarf, depending on my mood.  Later in the day it went back to being a scarf when I had to stop pretending I wasn't freezing and put on a wool cardigan.
The denim look leggings from J. Jill are a staple for me.  I bought them on clearance and wear them all the time.  It's still much, much too cold here for bare legs!
The earrings and bracelet where hand-me-downs from my mom.  I wired that piece of mother of pearl to a ribbon for a necklace back when I was working on the book as well.
Hunter boots.  There is no navigating the ankle deep mud paths around here without them.
Hair very loosely inspired by this.
Clearly I was feeling very romantic from the waist up and practical from the waist down.  Which sounds more like some sort of dating advice for teenagers then any kind of fashion sense.