Several blogs that I read and enjoy do regular "what we wore" type features.  I can't say that I've ever, to my knowledge, been considered a fashionable person and the idea of being the actual subject of a post (not the kids or a knitting pattern or something), honestly makes me feel more then a little self conscious.  The thing is that when I read those posts the over-all sense I get is one of fun.  Lightheartedness.  I could use some more of that in life.  Who couldn't?  And frankly I've been on a bit of a frivolous kick.  I find this happens as I start to make my way out of periods of sickness when everything is so serious and practical and real.  Sometimes all I want to think about is finding the perfect pretty dress for twirling.  Something that in the grand scheme of things really doesn't matter at all.  And yet…yet, it can be just the kind of pick-me-up that one needs in a period of mental torpor.  I am not beyond bribing myself into feeling human again.
Also…I want to play with my clothes, I want to feel playful with my wardrobe.  I wear the same old, same old, most of the time.  I think it's time to mix things up, try some different combinations and see what happens.  Clearly I have the ability to not take myself too seriously, so we'll see where this goes!
All of that said…I'm going to make Rosebud go first!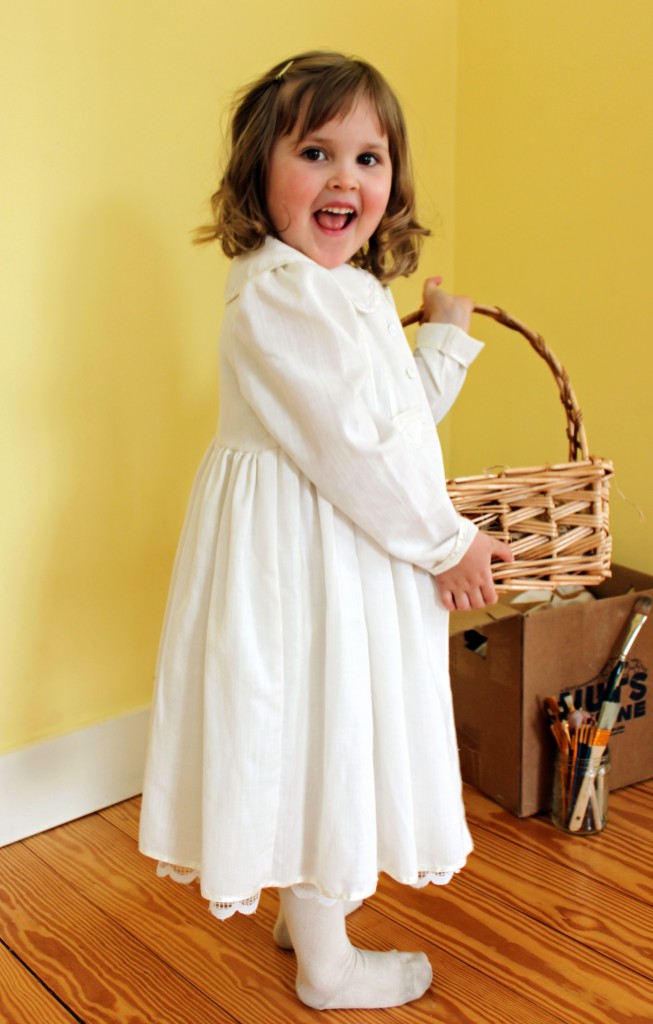 Don't judge me.
You know you would rather see her anyway.
Besides, she's really cute.
I think this is the first year of her life that I didn't make her an Easter dress.  This sweet linen dress was my sister's when she was a little girl.  It's been sitting in a closet waiting for her to grow into it.  Rachel, my sister, wore it for Easter one year and then to my high school graduation after that.  If I had the time I'd go up to the attic and dig some pictures out boxes to scan and share.
It's a coat over a sleeveless dress, but it was quite chilly, so she wore both all day.
The Wee Girl and I are lovin' these painted min-bobby pins I found.  She picks out a new combination of colors to wear each day.
to be continued…