I guess that pretty much sums it up.  This is where I am now, 24-7, trying to convince my body to heal on it's own in order to avoid the surgery that I'm not a good candidate for anyway because it's likely to cause more harm then good.  Yay for me.  As a very brief explanation, I have Ehlers-Danlos Syndrome, which makes me more prone to injuries and less able to heal for them.  This is further complicated when such injuries are internal.  Before anyone panics, I'm in pain often, but not in any horrible danger.  And, I'm not really ready to go into more details then that.  Why bring it up at all you may well ask?  Because I have a chronic illness.  More then one actually.  And it impacts the way I live my life and the way my family works.  This blog is a place where I document our life.  Not all of it, but large parts.  In the past I've felt really private about these things and I've had periods where my health issues were having a huge impact on our lifestyle but not mentioned it here and frankly it made for awkward posting, feeling like I needed to explain why I was or was not doing certain things and not really having an explanation without going into all of the details of what we were going through.   So here is my compromise this time.  I'm being upfront and saying it; I've been unwell and getting worse for a month and a half now.  I'm on strict bed rest for the time being, hoping my body will pull itself together and heal itself.  At the same time I'm asking everyone to respect my privacy and the fact that at the moment I'm not up for going into more details then that.  Deal?
So here I am in bed.  Which is honestly one of my favorite places to be, I suppose I should try to enjoy it while I'm here.  I am missing being outside terribly though.  Sometimes I open the window above my bed just a crack and close my eyes and drink in the crisp fresh air.  My dear sister got me one of those things for under your laptop to keep it from overheating so that I can have it here with me, which is very nice.  And since we still haven't moved up into our bedroom, my bed is right next to French doors which open up to the dining room and the whole main living space, so I'm still in the middle of all the action.  Yesterday I even started teaching from bed.  Luckily none of the kids have discovered that all they need to do to thwart me is to pretend that they can't find the books I need.
All of this is not particularly easy on everyone.  Poor Steve especially, trying to work and run a household as well.  For the kids it means more work, but so far they've all been eager messengers, running about the house to fetch whatever I might need.  And while it's true that they might have to fix their own breakfast or heat up some leftovers for lunch, the exchange is that I'm here all the time, not running around busy with my own stuff.  Which allows for regular games and book reading and cuddles and all that good stuff.  The two little ones just bring all of their play things in here and set up elaborate playscapes all around me.  Camping has been the latest thing with the two of them feeding me food prepared on a make-shift block camp stove.  At the end of the day we have to excavate the bed just to find places for everyone to sleep.
You would think I'd be getting a lot of knitting done, but I've not knitted a stitch.  My head isn't in it.  When I'm well enough I'm playing with or reading to the kids and when the pain is bad I really can't think about much of anything.  In the times in between I try to rest as best as I can.
I've re-painted this room in my head about a hundred times now.  Sometimes I'm uncomfortable and I can't sleep and I obsess on some silly little thing that I'll probably never go through with, like finding the perfect horse fabric for a project for Elijah or picking myself out a birthday dress that when it comes down to it I'll never buy, or sifting through wallpaper styles for the upstairs linen closet, which will almost certainly remain painted.  At those times my pinterest boards explode with seemingly random things in great abundance.  Though I did make the birthday dress board a secret one because it seemed extra silly somehow.
So many things that I had planned this season didn't turn out.  The special pictures of my two birthday babies never happened.  Just laying and watching them open their gifts was about all I could offer.  But yesterday morning they were playing in bed next to me and I managed to get a few shots.  Two days late, but it will have to do.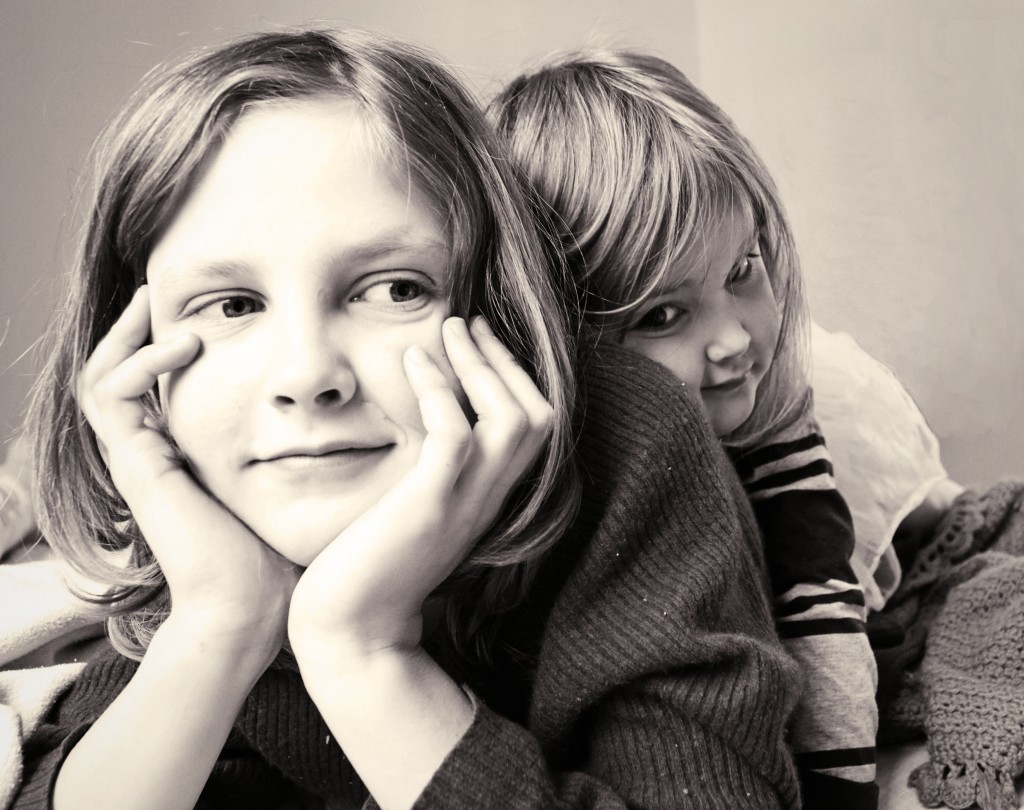 Iain Alexander age:13
Màiri Rose Irene age: 4
And tonight Steve promised that he would try to get their measurements up on the board in our pantry.  Life goes on.