We're working on putting the finishing touches on Iain and Elijah's room.  It's not a large room for two people, so we're trying to choose the things we put in there with care.  We want it to be fun and functional and oh, so many other things.  But in the end, we mostly want it to be a reflection of who they are at this point in their lives.  To suit their lives and their current loves.  I think we've done a pretty good job so far.  With one glaring exception.  There just wasn't enough baseball!  What can I say?  My kids are the ones who show up for a casual pick-up game of baseball in full uniform, including cleats, having used face crayons for eye black.  They take it seriously!
We're not really a poster sort of family.  At least not at the moment.  Who knows what will come in the future?  I'm not even sure that my kids realize that sort of thing exists.  I can see how a room could very quickly get completely covered by a zealous young fan.  But I'm not really sure that's as relaxing or conducive to studying, reading, resting and the artistic endeavors that I feel should be the mainstays of time spent in this space.  So, apart from a framed team photo, how to represent that very large part of their life?  This is what I came up with…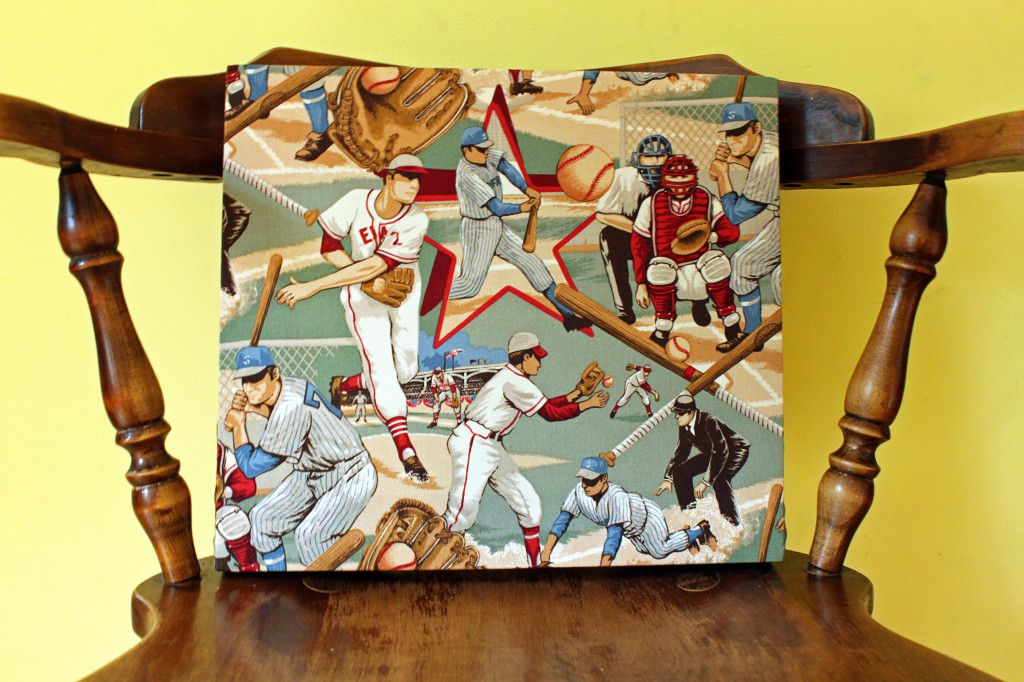 It's basically a fabric covered canvas.  You could easily use a canvas frame from the craft store.  Steve made mine from some scraps of wood.  I'd say it took less then 10 minutes.  And then I covered it with fabric.  This is an older Alexander Henry print called "Bases Loaded".  I used just a fat quarter.  I did a serging stitch around the edges, which was probably unnecessary, then I wrapped and stretched it around the frame, kind of like wrapping a gift.  I folded under the serged edge and stapled everything in place using a staple gun.  Two of those little nail-on picture hanger things on the back and it was all done.
There are so many interesting fabrics around these days, so many of which look like works of art, all on their own.  I think I might have some fun with this.