at the moment.  It seems to be all that  I want just now.  It's a simplified version of a recipe sent to me by some friends.  Theirs is fancier and fabulous, but I've heard a rumor that they might be starting a new food blog, so I'll let them share it when the time comes.
My quickie version: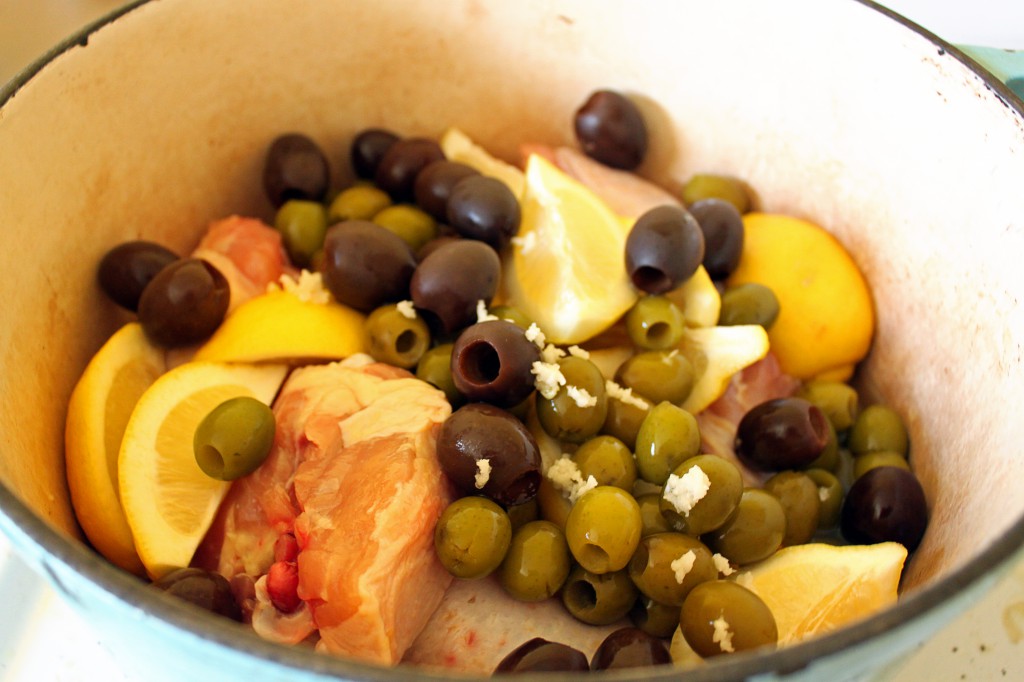 chicken thighs, quartered lemons, olives with their juices, lots of crushed garlic, salt and pepper
You'll have to settle for a ready to go into the oven picture because once it came out, it went right into my mouth without any time for a photo.
So easy and simple!  Just throw it all in a dish an bake.  I like to make it in my cast iron with a vented lid.  It keeps just the right level of moisture without ending up soupy.  The lemons get so soft that you can eat them peels and all.  I think I could eat this for every meal just now.  This and that incredible local salad mix.  No boring all lettuce spring mix there!  We get pea greens and cuttings of baby mustard, several kinds of kale, broccoli sprouts, and all sorts of things, in a different mix each week.  Yes, I could survive, quite happily on these two things for quite some time, with the occasional cup of fresh ginger tea with honey as a treat in-between.
I'm bored with my blog layout.  It's been exactly the same for a year now.  But I don't have the time to putz with it.  I wish the blog fairies would swoop in and redesign it, make it all fresh and new for spring!