My sewing machine and I have not been on the best of terms.  Since ending up in the shop 3 times over the holidays, I've been wary of it.  I feel almost as if it might spontaneously combust or something if I touch it.  But over the last month or so, my desire to sew started to outweigh my nervousness and I've made a few things here and there.
First came these 'Lounge Pants' from Betz White's "Sewing Green: 25 Projects Made with Repurposed & Organic Materials
" (p.s. this bag pattern of hers looks adorable!).  I made them a few days before my birthday in lieu of of some lovely hand-knitted item.  My original, seemingly conservative, plan was to finish up the knitted gifts I started for myself the last two years, but I didn't even manage that.  Didn't touch them at all actually.  But at least there was a pair of pants.
Boo's were made in the same style using a pair of her pants as a size guide and they were a gift for Valentine's Day. (The green striped shirt that Elijah is wearing by the fire in this post was his Valentine's gift.  I haven't managed to get pictures of the others yet)  She calls them her "comfy pants" and they are her favorite article of clothing at the moment.
The fabric came from my stash.  The print (my pants and her cuffs) is from the Robert Kaufman "Cozy Cotton" collection.  The blue (her pants and my cuffs) is a double sided flannel, maybe by Moda?
I haven't really tested out their lounge-ability, but they do make pretty fabulous running-around-like-crazy-packing-things pants.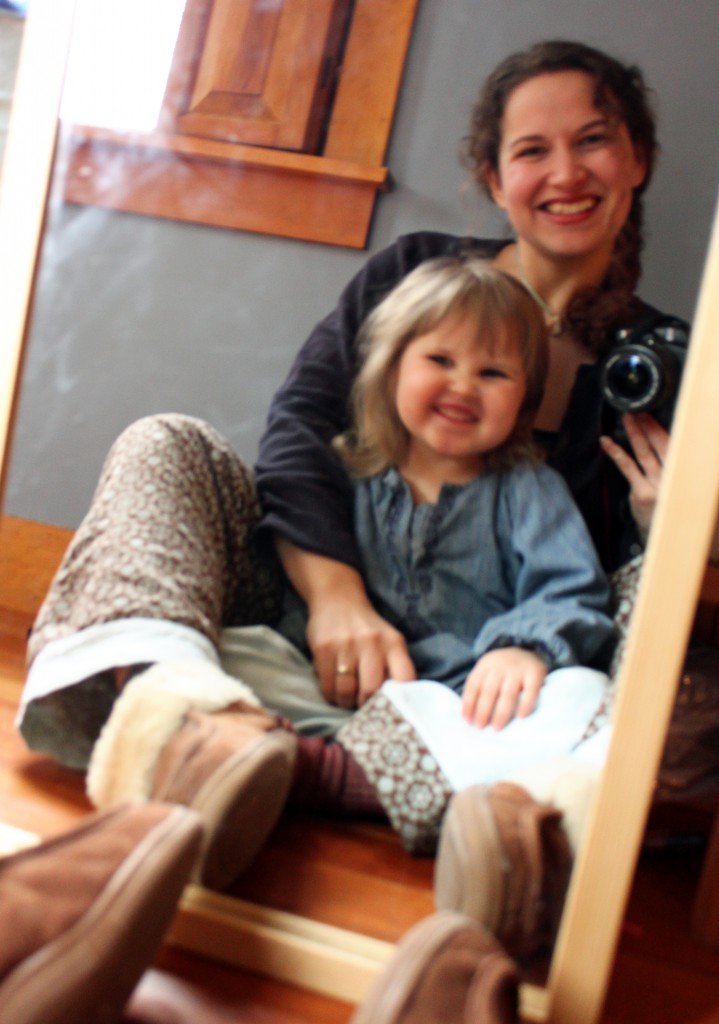 hmmm….that mirror looks kind of like some small child rubbed their hands all over it.  I can't imagine how that possibly could have happened….