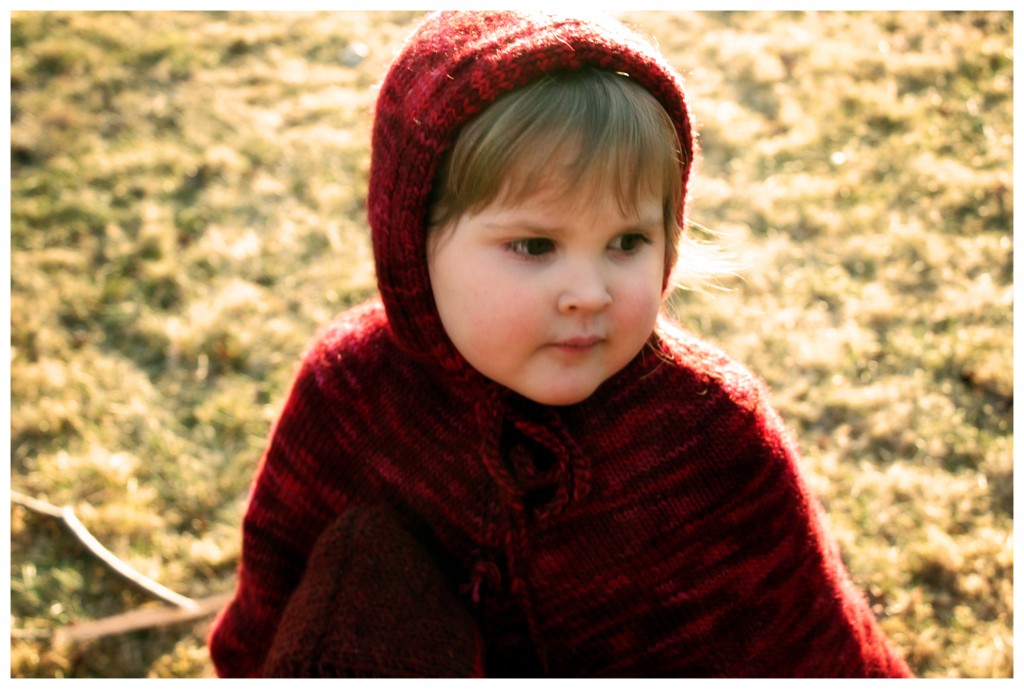 Pattern: Knitting Pure & Simple's Children's Poncho by Diane Soucy
Yarn: Manos del Uruguay Kettle Dyed, color 115
Size: 6-8 years (really)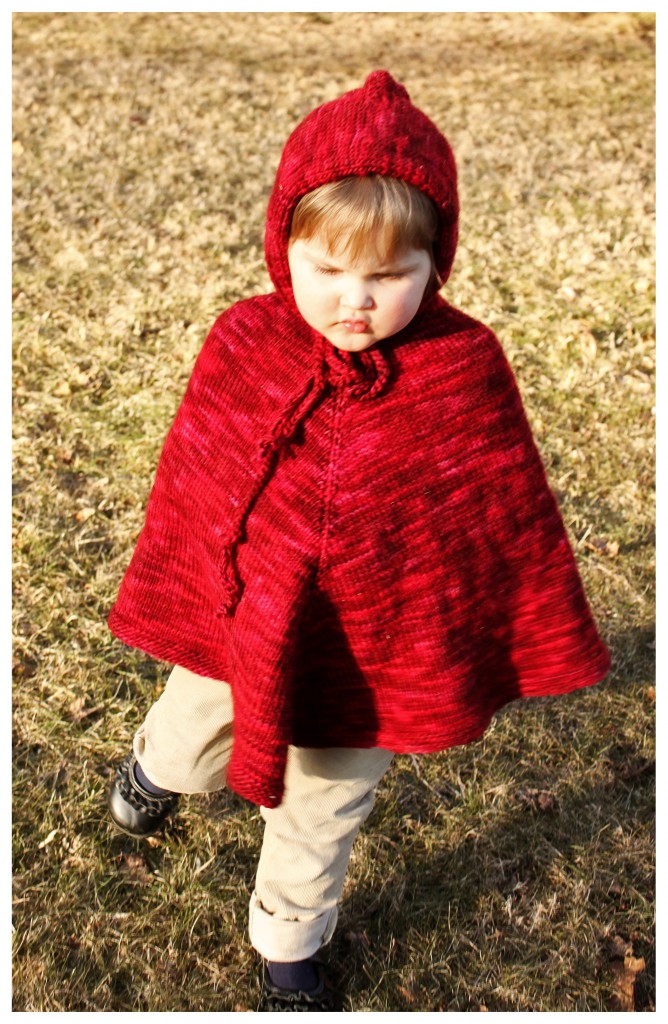 The pattern was great; simple, straightforward.  I love the yarn.  The color is gorgeous.  It's thick and soft and lovely all around.  It felt very, very strange to be making my three year old a size 6-8!  But I read that it runs small and I wanted her to get a lot of wear out of it.  So, I bit my lip and took the chance and I'm quite glad I did, because as you can see it worked out just fine and it fits Galen nicely too, so she will surely get a couple of years out of it.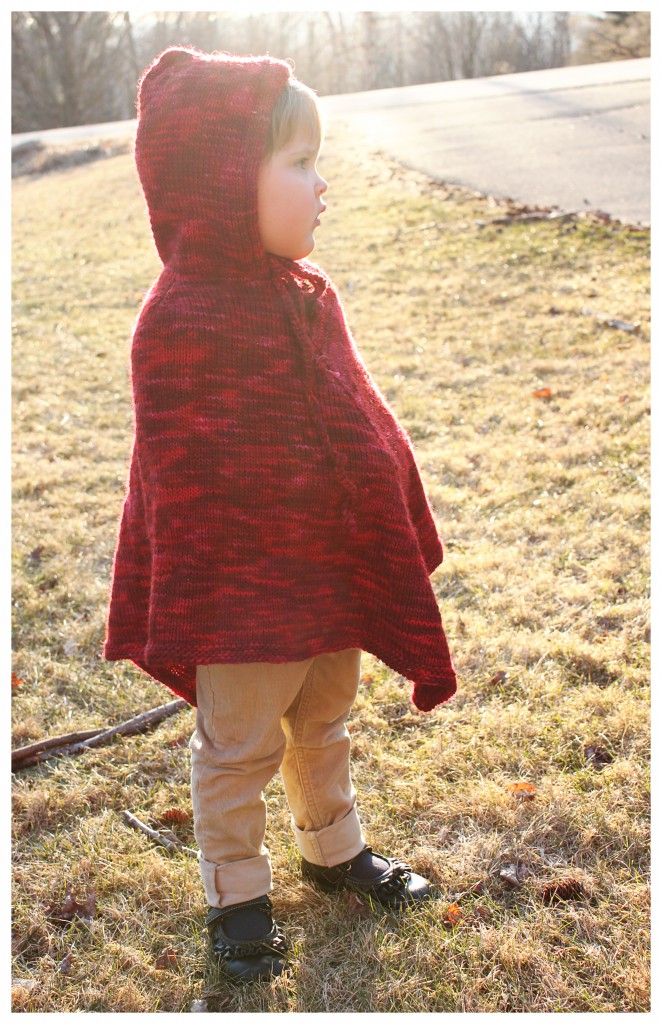 Even with going up a size, I still added a whole lot of length to it.  I wanted it to be long enough to cover her hands.
She loves it too, which is novel and exciting for me because she's very fickle and finicky with clothes lately and it's impossible to know what will please her!  The dress that she insists on wearing one day elicits screaming later in the week.  I was concerned that after splurging on the expensive yarn and all the time I put into knitting it, she would decide she didn't like it and outright refuse to wear it.  As it turns out, she wears it pretty much daily.  Whenever she gets chilly, she goes and puts it on herself.  And the most darling of Little Red Riding Hoods is she.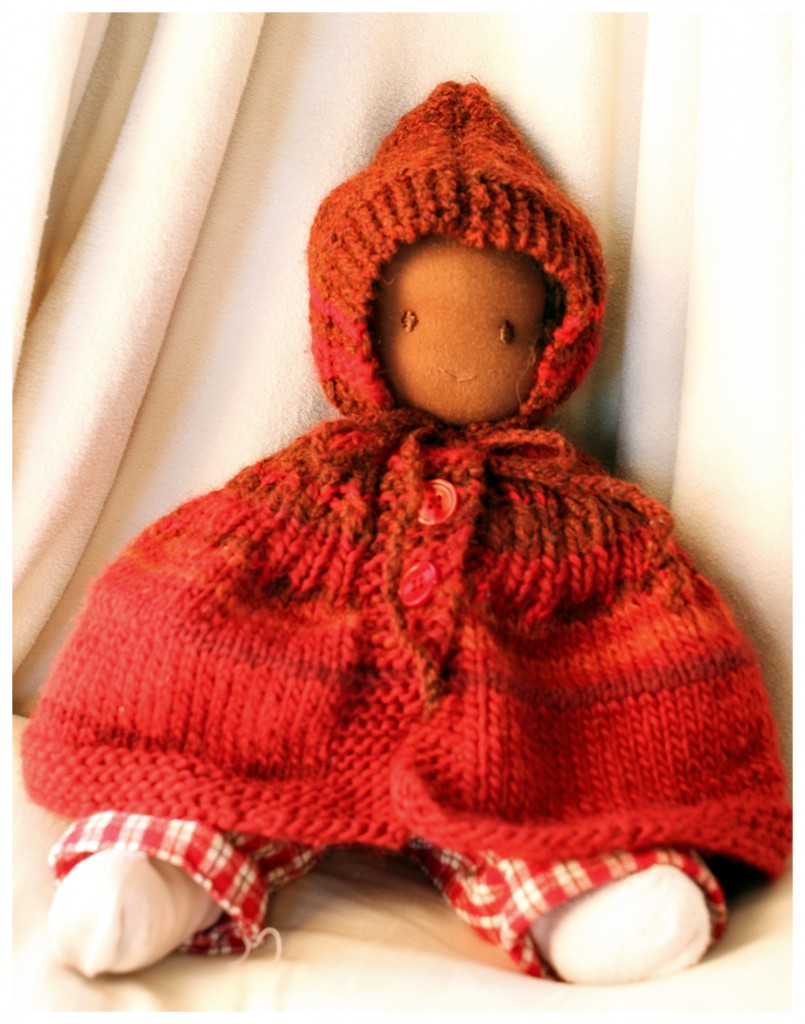 Pattern: Hooded Cape for Doll or Teddy Bear by Linda Flack
Yarn: all different scraps of red yarn, oh the number of ends I had to work in!
Notes: I used thicker yarn and larger needles and added some length because the pattern is for a 12″ doll and Rose is a full 16″.
I couldn't leave Rose entirely out in the cold.  Sure, she doesn't have regular clothes yet (the pajama set is on loan), but I've got the hand-knit outerwear covered.