I think this is the first year since I've had children that I didn't gift a single hand-made item.  Not a one.  And I'm completely at peace with that, though I don't expect it to turn into any kind of tradition.  And thankfully, with my amazing kids around, there was certainly no lack of hand-crafted gifts under the tree.  Iain and Elijah really out did themselves this year!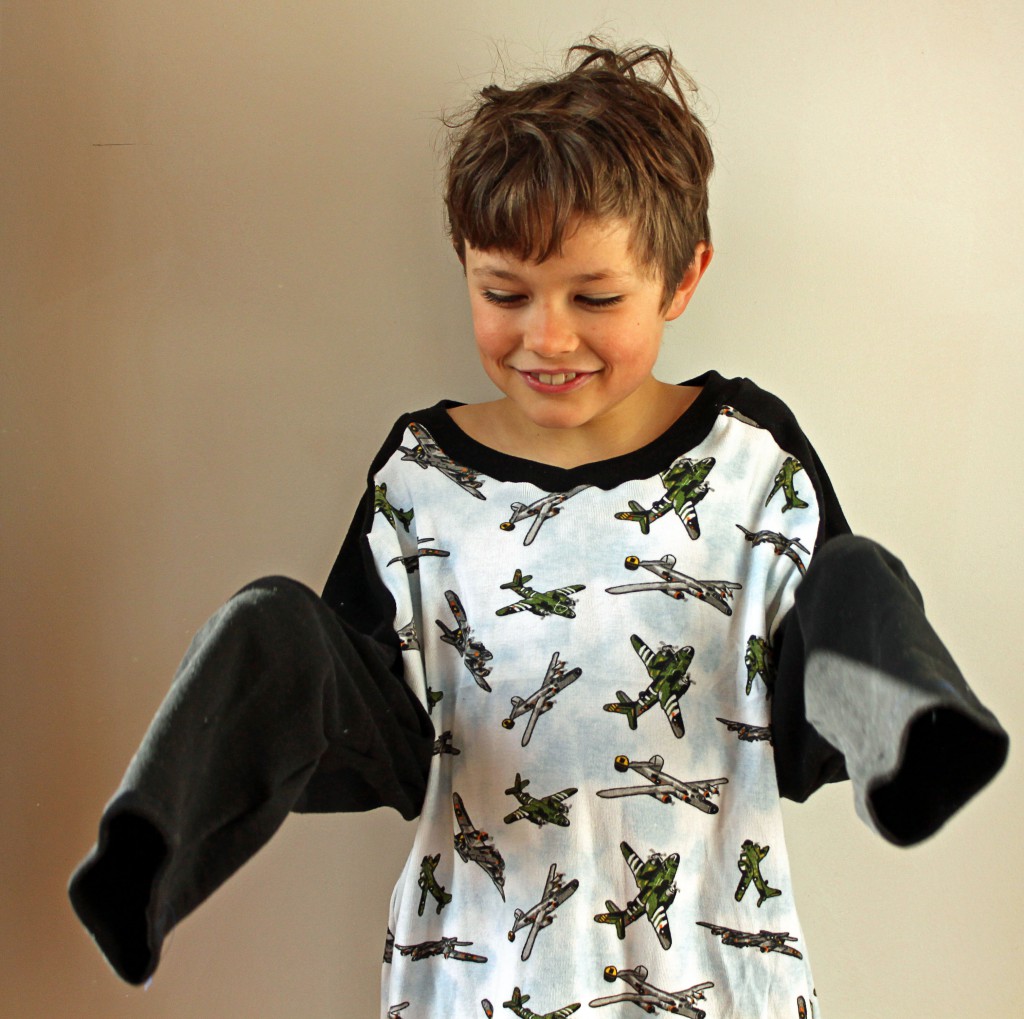 On the one night a week when Iain is at dance class, Elijah helps me to put the little ones to bed, then we get a pot of tea brewing and work on some little project together.  Well, sometimes we curl up together in a sleeping bag and read to each other!  But when the holidays/birthdays are coming up this is the best time for us to get some top-secret crafting done.  With the making of his Halloween costume, Elijah discovered a new love in machine sewing.  That's how this shirt for Iain came about.  Elijah shopped through my stash for fabrics to make it.  And we lengthened my favorite boys top pattern (Kwik Sew 3366, which now appears to be out of print), because *gasp* the largest size is now to small for him!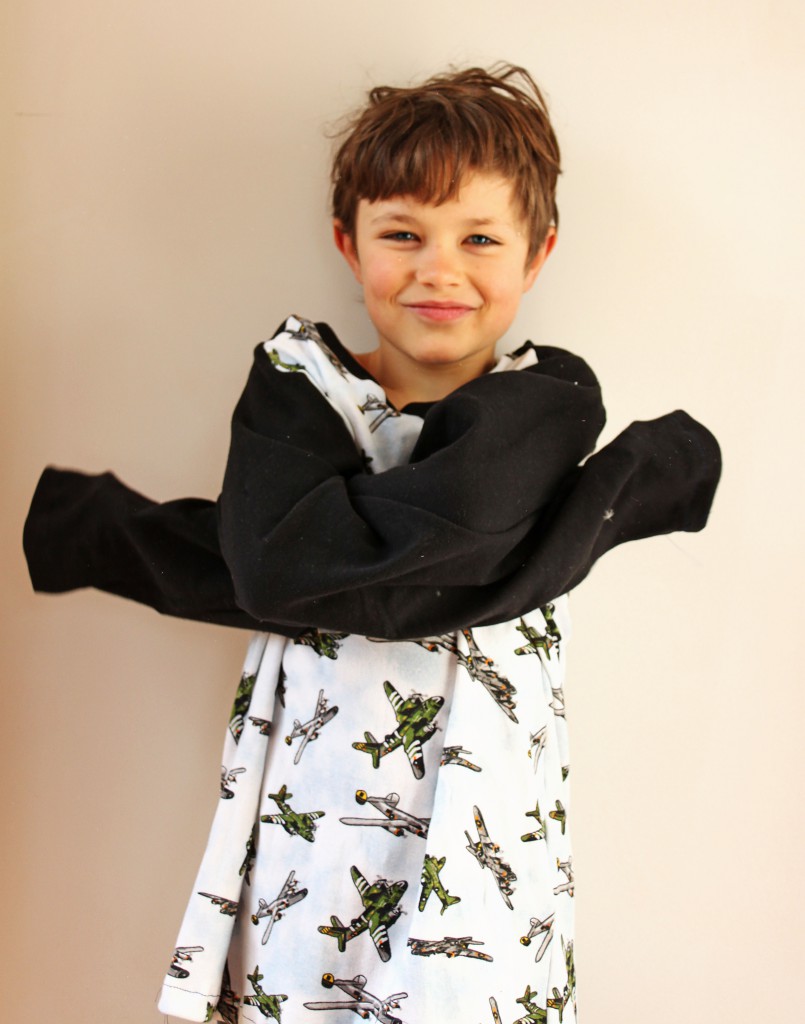 I love these photos of him in the shirt he made his big brother.  These were taken right before he wrapped it.  He was so excited!
Other then their gifts for each other, they decided to team up for all of their gift making this year.  So everything else from the rest of the post, they worked on together.
For many months now they have been working on perfecting their bow and arrow designs.  There has been a lot of trial and error here.  Their current designs are pretty outstanding.  Taking many variables into consideration, they hand select, harvest, whittle, sand and notch each bow stick.  They were having trouble finding the right material for bowstring.  Nothing seemed to be up to their standards.  Finally, I managed to track down actual bow string material (here) that they now use to braid their own bow strings.  Their arrows are also hand-carved and adorned with feathers…sometimes authentic and sometimes boy-made.  They tape the tips for safety's sake.  They made a set each for 6 of us this year; Steve, my father (pictured with his above), both of my sisters, my mother and myself.  You can see photos of our archery competition on Christmas day here.  Those arrows can travel an amazing distance!
Also pictured on the Christmas post is the scarf that they both worked on together for me.  I meant to get better pictures of it, but never got around to it.  You can see it in the second picture from the bottom.
Oh, and there was chocolate too.  Did I mention that they make chocolate every year and fill Steve and my stockings with it?  Yup, that too.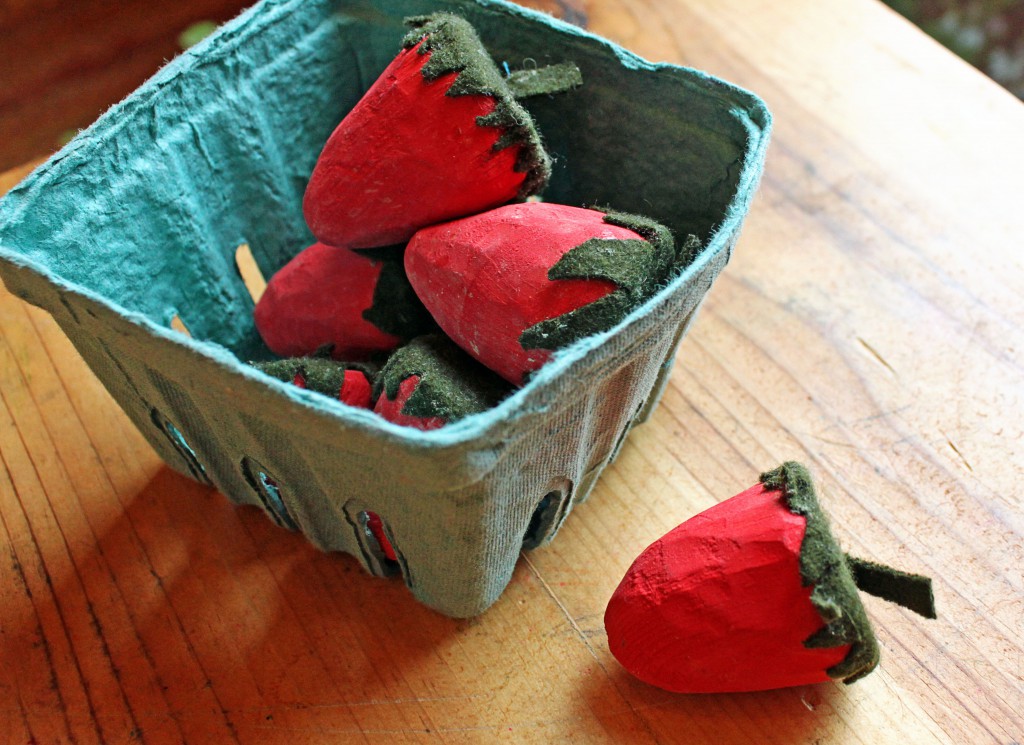 But perhaps the biggest investment of time and energy went into their gift for the little ones.  A whole selection of fruits and veggies for their kitchen set…
strawberries,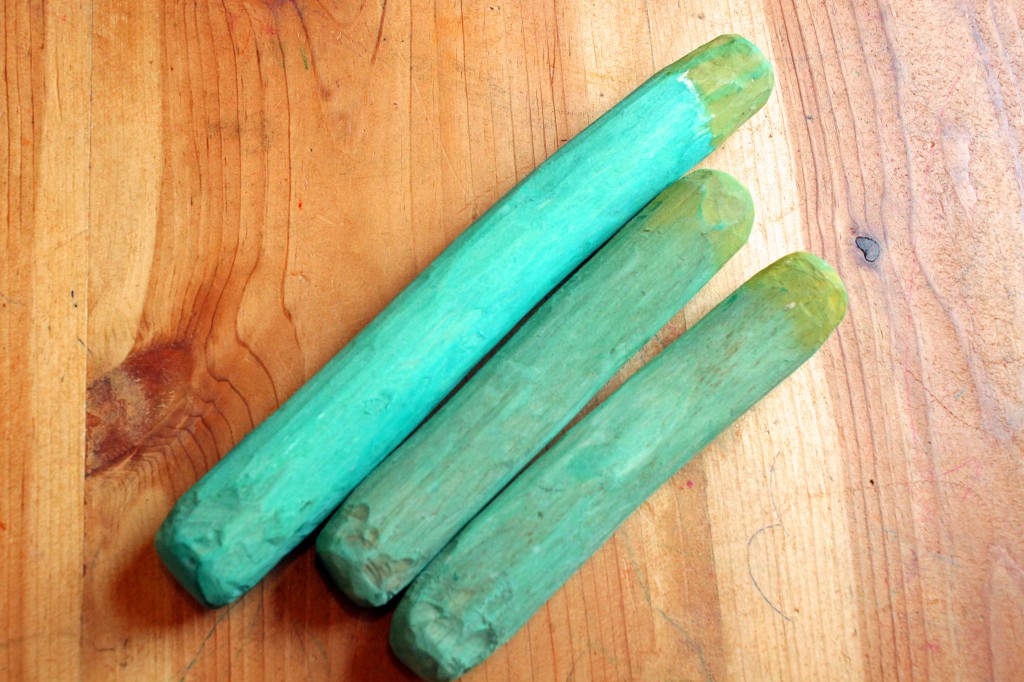 zucchini,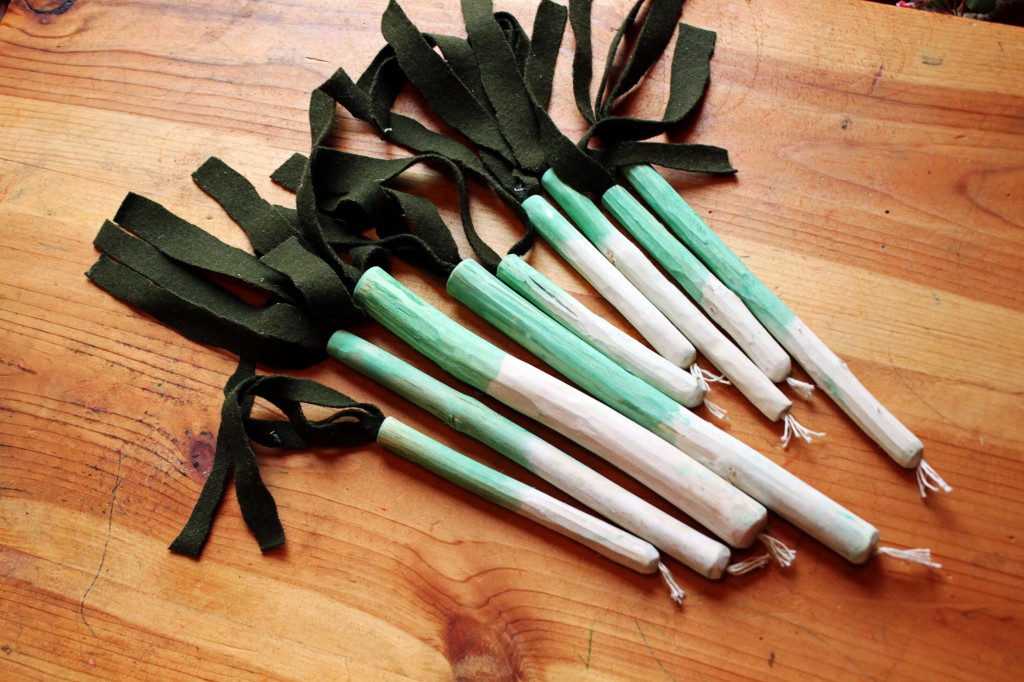 leeks,
yellow, green and purple beans,
cucumbers,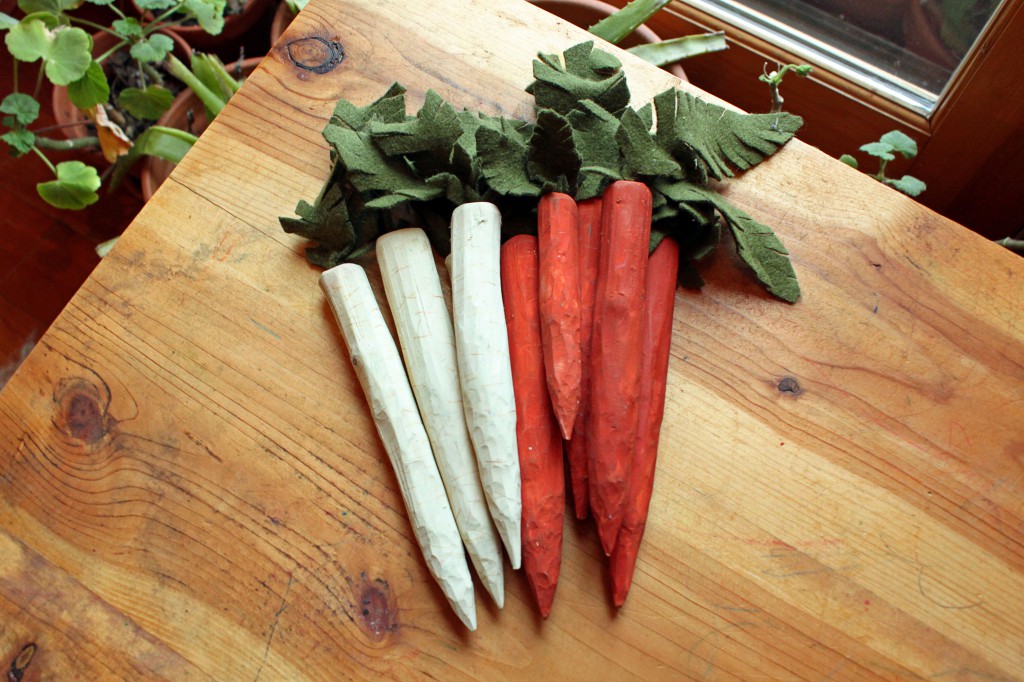 carrots and parsnips.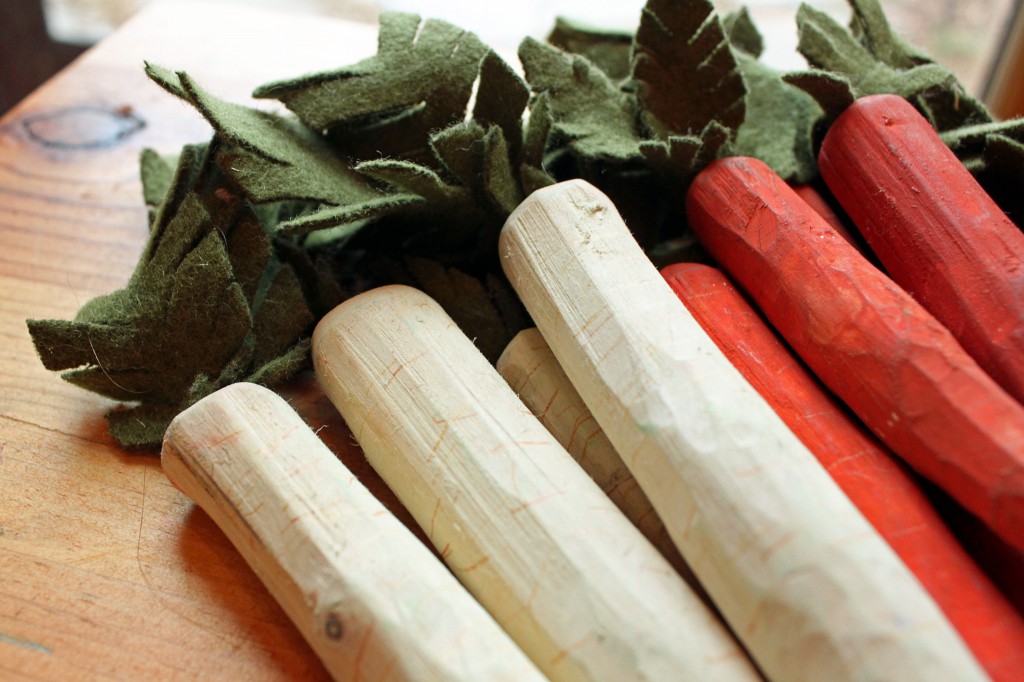 The general idea of how to make them came from here.  But after seeing the pictures, they mostly went their own way with them, rather then strictly following the directions.  All of the wood was gathered in the form of sticks from the forest around our home, with the exception of the strawberries, which they made from a bit of scrap wood.  They were accented with wool felt (where applicable), painted with watercolor paints and finished with beeswax polish.
I think they may have gone a bit overboard.  But they did such an outstanding job!  The little kids bypassed playing house and went straight for opening up a pretend restaurant.  Personally, I think they should set up a farm stand or maybe a CSA.