This year for Halloween Galen decided to be a gnome, but not just any gnome of course!  Just like last year when he wasn't just any mouse.  No, he was very specifically Mossy Gnome of the beloved "A Donsy of Gnomes, 7 Gentle Gnome Stories"
.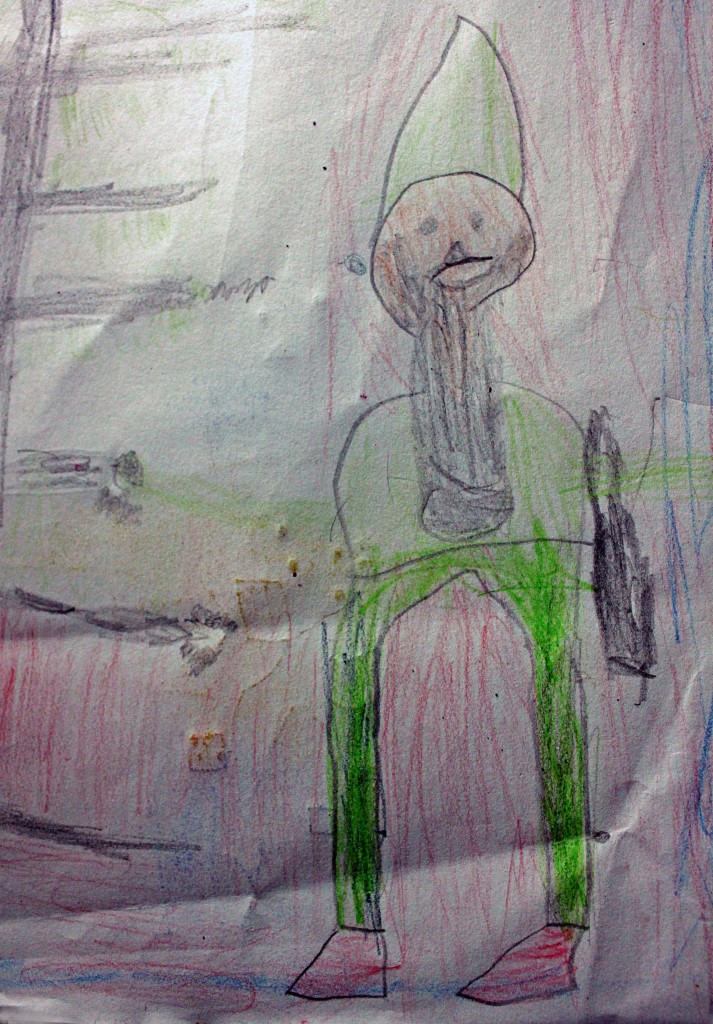 ~One of many rumpled sketches of costume ideas~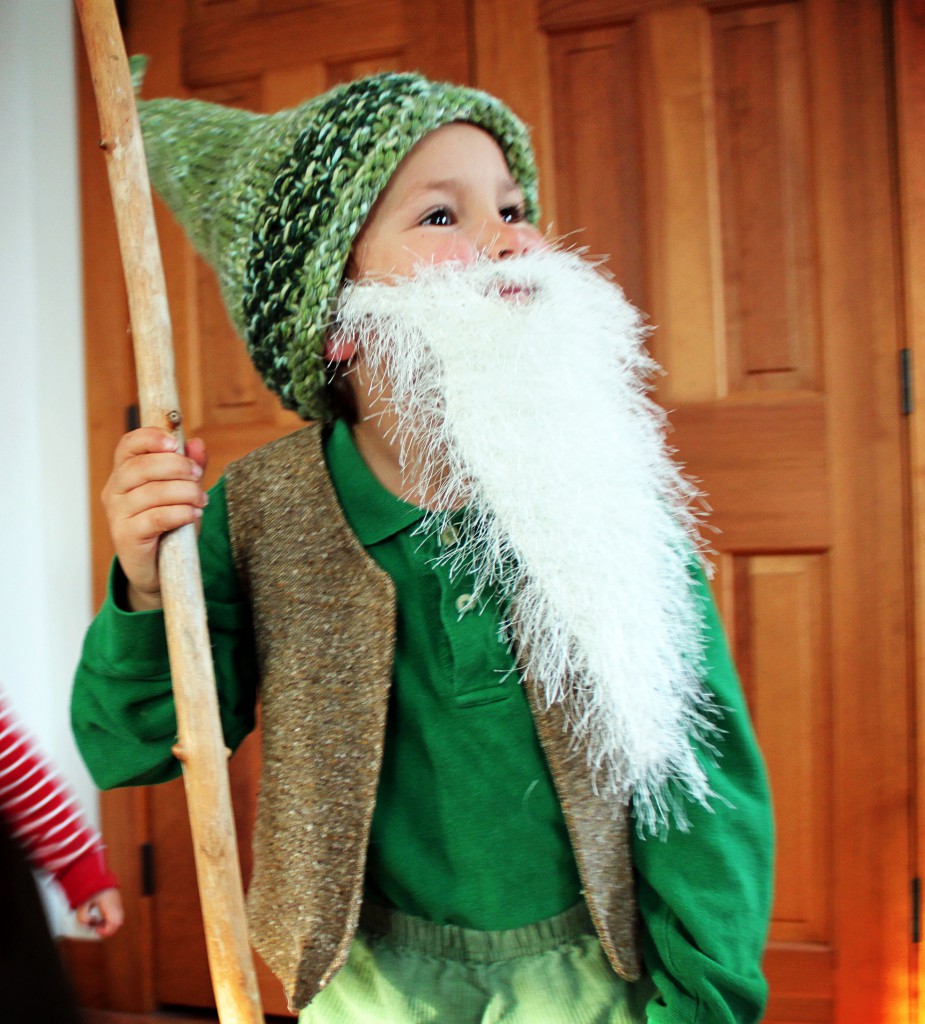 Lucky for me, I already had a quick and easy gnome hat pattern on hand.  Since he was being Mossy Gnome, I added a band of moss stitch just after the brim.
The shirt and pants came from his regular wardrobe.  I made the vest from a wool tweed, using 'Boy's Vest', #17 from the winter 5/2006 issue of Ottobre Design.  I went for the good material and nicer, fully lined pattern because I knew he would wear it all the time (and he does).  I used the wool for everything, lining and all, to make it durable and warm.  I left off the buttons because I was told it would be more "gnome-like" that way. ahem.
The beard I knitted.  Apparently I knit beards now.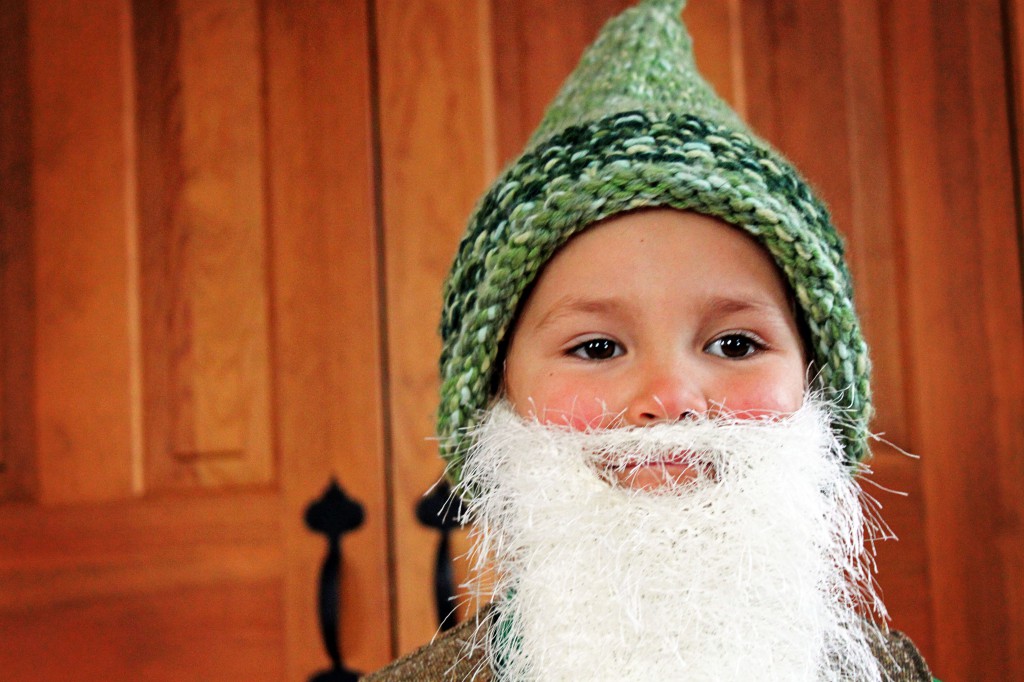 Is it just me, or does he not have the most perfect rosy-chubby cheeks, to peek over the edges of that beard and make him look very whimsically gnome-like indeed?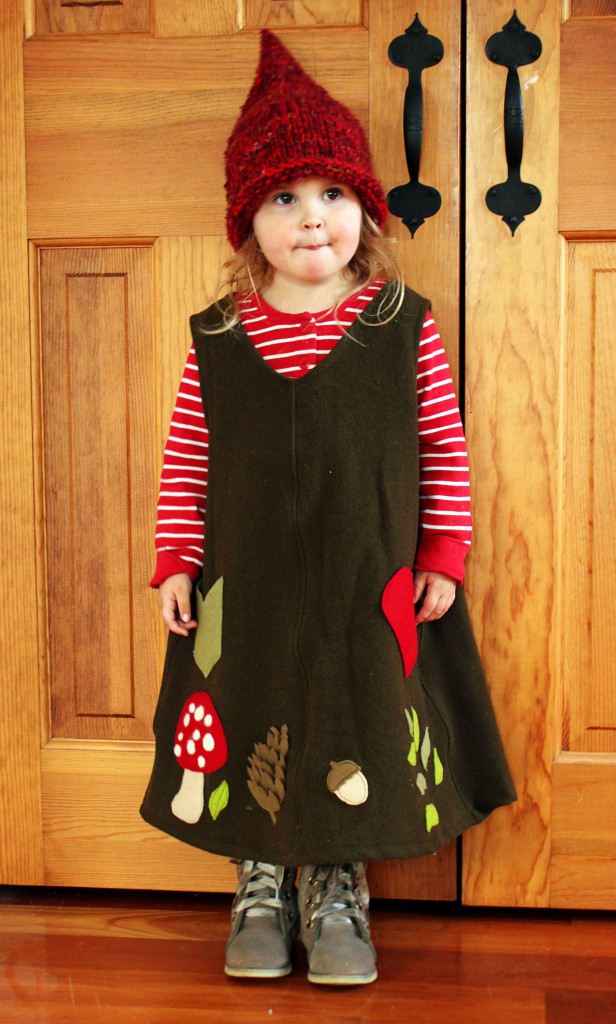 The Wee Girl, following her big brother's lead as always, decided to be a gnome as well.  But, unlike Galen, she was just a generic Gnome Girl.  I wanted to do something a bit different for her hat, so I adapted the Scrappy Gnome Hat pattern.  It's cute this way I think, and even quicker to make.  I'll post the pattern for this version soon (I can post the beard pattern too, if people are interested).
The jumper was made from an old Butterick pattern from the '90′s (Nine Sew Fast & Easy #5095, in case you care, but I think we both know you don't).  I don't know why I persist in believing the pattern over my own intuition.  It's clearly too big, as I knew it would be.  Fits Galen just perfectly.  Ah well, lots of room to grow…
I made it from a thick, olive green, boiled wool, for extra warmth, since it's for regular wear and not just dress-ups.  The pockets are from two different pattern views.  I did the various appliques free-hand.  I think the pine cone is my favorite.  They were all created using wool felt.  With the exception of the spots on the toadstool, which I needle felted on when I found someone had used up the last of my white wool!
All in all, I think these two are pretty cute together!