Quite a bit to share here today!  You should have seen us trying to get all of the labels matched up with the right projects so they could be displayed.  It was quite the scene!  So this is going to be a long one.  Are you ready?
Moving from youngest to oldest…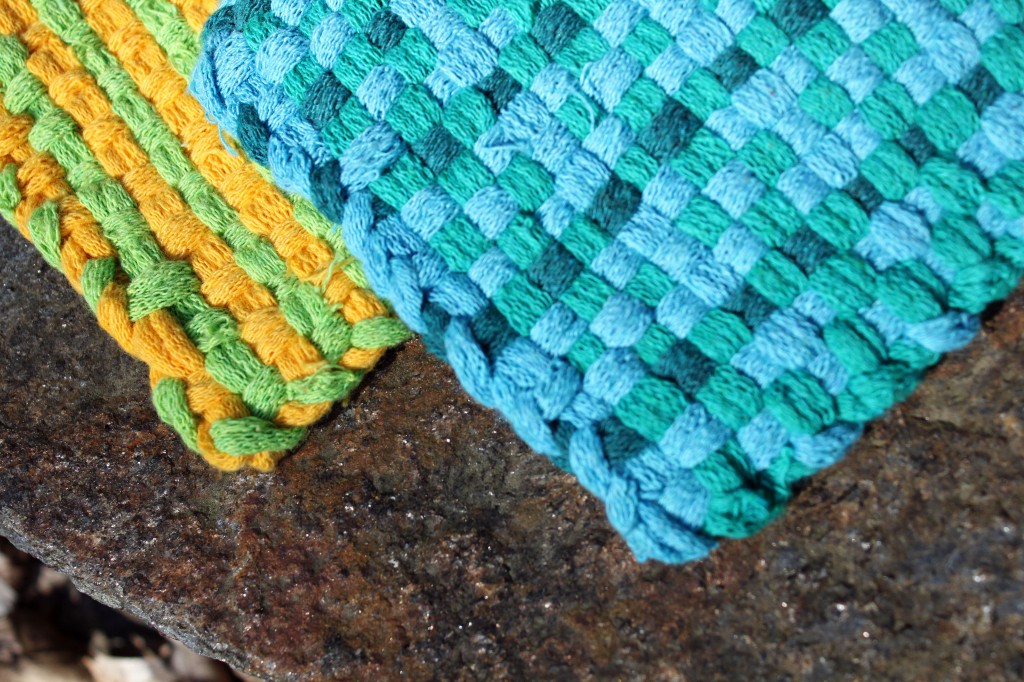 Galen submitted two potholders and took 3rd prize in "General Yarn Craft" with his big ball of finger knitting.
Do you see him in the background there lounging, and lazily finger knitting?  Love it.
What constitutes a BIG ball of finger knitting?  In this case 189.5′, as of the last time we measured it.  That's some of it above on the drying rack airing out after being run through the dewy grass to measure it.  We've promised to drape it back and forth across the living-room ceiling at Christmas time.
The potholder loom is enjoying  a renaissance right now.  I originally talked about it here.  With these projects he realized that he can now do it all by himself and it's not odd for him to make two a day.  He's getting a head start on his holiday crafting and stockpiling them to give as gifts.  His designs are also growing more creative and interesting.  It's so much fun to watch him progress.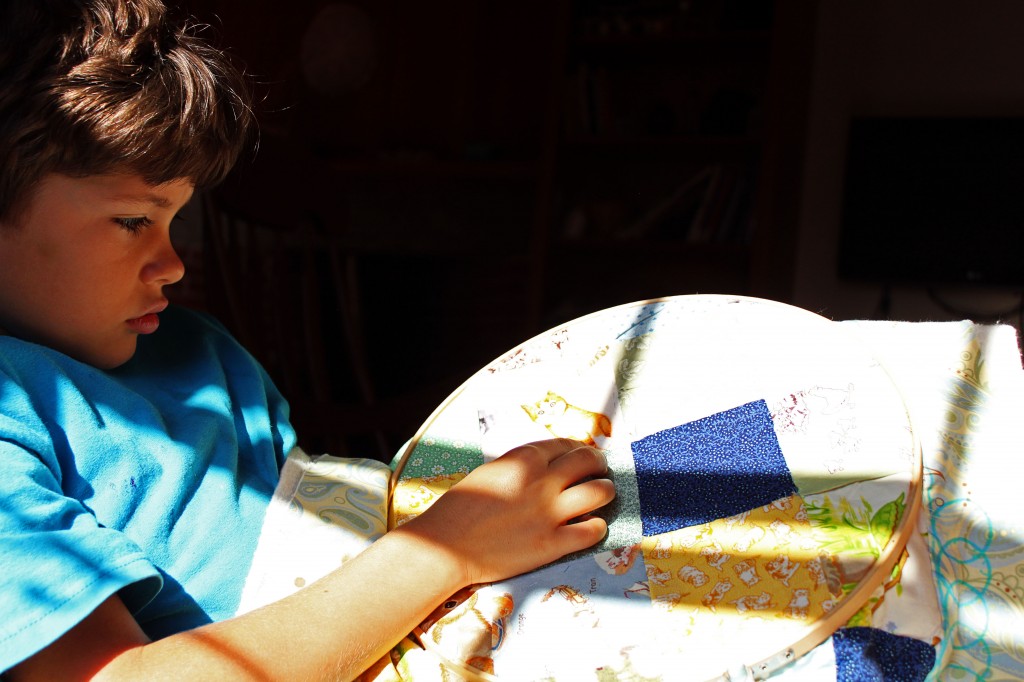 Elijah took 2nd place with his bird feeder.
He built it out of red oak, finished with beeswax and it's heavy. Very, very solid indeed.  He adapted some plans found here.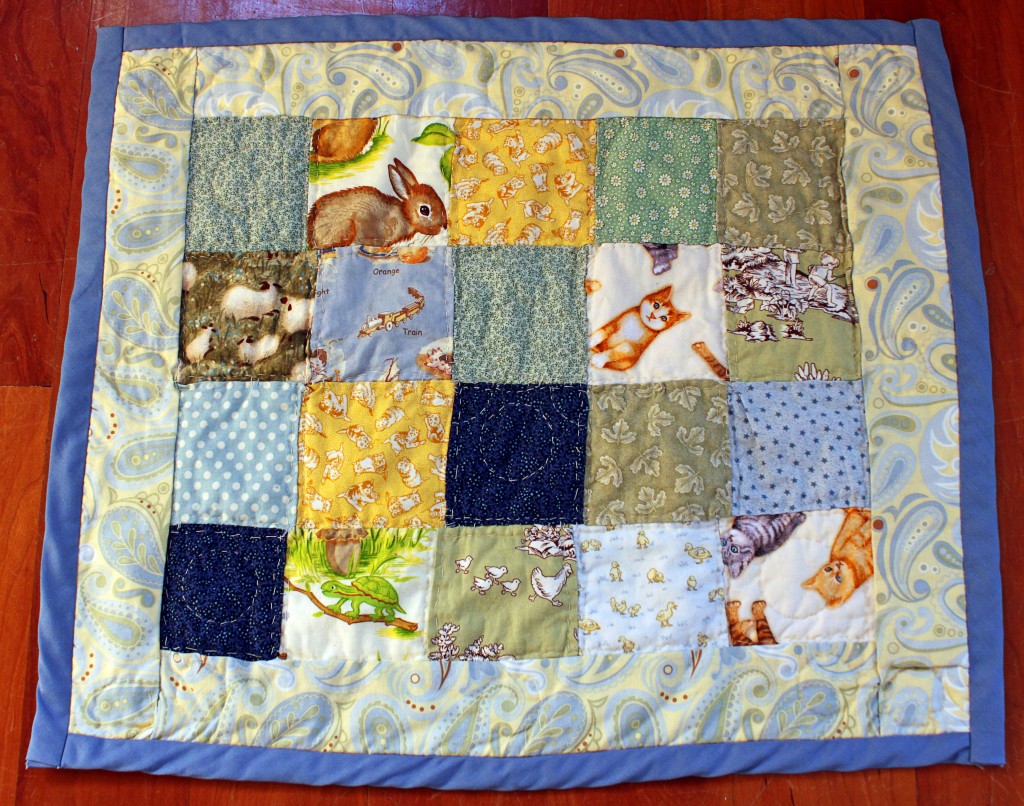 His doll quilt, entirely hand-pieced and quilted, took 3rd place.  It was much smaller then the 1st and 2nd place winners, and they were both examples of fancy machine quilting.  Having quilted both ways myself, at some point or another, I have to say, I think more work went into his quilt, even though it was smaller and simpler.
He actually start the center patchwork part when he was around 5, while I was working on the quilt that was to be his, but turned out to be Galen's.  He hadn't worked on it in probably 3 years, but I've been encouraging everyone to reach down to the very bottom of their work bags and start finishing things up.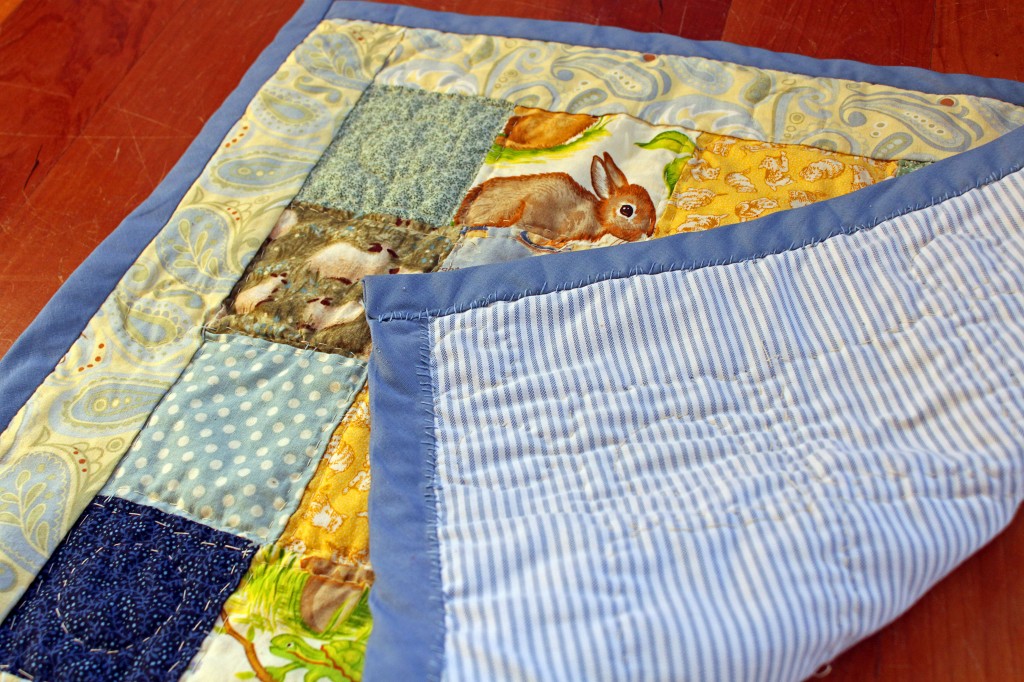 He really got into making this and I think it turned out beautifully.  Most of the fabrics are scraps from the larger quilt that I mentioned above.  The backing came from one of Steve's old work shirts.  It's waiting to be gifted as a Christmas present to Galen (sshhh!  Don't tell!)
The tapestry above is actually a project from earlier this year.  Elijah made this for Galen's birthday, back in February.  I was going to share it when I shared all of his other home-made gifts, but I never did actually get around to that.  (there were some thoroughly lovely things too, so perhaps a very belated post is in order)
The sheep tapestry took 1st prize in the Youth Weaving department.
The pattern came from a Living Craft magazine from sometime last year.  He really took a lot of care with this project, down to hand-felting all of the balls,  carving and polishing the stick and sewing on the beaded details.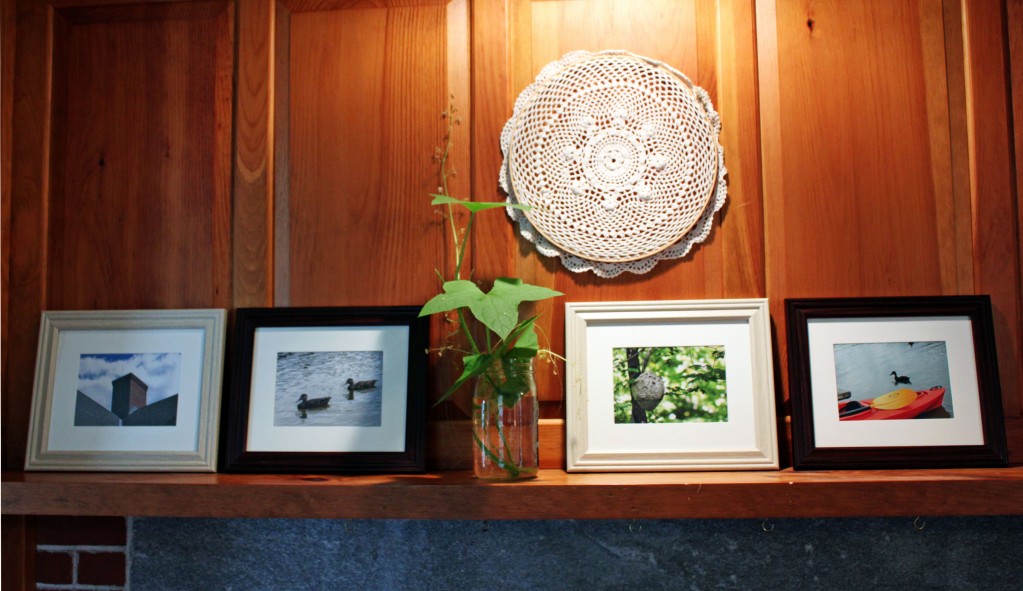 Both Iain and Elijah entered two photos a piece and each got a ribbon for one.  These are them resting on our mantel right before the fair.  The ducks and the kayak in the darker frames are Elijah's.  The sky shot and hornet's nest in the lighter frames are Iain's.
I thought that I had managed to get a picture of Iain perched high up on a ladder trying to take the hornet's nest photo, but the batteries in my old camera died before it was fully recorded.  It's a shame.  He took it very seriously and did a really good job with that one.  It was a lot of fun to watch him work (including stacking up just the right number of blocks to shim and steady my telephoto lens up).
Iain's birdhouse took 3rd place.  The judges praised his workmanship, but pointed out that the opening was too large, making it unsafe for baby birds, since predators could get in.  I'm not sure why that didn't occur to any of us here.  We're currently thinking on ways to make it baby safe and in the meantime it's found a spot atop their dresser.
He used the instructions from Carpentry for Children by Lester Walker.  It's built out of poplar and finished with beeswax.
His scarf took second prize in knitting.  It was his idea to make a scarf to go with Màiri's snowsuit.  At the end of last year I bought her a Hanna Anderson suit on deep, deep clearance to use this year.  Being a Hanna, it's of course crazy colorful with patterns going every-which-way.  We used that as the inspiration for the pattern here.  I sketched out the motif, based on the one from the suit and he embroidered it onto a square on the scarf, framed with seed stitch.  The heart is actually made of felt, with a pin on the back, so that the scarf can be pinned on.
He covered up all of the work on the back with a sweet cherry print.
This one is going to be a Christmas gift as well.  How nice to have everyone so ahead of the game!