That's right, I made another bunny pinafore.
Pattern: Simplicity 2461, views B, C, and D (bloomers made of the same green gingham, not shown)
Fabric: kelly green gingham and a bunny print that I found on the remnant shelf, a week after Easter last year.
Buttons and Trims: Further proof that things tend to get out of hand when I'm left alone with a big box of vintage ric rac.  I love vintage ric rac.  It's somehow so much more pleasant then the modern stuff.  It's far more pleasing to the touch.  The colors tend to be more interesting.  And the old advertisements on the packaging make me smile.  Mostly though, I think it's the fact that it's actually made of cotton.  The buttons, zipper and eyelet trim were also pulled from my collection of mostly vintage odds and ends.
Size: 2 Which was a perfect fit for the dress and bloomers, but seems a bit wide for the pinafore.
Notes: I like this pattern in general, but I do think it's a little odd that they paired the peter pan collar with a pinafore that ties at the shoulders, since each keeps the other from really laying properly.  Mostly it's adorable though.
This last photo really has nothing to do with the dress, but I think it's one of my favorite pictures of all time…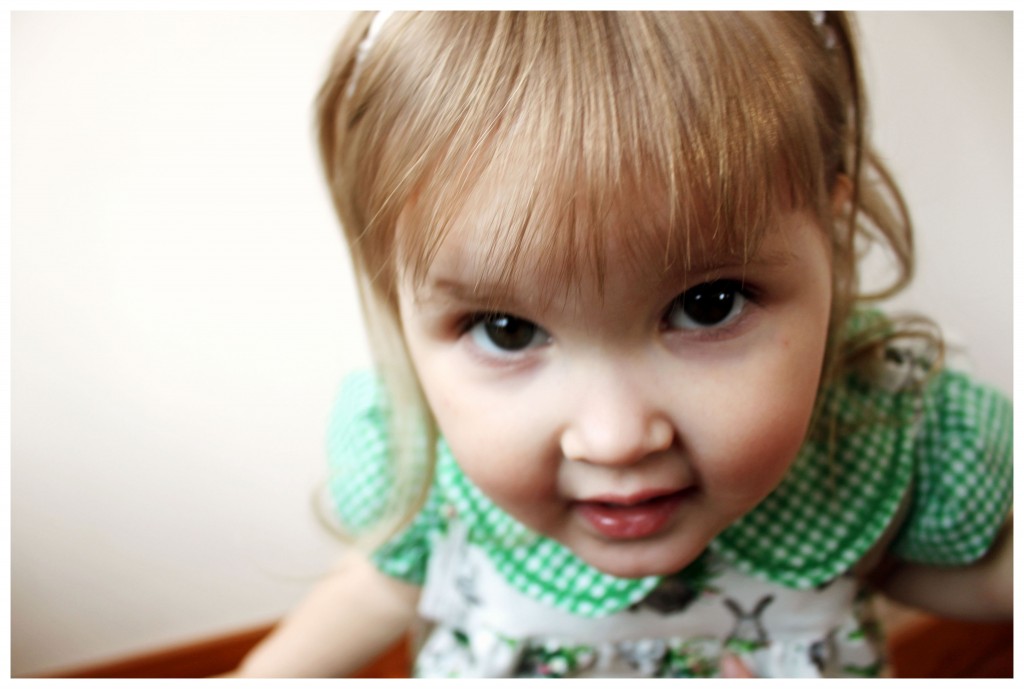 That would be Màiri Rose trying to see herself in the camera.