Beginning this past autumn, I started creating a seasonal meal plan.  I've done variations of this in the past, but I never found a system that quite worked for me.  After 2+ seasons, I think it's safe to say that I've finally found something that will work long-term and it is such a relief!
It's just dinners for right now.  Our breakfasts went from having a specific menu for each day of the week to being in complete disarray now that we have, once again, been forced to eliminate certain staple breakfast foods.  Lunch is mostly leftovers or something relatively easy, so that we don't interrupt the flow of our school day.
My plan for dinner is this; two weeks worth of seasonally appropriate, mostly healthy and fairly easy meals that I'll just keep on making until summer.  It's worked well so far.  One thing that I've really loved is that this plan has allowed me to make better use of our CSA share because I plan the meals around it (the currently season is the only one where that isn't really an issue.  Our winter share of root cellar veggies just ended and the regular season doesn't start until late in spring).  We do start getting a little tired of the same dinners towards the end, but usually when there is only a week or two left, so the timing is just about right.  And the new season's meals, by default become that much more inviting!
I try to stick to a general rhythm for the week; Sunday is beef, Monday soup, Tuesday chicken, etc.
Knowing that I'll be making the same meal two weeks later, I've started doubling some recipes and freezing half, which means I actually get nights off from making dinner, without wasting money or compromising nutrition.  And can't even begin to tell you how much easier it is to make a shopping list or what a relief it is to *always*, *always* know just what's for dinner.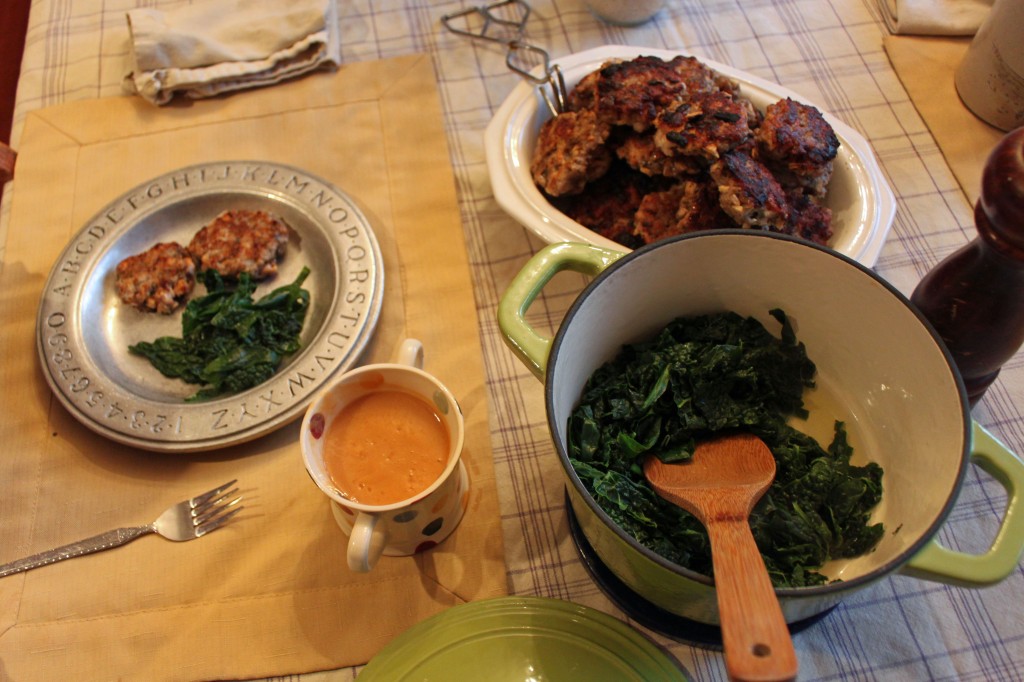 turkey apple sausages, steamed kale and peach smoothie (so nice to still have peaches in the freezer!)
Spring 2011 Meal Plan
Sunday: beef- we get half a beefer from a local farm, so this could be any cut from the freezer really; a steak, stew, roast, and then vegetables to go with it of course.
Monday: asparagus or green bean soup (depending on what's more readily available)
Tuesday: roasted chicken, mashed potatoes and greens- I might make gravy to do with this, open a jar of chutney or thaw one of the last jars of pesto to mix things up a bit
Wednesday: salad w/turkey and a homemade creamy dressing
Thursday: leftovers…it seems that after brainstorming 13 dinners, my creativity was stretched to it's limit.  So, leftovers it is for now, but maybe one of you has a fresh and brilliant suggestion??
Friday: coconut curry chicken and veggies
Sunday: burger salads-so this is how I eat burgers- I fill my plate up with all sorts of lettuces, plop my burger on top and then pile on whatever toppings sound good.  Is it just me?  The kids like for theirs "salads" to be wrapped in rice tortillas.  This week's "burger salad" had onions, avocado and radishes.  yum.
Wednesday: salad with fruit and nuts, roasted chickpeas on the side
Thursday: kale and potatoes, sweet Italian sausages
Saturday: mustard chicken-this is my very simple adaptation of a chicken dish my mother used to bake.  Basically you place your chicken breast in a baking dish spoon on a mixture of mustard and mayonnaise (we use grapeseed veganaise, due to egg allergies).  I then top it with a mix of salt, pepper, almond flour and sesame seeds.  I like to serve it with steamed and seasoned broccoli.
And that's it.  Fourteen days worth of dinners to be repeated from now until summer.  And a much more relaxed mama.
Now if I could only get breakfast sorted out…