I started off this year way ahead of the game.  And then we started looking for a house.  And then we were packing…and then moving.  And the school year started….and…and…and…..well, suddenly I was no longer ahead, but way behind.
When I think of my holiday crafting, I automatically include the winter birthdays in that.  I have 3 winter babies and 2 of them share a birthday that falls 11 days after Christmas.  If I don't get their gifts done before the celebrations, before the holiday parties and the visiting family, then I'm unlikely to finish them at all.  My ideals are very high.  There are many things that I would like to make, but I'm also trying to look at my holiday planning through new eyes.  I'm trying to scale back, to decide what's really important and what's just going to make me crazy.  This is not easy for me.  I'll sit and come up with the simplest of plans and mind will tack on 10 extra things unbidden.  There is a lot of "well maybe I'll have time for…" this, that and the other thing.  I'm trying to let those thoughts surface, be recognized and then drift away, while continuing to peg away at one project at a time.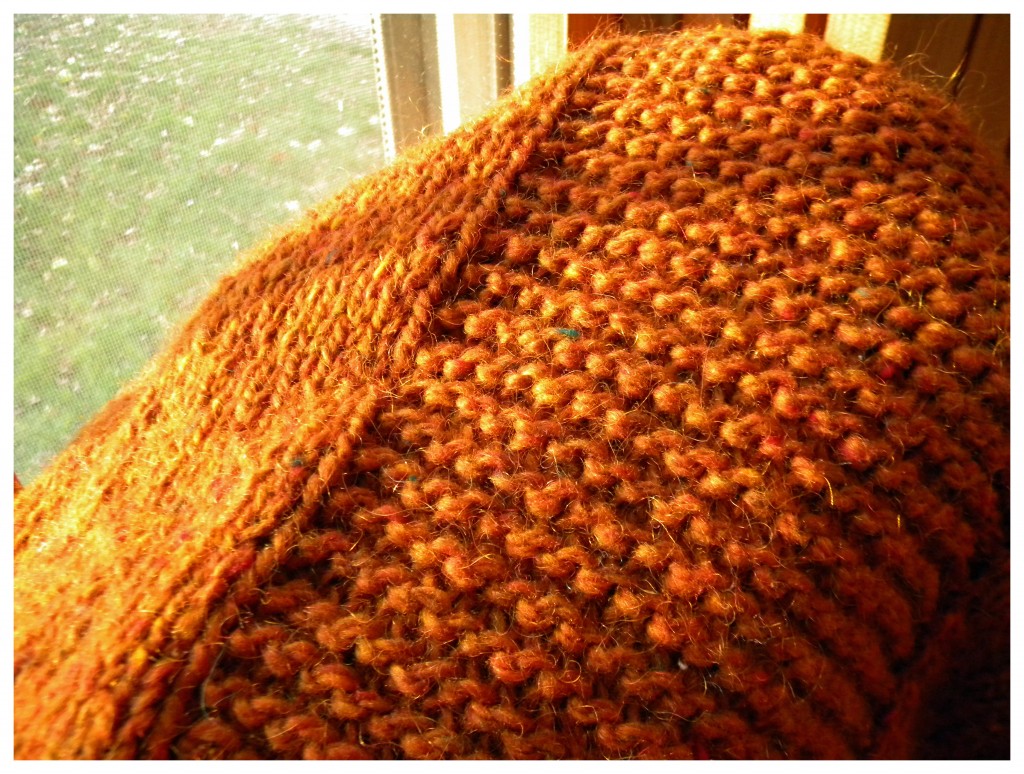 The one, and only, project I have done is, ironically, for the event that is furthest away!  Galen's birthday sweater is all ready to be wrapped up and set away for February.  Simplicity prevailed here.  In lieu of the extremely fiddly, and complicated fair-isle sweater I had in mind, that would have required an investment in balls of many different colored yarns, I opted to go with a very simple and straightforward sweater, made from yarn I already had.  It was the perfect project for a long car trip.
Pattern: Fisherman's Pullover by Veera Välimäki
Yarn: Peace Fleece Worsted in Glasnost Gold
Ravelry Link: here
Locking yourself in the bathroom doesn' t make for the best picture taking conditions.  I'll be sure to get better pictures after it's been gifted.  I can't wait to see it on him!
I'm participating in Tonya's Handmade Holiday Challenge this year and I'm really excited to see all of my projects, and everyone else's (!), coming together.  I'm sure I will have much more to share in the coming weeks.