This is about a bib.  Just a bib, a boring, boring bib, that kind of makes me think of a tomato.  I made it on our trip back from Pennsylvania, but I just sewed the button on yesterday (at which Steve was aghast, "three months?  to sew on a button???  I could never do that.  It would drive me crazy.  I'd have to finish it before I could start anything else." blah, blah, blah.  How long have we lived together again?!?  Clearly that's not the way I work.).
So, this is how the bib came about…on the day before we left for home, I finished the project that I had brought with me.  And then I panicked a little.  Because a whole long trip home with nothing to knit makes for an unhappy me.  My mother gave me several cones of kitchen cotton from her work basket to calm me down.
Kitchen cotton of course, lends itself well to bib, which makes for good car knitting; small, mindless, quick.  I had a crochet hook with me, so I thought it would be the perfect opportunity to practice crocheting; brilliant!  Until I decided to be an idiot that is… I couldn't just crochet a simple square or rectangle, oh no, not me…I decided to do a circle, and with a strange, fancy (for me) stitch at that.  So, I crocheted a bit….and ripped it out.  Started again…and ripped it out again.  Started again and outright refused to rip it, even though it was going very poorly indeed.  Not such a good choice for the car as it turns out.  Frustration and car work do not mix well.  It was really hot in there, with the sun beating down on me.  And cramped.  I'm pretty sure that the car walls started closing in on me.  I think I really needed to literally walk away for a bit…not easy to do on the freeway.  Oh, then  there was the traffic jam and the darn thing wouldn't lay flat and my frustration mounted.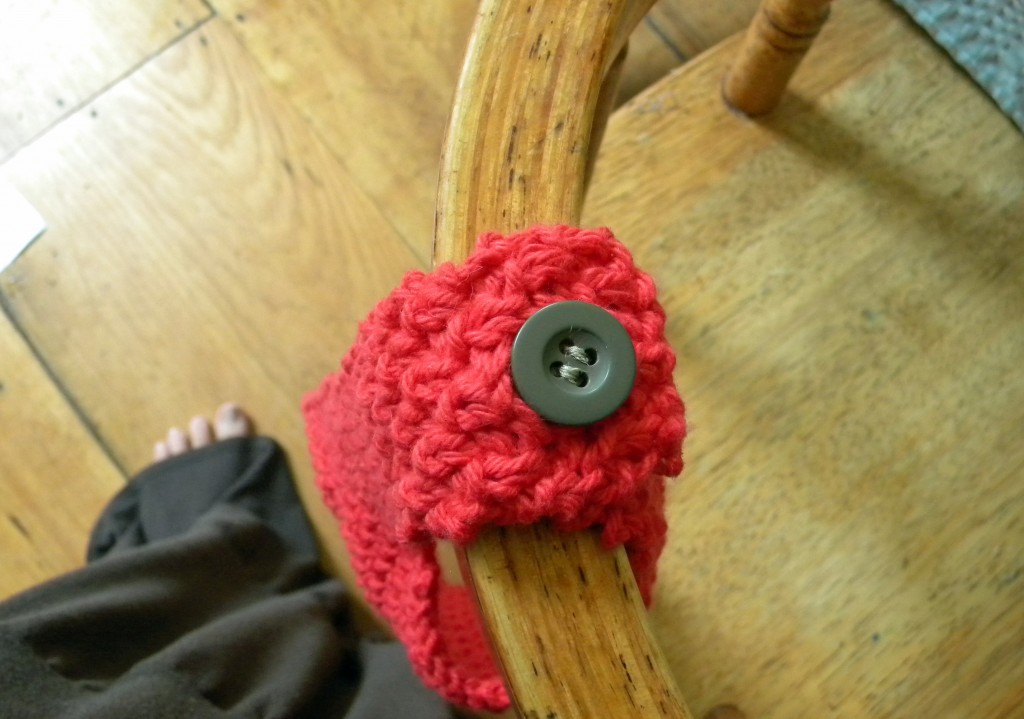 And then it happened.  With a family of six, going away for a week, every square inch was packed.  I spent the whole of the trip, there and back, with my legs tucked up under me, easy pose style.  I dropped the crochet hook and put myself out of my misery.  It slipped between (or into?  come to think of it, did I ever find it??) boxes and bags and goodness knows what else.  And look as I might, it didn't resurface.  At which point, I picked back up my knitting needles and cast on and completed this little moss stitch bib, which was like a long breath of fresh air.
I'm finding it much harder to teach myself to crochet then it was to teach myself to knit.  Mostly because every time I look at crocheting something I think, "I could make this so much easier and quicker if I just knit it.  I already know how to do that."  But I very much want to learn how to make these and I'm bound and determined to make Little Rosebud one of these so learn I must.