Elizabeth Zimmerman's 'Baby Surprise Jacket', that quintessential knit….
I never really got it.  It just didn't appeal to me.  And I know it's practically a prerequisite for any serious knitter, but I just didn't get it…
until….
one day I got it.  And that's all I could think about.  Knitting that sweater, in some very specific colors, for a very specific boy, but that's a story for another sweater.  Because when I got the pattern and I read the instructions, the all inclusive one by Schoolhouse Press (baby, child, adult), it strongly suggested making a Baby Surprise before attempting one of the larger versions.  Advice that I was planning on blatantly ignoring.  When I picked it up to actually start knitting I noticed that it strongly advises the knitting of the baby version in not one, but two places.  And I started to think.
I have the time.
I have the yarn.
I have the baby.
Why not?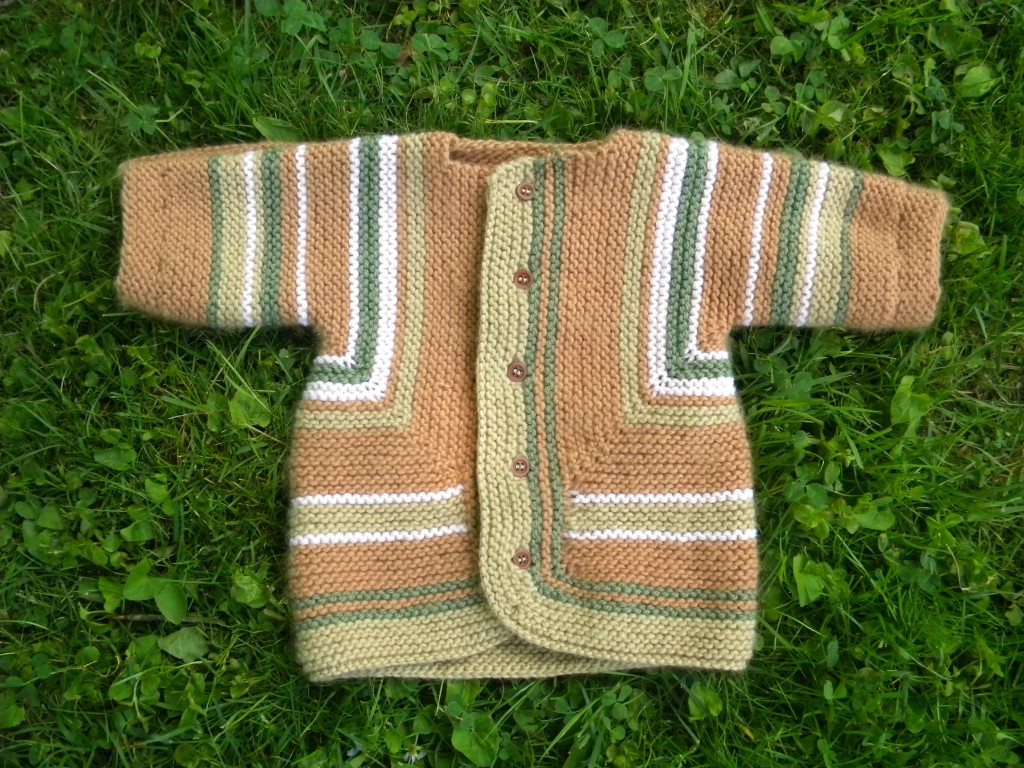 I was going to make it just for the sake of making it, but then I thought I might save it for her birthday, because matching (well more like coordinating) sweaters for the two kids that share a birthday, kind of cute, right?
The day that I cast on, I just needed to knit.  Does that happen to anyone else?  I just needed to knit and I had no time for measurements or pesky gauge swatches.  Peshaw. Ssssooooo….it doesn't exactly fit, the way that it's exactly supposed to.  And that would be now and not come January.  It does fit around her and the length isn't really bad either, but the sleeves are what can only be considered short.  Though I have to say, it makes a really cute short sleeve sweater.  I'm not sure what I'm going to do with it at this point.  I'm definitely replacing the buttons.  They are a little too small and it pops open.  I could add some length to the sleeves and I suppose the body, while I'm at it, but I kind of visually like where the pattern stops now and I'm not sure that I would like the add-ons….hmm, hmm, hmm….
The yarn is *fabulous*.  The green and the pale pink are leftovers from another project, but the terra-cotta and beige are Fiesta Yarns Naturale Wool that I got on clearance a while ago (there are still a few skeins left!).  It's this beautiful, incredibly soft wool, that's been dyed with natural dyes.  love. it.
We're headed out for a camping trip with some friends.  I should be back sometime around the middle of next week.  Happy Father's Day and happy Summer!