Patterns:
Hat- Simplicity Costumes for Kids 5512 view D, modified to look less like the hat of a Musketeer and more like the hat of a cowboy.
Bandanna- one fat quarter of bandanna print fabric, folded diagonally, right sides together, stitched with an opening to turn, right side outed and top stitched.
Horse- The Winter 2009 edition of Living Crafts magazine (this one's been done for quite a while now, but I never did get around to posting it).
Add a pair of little cowboy boots from Ebay and voila! Instant cowboy.
We're off to Pennsylvania for a jam packed week of visiting with friends and family and sharing the joys of that grand old city of Philadelphia with the munchkins. The agenda includes taking in a Phillies game, trips to both the Franklin Institute and the Philadelphia Zoo, a series of small family reunions, an early birthday celebration for a certain soon-to-be eight year old, a real, honest to goodness, out all by ourselves, date for the Mama and the Papa (ah, grandparents are a *good* thing) and absolutely no blogging. I'll see you in a week of so!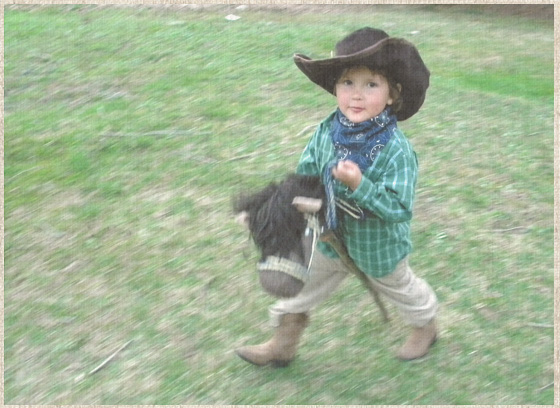 'til we meet again.