A new basket treat this year, I discovered these Oskri Organics bars at a local co-op a couple of months back and made a mental note of them.  They are dried coconut, brown rice syrup and a bit of cherry juice, in a pretty vibrant pink that looks so festive.  Màiri's wee basket, lined with raffia, contained one of these, an orange (her favorite!) and her book and it felt just right.  I went kind of over board with the bigger kids, but hers was perfect simplicity.
Also new this year, I made up these little nests!  I sliced up a bunch of almonds and mixed them with shredded coconut and sesame seeds in about equal amounts.  Then I poured some of my melt-y home-made chocolate over top and mixed it together, adding more until it felt like I could mold it.  I pressed some into this round bottomed muffin tin I have and some into muffin cups.  I picked out a bunch of whites from the sack of organic jelly beans and pressed in my "eggs" into the nests before chilling them.  They were really good!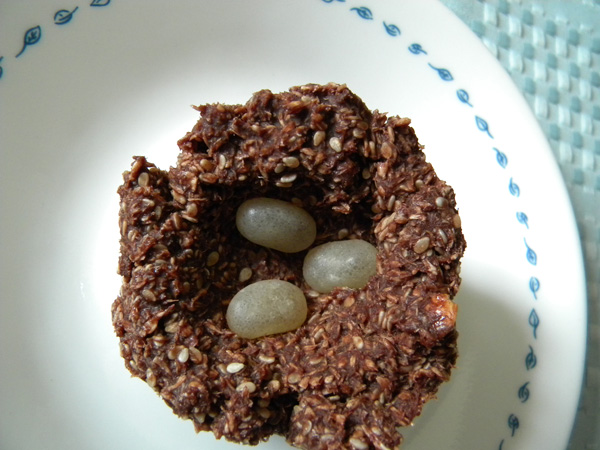 And (surprise!) there were some baskets for Steve and I, complements of two tricky little boys (who aren't so very tricky as they give themselves credit for, but don't tell them that I said so!)…
This basket was mine.  It was harvested from the playroom and lined with a doll blanket that my Great Grandmother crocheted for my mother when she was little.  And festooned with some finger knitting by Elijah (I was told that it was going to be an Easter garland).  Inside where homemade chocolates, just a bit on the squishy side (I was told they were making them for Steve, which was true, as he got some too) and this little pouch…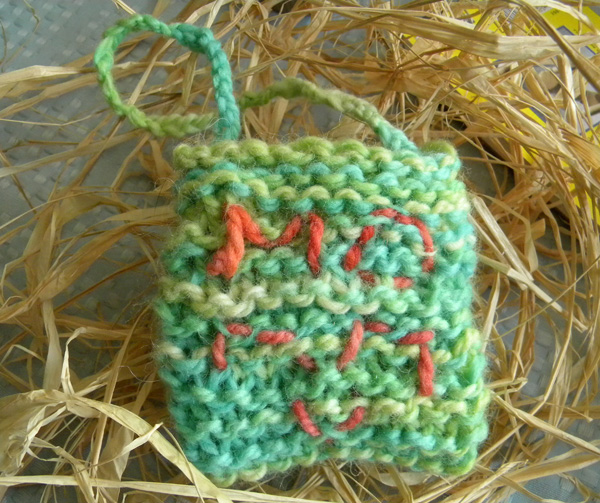 knitted by Iain (I was told it was part of a "spring banner" he was making).  Thankfully I know better then to ask too many questions and spoil the surprise!