A couple of weeks back Little Rosebud was in need of clothes, so I bought a bunch of used woolens on-line.  I asked all of my usual questions about what they had been washed in and everything seemed to check out.  Only then they came, and it turns out that they were made from re-purposed sweaters that absolutely reeked, and I do mean reeked, of perfume.
*insert big, deep, sigh here*
I've tried everything I can think of to no avail.  Which means I'm out $80 and my baby is still cold.  Which leaves me feeling rather disgruntled, not necessarily at the lady who sold me the clothes, I know people don't tend to think of these things, but just at the way the world works in general.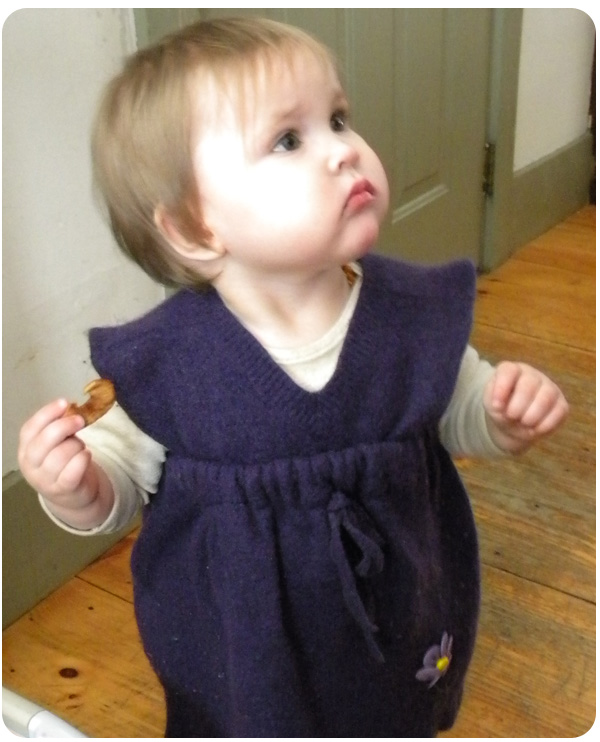 Necessity being the mother of invention and all that business, plus me being in a somewhat surly, it's-just-easier-to-do-everything-myself kind of mood (said on-line purchase was meant to save me from feeling like I had to do it all.  so much for that), I pulled out an old sweater of mine that I had been contemplating cutting up for a bit now.  It's fairly felted, so nice and thick.  Just the ticket.
Plus, I had been sick.  Just a little cold mind you.  But I have this weird quirk of wanting to sew when I'm coming off an illness.  Oh, but it absolutely must be something quick and easy, a one sitting type of sewing project.  Something that's not the least bit fussy, for a bit of instant gratification to get me back on my feet.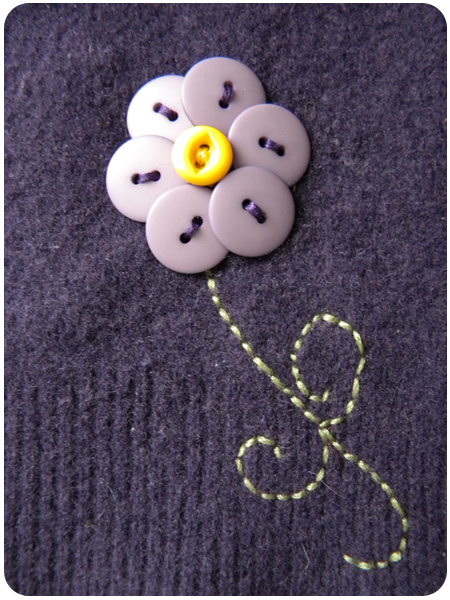 So, I cut up the sweater and whipped this set up, just on a whim.  Then I got a bit buttonish with it.  A certain husband of mine, who shall remain nameless, was heard to ask, "What's with the clump of buttons?"  Shesh.  I mean it's clearly a flower….right?  (right?!?)  To be fair, I hadn't embroidered the stem yet when he asked…but still.  harumph.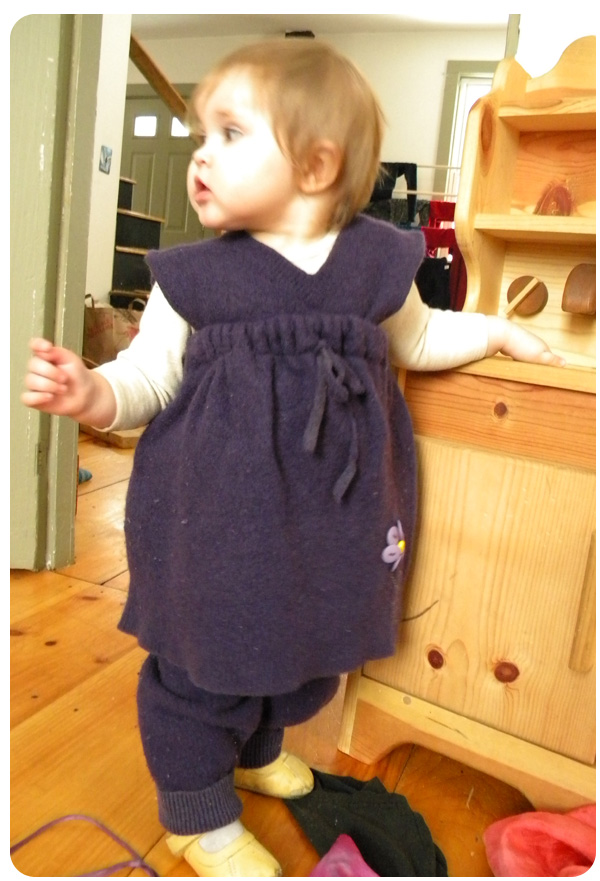 I'm heading into the depths of Steve's closet this weekend to see if I can drum up some more supplies.  I know somewhere in there he's got stacks of sweaters that he never wears and I'm thinking it's high time that I relieve him of that burden.  Old sweaters that don't smell of mothballs or perfume are so hard to come by, don't you think?  Ah, well.  You'll be happy to know that if nothing else, the site of this little cutie pie in her new woolies put me in a much better mood.