The other day Iain accused me of being"too buttonish".  I think it was right around the time that I took to decorating with buttons.
Right.
Ok, so he might have a point.  Though it's kind of a silly one to make since he likes buttons almost as much as I do.
My Mother-in-law is the maven of yard sale finds.  We joke that she keeps us in our own variation on disposable dishes.  Every year she buys up all of the pieces from a certain pattern that she comes across and ships them off to us to replace all the ones that we've broken in the previous year.  A fabulous deal, I tell you!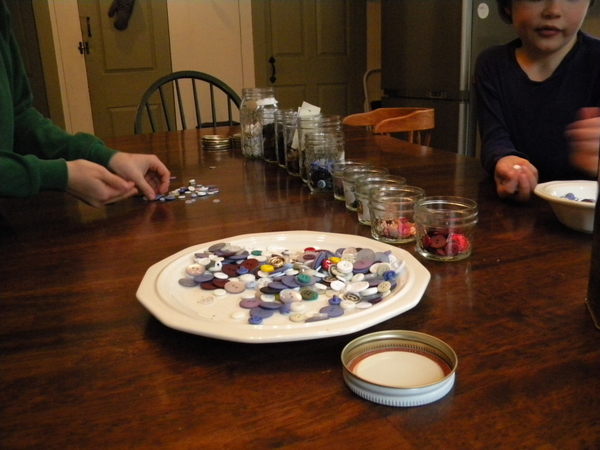 For my birthday this year she sent me a box of towels and…a box of various sewing notions that she had gathered over the summer.  Now I know that she felt that the towels were the real gift and the notions just something that she was throwing in, and the towels were nice and fluffy and all, but…. there were bits of laces and ribbons and thread, but mostly?  Buttons.
Which lead to a delightful rainy (yes, we had rain, how weird is that?!?) afternoon of sitting around with the kids sorting buttons by color…
Check out these coconut hull buttons…
Almost exactly the same as the ones I used, and spent good money on, for Iain's sweater.  A whole big bag of them, 149, but Iain's count.
Oh and did I mention the mother of pearl?  Probably 200 or so?
It seems that people are catching on to the fact that I like buttons.  A couple of people now have sent over some special little buttons collections that they have no use for.  Which means a lot of fun for me.  (For future reference, I like yarn too.  Ooo.. and fabric, patterns, ribbons…and if someone has a spare loom kicking around…I'm just saying….  Oh, but do feel free to keep the buttons coming too!)
The ones above came in a care package from my sister-in-law at Christmas time.  The sheep in particular have drawn the attention of various children.  I'm envisioning a blue sweater for Little Rosebud with the hearts.
And the ones below came from thoughtful blog reader Kim…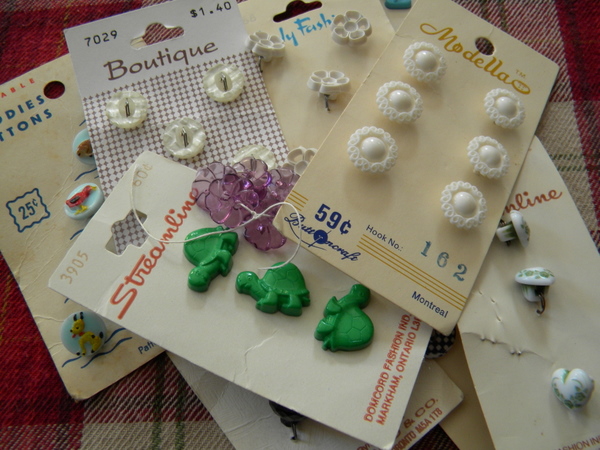 so. much. fun.
I think the ones on the right are my favorite.  They're just so sweet!  The ones on the left so need to be on something for Galen, don't you think?