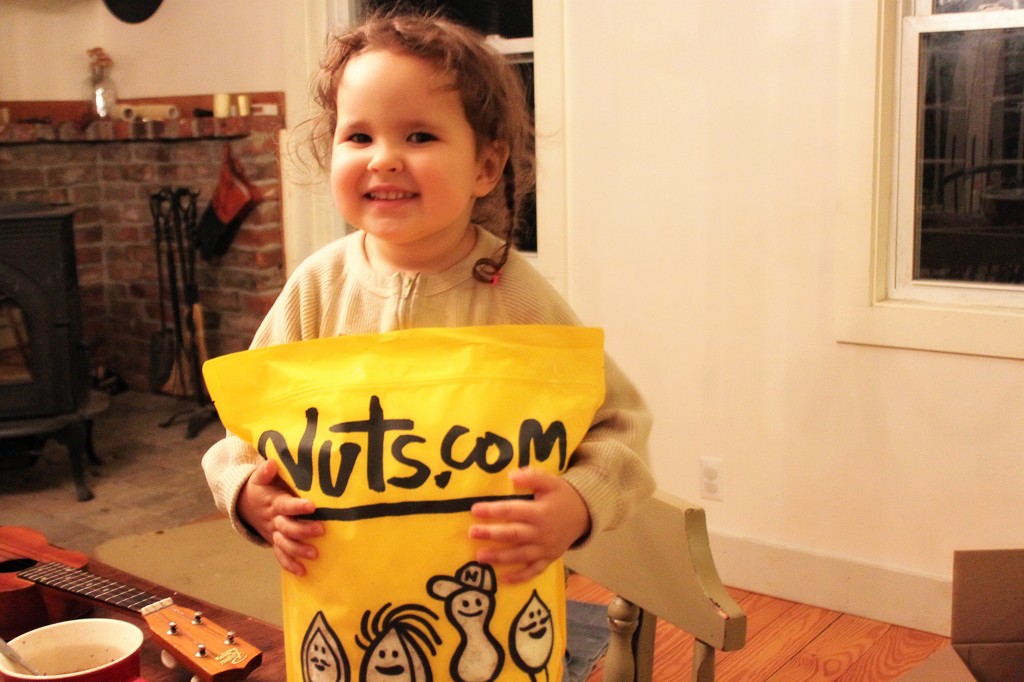 I swear, this photo was not staged!  She was just really super excited about the arrival of coconut chips.
I've been meaning to talk a bit about my new affiliates for a while now.  The two newer additions are Nuts.com and 100% Pure.
We've been loyal costumers of Nuts.com for years.  In addition to nuts, seeds, dried fruit and a wide range of flours and the nori we love for snacking, they have the best prices I've seen on the arrowroot that we use for grain-free baking.  We buy it in bulk and the price is even better than through a whole sale food co-op.  I really appreciate their selection of certified gluten-free items from dedicated facilities.  Their customer service is superb and their shipping is mindbogglingly fast.  Where we live orders show up the next day (seriously!) pretty much without fail.  I confess there have been times when I've placed an order to save on a next day emergency grocery store run.  They offer free shipping on orders over $59, which is a huge boon for bulk shopping.
I very rarely use make-up, but when I do, it's extremely important to me that it be a safe and healthy product.  When I was looking for make up for our vow renewal, I ended up using a couple of products from 100% Pure.  I especially liked their Fruit Pigmented Lip Cream Stick: Perfect Naked Pink.  So much so in fact, that when it went on sale, I later treated myself to the Perfect Naked Mauve as well.  It's worth checking in regularly for their special offers.  They offer free shipping on all orders.

And just as a little public service announcement, Knitpicks big sale starts tomorrow!  With up to 60% off of over 1,000 yarns and brand new yarns being introduced.  Very exciting!
Ordering from these affiliates through this blog means that we get a small percentage of each sale, which goes towards supporting our family, for which we are extremely grateful to you all!
Save
Save
Save
Save
Save
Save