First up some details about my sweater in progress.  I'm making a Calligraphy Cardigan (love that name).  I think it will be just right for all of those autumnal hikes I'm praying I have the chance to take.  It's not my highest knitting priority at the moment, but I'm still hoping that putting in a bit of time here and there will let me finish it by cool weather.
My "Just for Fun" project is nearly complete.  I really needed something frivolous and not the least bit serious to counterbalance some intense situations in my life.  And while it felt like just what I needed in that moment, I was also making it for a specific event, which has now passed (because rushing and pushing myself for something entirely unnecessary was decidedly not what I needed) and now I have absolutely no idea where I would ever wear it.  I'm feeling a little panicky, like autumn is bearing down on me, and perhaps this particular detour was not such a good one?  I now need to get very serious about some practical sewing, not just for myself, but also for my children.
I thought I would start by trying to make something of a couple of pieces which currently aren't of use to anyone, but still have a bit of life left in them, and seeing if I could make them useful again.
This first sweater was accidentally sent to us.  I believe it's a men's sweater.  When I asked the two man shaped people in my house if either of them was interested in it they scoffed and looked at me like I was nuts.  It's not like I picked it out!  I just wanted clearance to cut it up!
It's 90% cotton and 10% cashmere, so quality fabric worth trying to make something of.
I've had this basic cotton cardigan for maybe 6 years now?  Every outfit that I put it over suddenly turns all frumpy, and not in a good way.  Plus there is that weird, slightly off thing with the button band and also, this hole…
This was one of my favorite shirts of Steve's because it's incredibly soft to cuddle up to.  But it's life as a men's shirt was cut short by a building accident….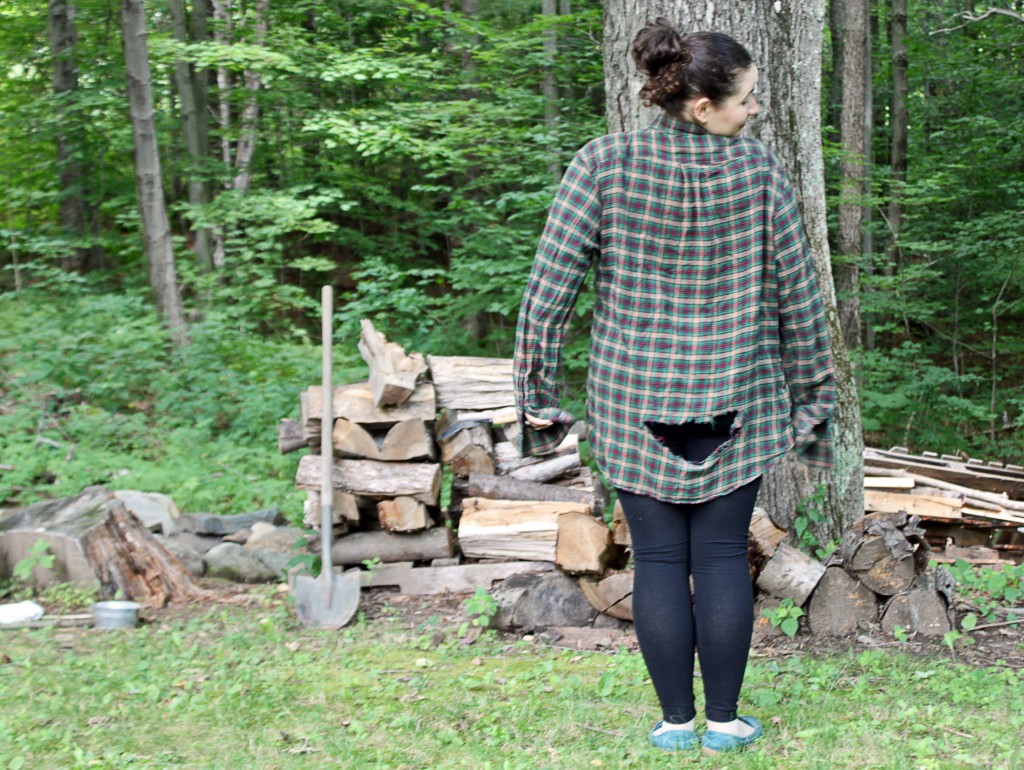 Classy, no?
I have no idea what's going to come of any of these projects, but there is nothing lost by cutting them up and giving it a try.  Something to think on this week: is there anything around your house that's just dying to be made into something new?
Save
Save
Save
Save
Save
Save
Save