Wee Miss Màiri Rose did not get a robe this Christmas, though if I had followed through with my original plans, she would have.  Believe me when I tell you that you don't even want to hear the original plan!  With the move I was forced to reevaluate and simplify and I pared the master plan down to pajama pants and robes for the boys and a nightie and bonnet for my girl.
Kwik Sew Pattern 3423 made from organic flannel, with cotton lace trim.
I do wish that I had gotten pictures of this right after I had finished.  It was so crisp and lovely just at first, but cotton lace has a tendency to curl with wash and wear.  And well, the whole thing got kind of wrinkled and I'm kind of lazy, so well, you can do the math.
All the little details are so pretty and feminine, right down to the perfect vintage buttons.  I ended up hand sewing the button holes with linen embroidery floss, on account of the problems I was having with my machine, but I think that only adds to it's charm.  In fact, I foresee myself hand sewing a lot of button holes in the future, as I rather like the effect.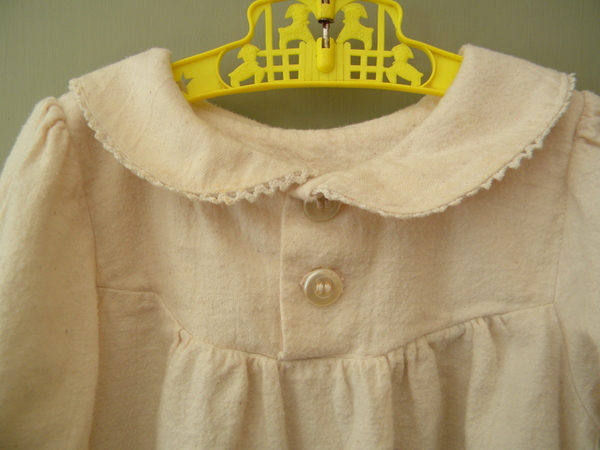 But the most charming touch of all is Little Rosebud herself…
Her bonnet was made from two layers of cotton velour; so cozy and warm!  I used the the Angry Chicken bonnet pattern, leaving off the brim and making it in between that baby and child size for a good fit.
About the gold necklace- it's her favorite of the dress ups and she puts it on any time she finds it and cries if I try to take it off!
And that about wraps up the Christmas sewing, though I think I may still have another Christmas post or two left in me yet.