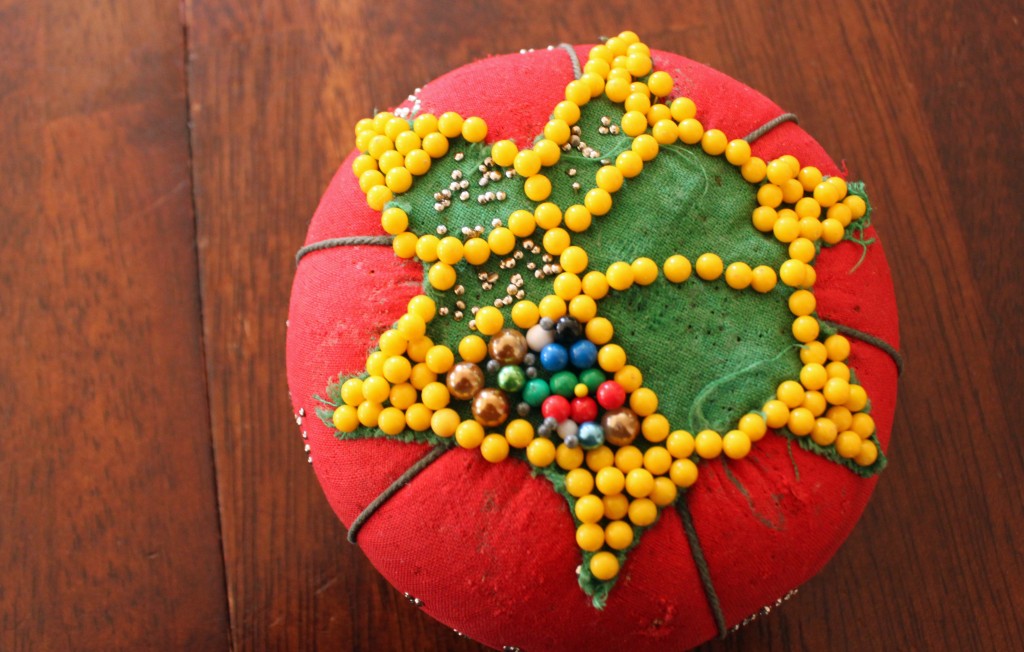 My pin cushion is a hot spot for pick up installation art.  If horses appear, I know Elijah has visited.  My sister specializes in stick people, houses and cats.  Apart from the occasional smiley face, everyone else goes in for mostly abstract works.
I had a little idea and as often happens to me, my little idea became a great big huge idea and I was wondering if you wanted to join me in pursuing it?
For one year I want to commit to working on creating a home-grown, functional wardrobe that I love, sharing the process here with all of you.  And here is the part of the plan that I think has the potential to be truly extraordinary: I want you to be a part of the process too.
This is what I'm thinking; real women, with real bodies and complicated lives, with all of the true to life sewing disasters and fashion faux pas, but also the possibility of developing a genuine, soul-satisfying sense of unique personal style that's entirely one of a kind in a way that only hand-made can be.
I hate the terms "selfish sewing" or "selfish knitting".  It's not selfish to meet a basic human need for yourself and to do it in a thoughtful way that honors your individuality, it's empowering!  I'm inspired and I want to see others get involved with that and help it grow.  I want to see if we can't find a way to build a small community to encourage each other.
I'm not talking about trying to fit ourselves into the molds that fashion trends dictate or trying to find the right outfit to turn the head of your significant other/potential significant other, but of developing a sense of personal style that is in sync with your view of yourself.  I'm proposing cultivating self knowledge and turning it into self-care.  Figuring out who we really are, right now in our lives, because it's always changing, isn't it?  And honoring that person.
I've been joking with friends that I'm in the midst of some sort of crazy, inverted mid-life crisis. Instead of running out and doing something ridiculous to prove I'm still young, I'm just quietly sitting here, holding on to any scraps of maturity I've gained and trying to gather a bit of dignity and self respect about myself.  Apparently for me that means sewing dresses.  So be it.
In the beginning I'm going to try to post once a week and see how that feels.  Sometimes I'll be posting a finished project, at other times I'll share progress, ideas and inspiration.  I'm hoping to occasionally feature other voices in this space as well.
I'm going to try to set up a link up so that others can post their thoughts, ideas and progress on their own blogs, Flickr, Instagram or Facebook.  This is open to anyone.  My teenage sons are thinking of getting involved!  You can post just once or every single week.  You can post older projects, sketches, a thought or even just a color you like, the only requirement is that it in someway be related to crafting your way to your own unique sense of style.
Lastly, I thought it might be fun and inspiring for me to throw some themes/challenges out there.  They will be completely optional, but I think it could be interesting to see how many different ways one concept can be interpreted.  But again, this is only one possible idea to work with.  If I'm saying, "Let's make coats!" but what really makes your heart sing is the idea of sewing your own hand-beaded two-piece swimsuit, then do that and come back and share it with us!  Maybe it will inspire others to do the same (spoiler alert: I will not be among them).
There are no rules on crafts utilized.  You want to weld yourself up a suit of armor?  More power to you.
Next Monday the 9th, I will be posting my first finished project.  I'm hoping to have the link up running by then.  I realize it's unlikely that a lot of people will be contributing in the beginning and it may just be me talking for a while, but I'm truly hoping at some point others will start to join the conversation.
The first big theme is "Sumer is Icumen in"- you know that song?  Alright, alright, in plain English, if you insist!  That would be "Summer is A-Comin' In".  The season itself, your location and lifestyle might all be considerations for this project.  I plan on posting mine on Monday, May 30th and I hope some of you will join me!
And one more mini-challenge: "Make it Work for You"- take something you already own and alter it to better suit your body or your style and make it a more functional and joyful part of your wardrobe.  Hem a skirt, let a waistband out, embroider a collar, patch a sleeve…the object is to take an item that you already own and make into something you love (or at least like better!).  Let's plan on trying to post those on May 16th.
Happy May my friends!
Love, Melody