When I promised extra posting this week, I did not anticipate the wind storm that took out our internet access.  Sorry about that!
Sweater first? "Reversible Revelation" in Wool of the Andes Superwash, color: "Brass Heather".  As the name implies, it is, in fact, reversible.  There is no right side.  Each has it's own distinctive look:
This seemed like an excellent idea for a kid who often can't be bothered with paying attention to what way his clothes go on.  At least for my benefit anyway, since he doesn't really care if it's inside out or not.  Hey, he'll happily walk around wearing just one shoe, while I look on cringing.
The waitress at the college town, hipster, juice bar made a fuss about his "fashionable" ensemble; mama-made pants and sweater, topped with his spiffy hand-me-down brown cord blazer.  Dapper.
Food: This year we decorated gingerbread houses, instead of his usual gingerbread men. Autoimmune Friendly Gingerbread with Creamy Maple Frosting, made fancy with dried fruit and what we call "Yam Creamies", which I'll talk more about some other time.  We're still on the intro diet and not supposed to be consuming sweets, but I made an exception for his birthday (and ended up with several people up half the night with belly aches as a consequence.  such is life.)
And now, the big, top secret project!  It pretty much all worked out as planned. In under three hours, while he was at said juice bar, followed by the music shop with my dad, this space…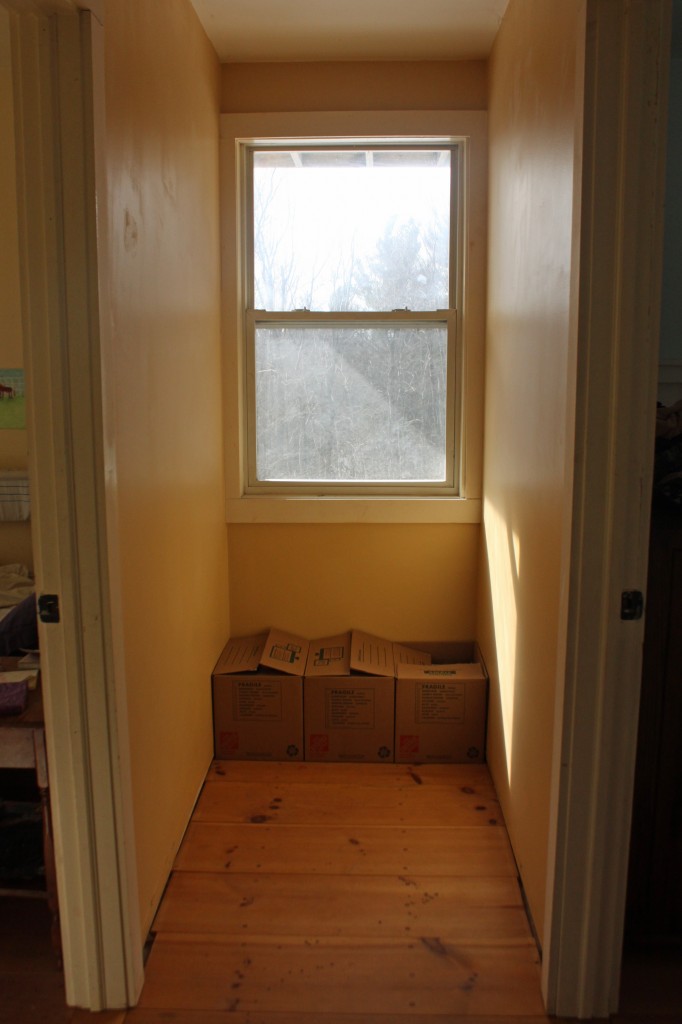 became this…
The only part that didn't quite work out was the light fixture.  I accidentally ordered a plug-in fixture when I meant to get one to wire in.  There are no outlets in that hallway.  But otherwise, somewhat miraculously, everything came together exactly as I had planned.
Both a space to work and create as well as a place to read and relax, plus extra storage besides, was asking a lot out of this petite 38″ x 66″ space.  The window seat has a hinged lid, with lots of storage space underneath, to help lighten the load in Iain's attic bedroom (hence the boxes in the "before" photo).  I tried to work with what we had as much as possible.  The valence-hung on a rod my neighbor was getting rid of- and the divider curtain were both made from fabric I had on hand.  One of the pillow covers was fashioned from an old work shirt of Steve's.  My sister painted those sweet pandas several years ago.  I've just been waiting for the right place to hang them in this house.  I love how the painting perfectly picks up the colors from all the pillows.  I'm ashamed to say it was an afterthought that just happened to work out brilliantly.
We managed to frame the window seat and build the stool with scraps of lumber from the basement.  We adjusted Ana White's X-Bench plans to fit the space and finished it with some leftover General Finishes Milk Paint in "Persian Blue".  It tucks all the way under the $20 cleaned up Craig's List desk to save space.  A couple of old items refreshed by mingling with a few new accessories and just like that, he has his very own cozy nook crafted out of an area that was previously unused space.  Pretty nifty, that!