Before leaving for our trip, I went on something of a sunhat sewing bender.  The large males of our clan have their own thing going on.  Steve is a baseball cap kind of guy.  The. End.  The older boys rock their own personal farm-hand-style looks; Elijah in his well worn cowboy hat and Iain in an old, hand-me-down straw hat.  Everyone else?  They got new hats….
Seraphina's is the same old Angry Chicken Bonnet that I've made more times than I can count.  This one was made from fabric meant to match a little half-finished dress that's been sitting on my sewing table since, oh, November or so…, trimmed with off-set, butter yellow, velvet ric-rac.
I don't think I ever shared the most recent winter bonnet I made for Mairi using this same pattern?
We found out that it was going to be bitter cold the night before one of her outdoor (obviously) nature programs and I wanted something that was going to cover her ears and wrap around her cheeks.  Of course I had to be able to make it quickly and with supplies I had on hand.  I made this using scraps from my coat.  I also managed to eek out an extra pair of mittens for Galen that night, using the same material, but I don't think I ever took pictures of them and they have long since been packed away for the season.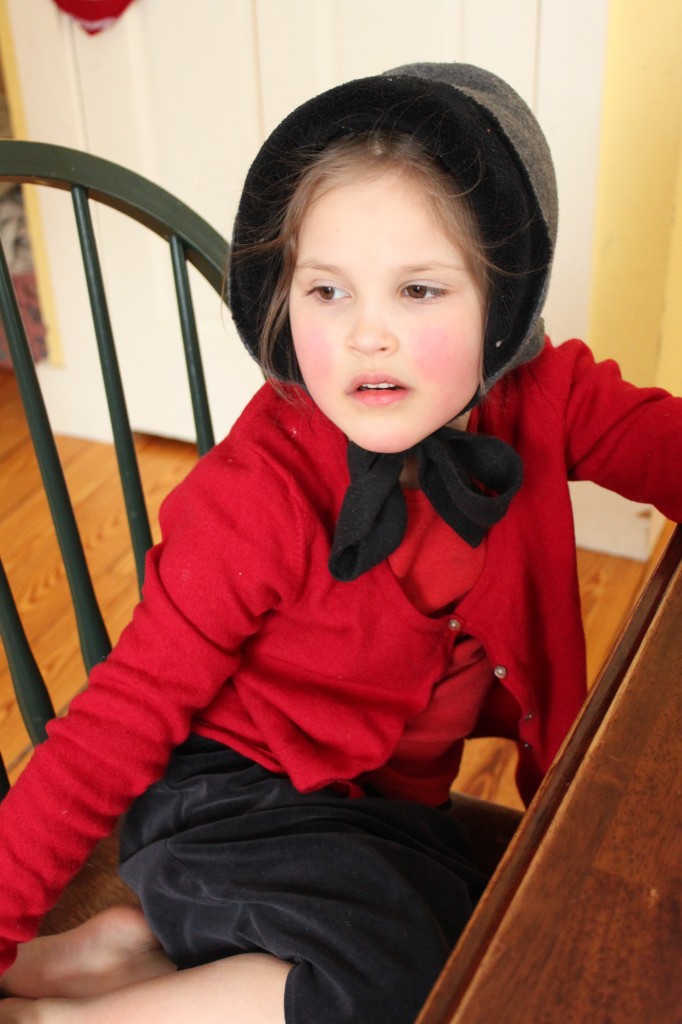 On to Rosebud's summer accessories…
She said she wanted a hat in greens, yellows, and oranges with flowers, hearts, leaves and other "spring things".  I wanted a hat that would offer a lot protection for for her very fair complexion.  I did what I could!  At one point it was going to be patchwork with different fabrics for each section of the crown, but the fabrics refused to play together nicely.  I simplified it and came up with this, which she seems to be pleased with and which clashes with her bathing suit something fierce!
This lovely reversible hat pattern came from the My Childhood Treasures Etsy store.
While the girls received ribbons, silky bows and velvet trim, Galen got lots and lots of top-stitching on a sandpiper covered hat, in his favorite color, made from the free Oliver and S Reversible Bucket Hat pattern.
Pathetic attempts at self portraits….
Why yes, this is what my hair looks like towards the end of a week camping.  Sexy beach-y waves, my backside!
Mine was made from the same pattern as Mairi's.  All of the hats were made with fabric left over from other projects, but I thought it best not to bore you with listing them all!