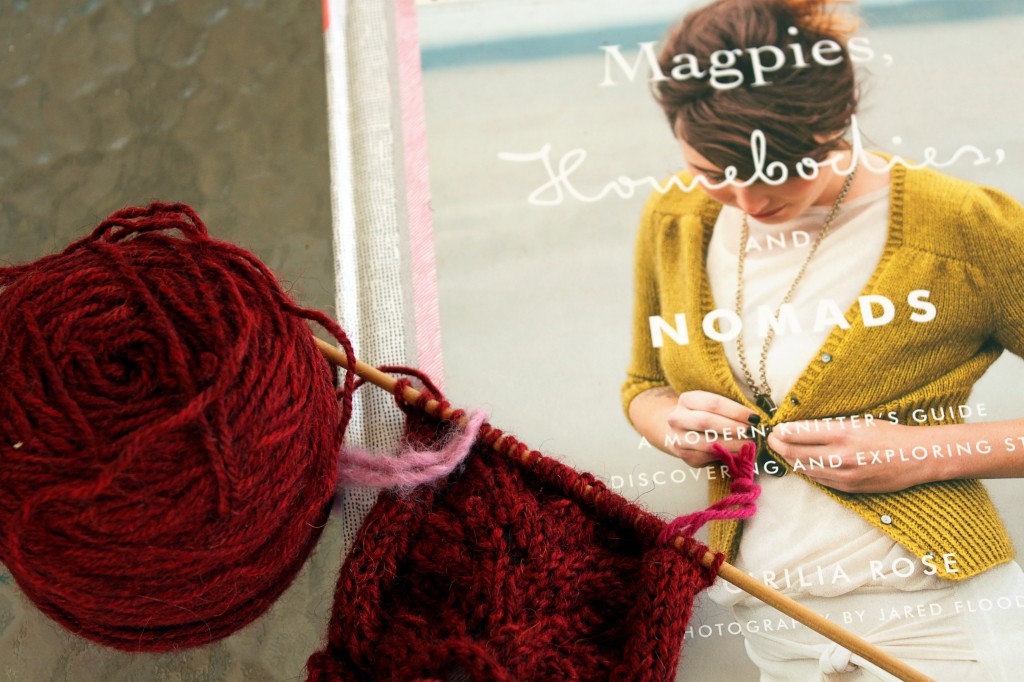 Full title- Magpies, Homebodies and Nomads: A Modern Knitter's Guide to Discovering and Exploring Style.  I just finished a gardening book, so it seemed like time for a knitting book and this one sounded just right.  I like knitting books that include advice, stories and design ideas.  That sweater on the cover is now on my must knit list.  I'm seriously coveting it.  Now if only the yarn for it would just magically appear in my work basket.  I want to make the Loro Vest as well.  Though I have trouble with vests and skirts.  I like them both, but I never know what to pair them with, so rarely wear them.  I think if I just did it in a nice gray, like the sample, I could pretty much wear it over anything.
I'm currently finishing up some knits for Elijah's upcoming birthday.  I'm very nearly done them.  When he is around I'm back at my current obsession which is to knit every single adorable baby-toddler pattern before she outgrows them.  With my specific current project being a tiny lace sunsuit.
I've been meaning to update my Ravelry pages for a while now.  There are a lot of holes there.  It seems unlikely that I'm manged to post about all of my past projects that I've missed when I can't even keep up with posting about my current ones.  But when I spotted Elijah in the scarf I designed for him almost two birthdays ago (!) now, I asked if he minded if I took a few pictures.  I should really write up this pattern.  It's a fun one.  I didn't have any interesting buttons that fit, so I took the burning tool to a couple of plain wood ones and just did some free form scoring.