My Grandmother was a mother of 7, grandmother to 24.  As such I imagine she knew quite a bit about fixing things up and the curative power of paint.
When my mother was pregnant with me, Gram found this dresser on the side of the road, waiting for the trash pick up.  She brought it home and fixed it up, adding a new coat of paint, complete with faux wood grain.  Since that time it's been a constant in my life.  It's one of the few pieces we managed to save when we lost just about everything to our mold infested old house.  Once, about a decade ago, I was tempted to paint it.  I slapped on a splotch of primer to see how if it would take and that's how it remained.  Somewhere along the way I got nostalgic, and once my grandma passed away, I just left it as it was, a symbol of an act of love.  Over the years it's been moved many times.  During one of those moves we discovered the newspaper stuck to the bottoms of the feet, with little snippets of news from the year of my birth.  Recently we noticed the date stamped on the back, confirming it's manufacture in 1954.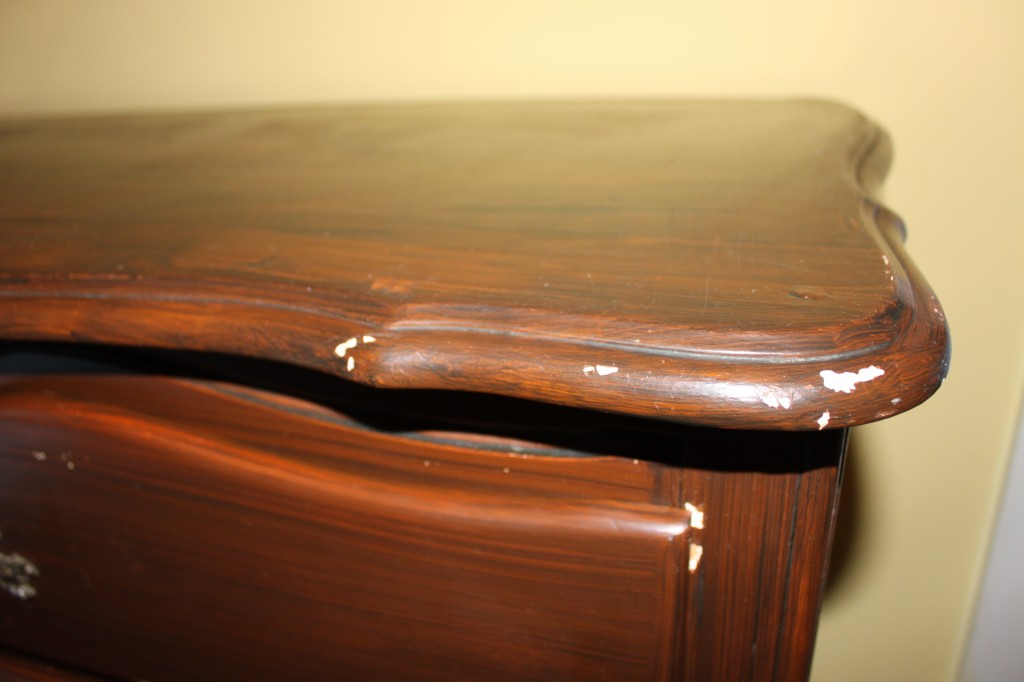 I/we are working on a long term project, trying to turn the little room off our dinning area into a studio space.  The goal is to purchase only paint for the walls and a light fixture, for everything else we are going to work with what we have.
I've been using this dresser for fabric storage for quite a while now.  I seriously considered leaving it as it was.  The main factor that swayed me is that at this point it's chipping quite a bit and considering it's age, who knows what's underneath and with another little one in the house, putting everything into her mouth, it seemed time.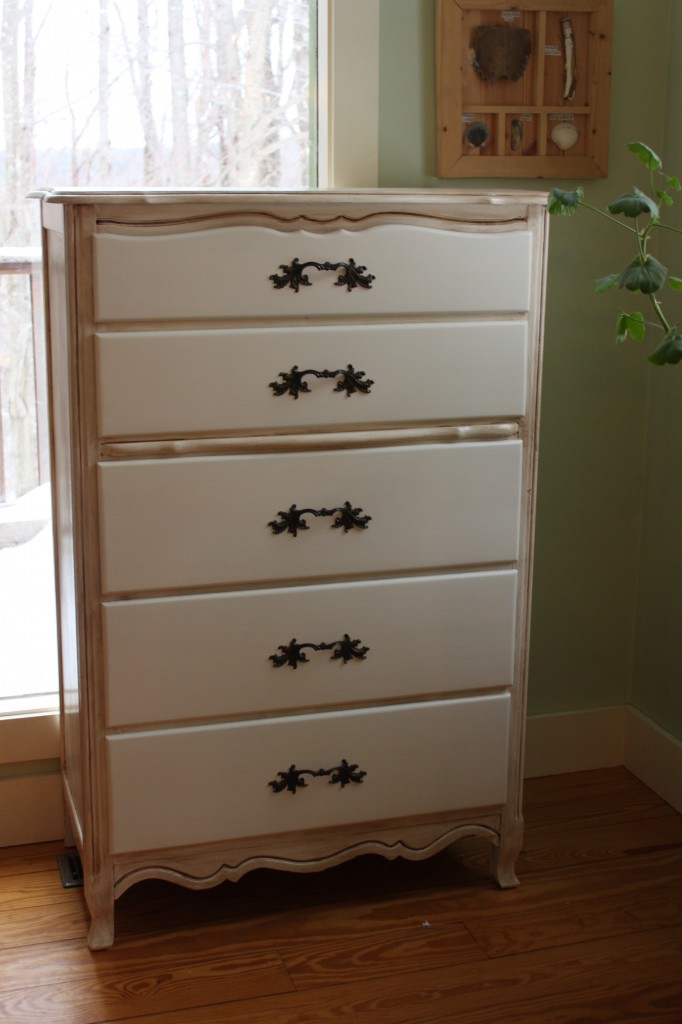 Not bad for something that was considered trash 34 years ago!
We used all products that we had on hand.  Once the creamy white (Olde Century Colors in 'Candlelight') was on, it looked so fresh and clean that I doubted my plans, hemming and hawing….fuss, fuss, fuss.  I can make myself sick of the simplest of decisions.  But I really wanted the beautiful curvy bits to stand out.  I eventually worked up the nerve to experiment with adding some General Finishes Glaze Effects in Van Dyke Brown on the body.  I compromised by leaving the drawer fronts plain, which gives them a little more pop.  It may be a little strange, but I rather like it.  What do you think?