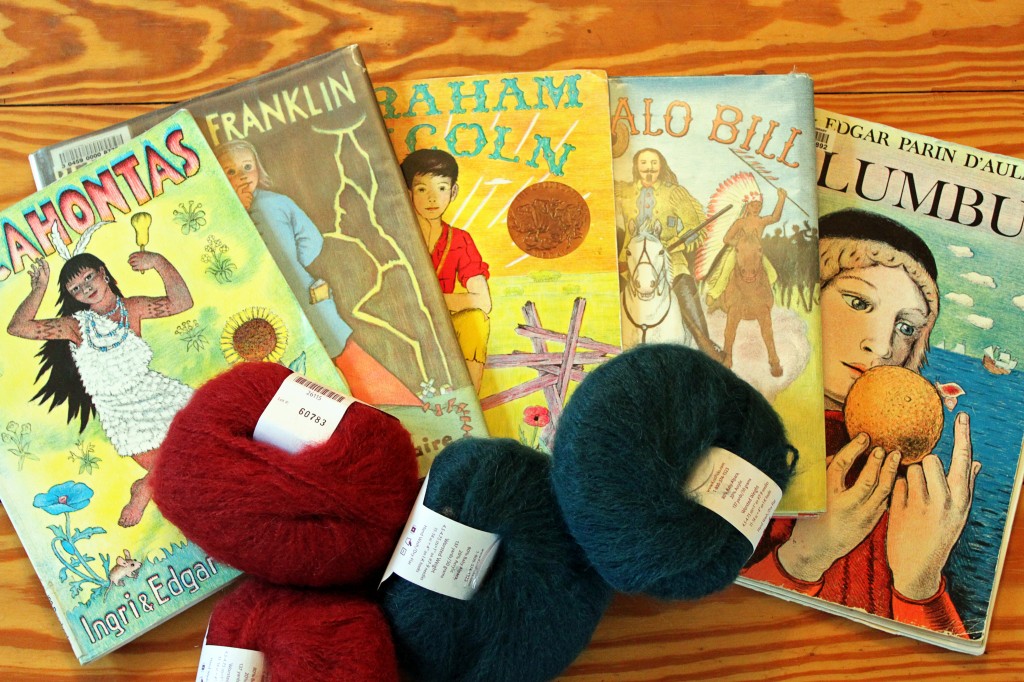 Through the famously appley wood-smoked season that opens all heart's doors into kitchen industry and soup on the stove, the signs wink at you from everywhere: sticks of kindling in the fire, long white brushstrokes of snow on the branches, this is the whole world calling you to take up your paired swords against the brace of the oncoming freeze. ~Barbara Kingsolver, Knitting Yarns
I'm currently reading various Ingri & Edgar Parin d'Aulaire books to see if and how they might fit into our studies.
The pink leggings, nee tights, are finished.  They didn't fit right and I had to pull out sections of the legs.  Once the extra length was added in, there wasn't enough yarn left for feet.  Honestly all I want to do is knit sweet little baby things.  She's already well into toddler sizes and I feel like my window of baby knitting is rapidly closing.
My yarn came, a jewel box of colors waiting to be explored.  There is the muted variegated yarn in shades of deep autumn, a bright blue, rich red, pure creamy white, pale violet, deep plum and more.  Some of them are smooth and silky, some fuzzy, some a bit scratchy, for one reason or another, I kind of love them all.
I had thought I was in pretty good shape with my gift knitting.  I finished a hat each for Mairi and Galen for Christmas.  Mairi's birthday sweater is completely done and I'm in the home stretch with Iain's.  But when Steve and I sat to talk about what we were getting everyone for Christmas, the answer always seemed to be that I would make something.  You know how some people have delusions of grandeur?  Well I have delusions of productivity.  I don't believe myself to be smarter, more influential or of more significance then others.  I do, however, persistently and with full knowledge of what I'm doing, grossly over-estimate my ability to accomplish things.  You would think the "knowledge of" would cancel out the delusions, but no.  I can give myself a stern talking to about how overly-extravagant and unrealistic my plans are and really just a moment later be thinking, "ooo, perhaps I'll make this too…"