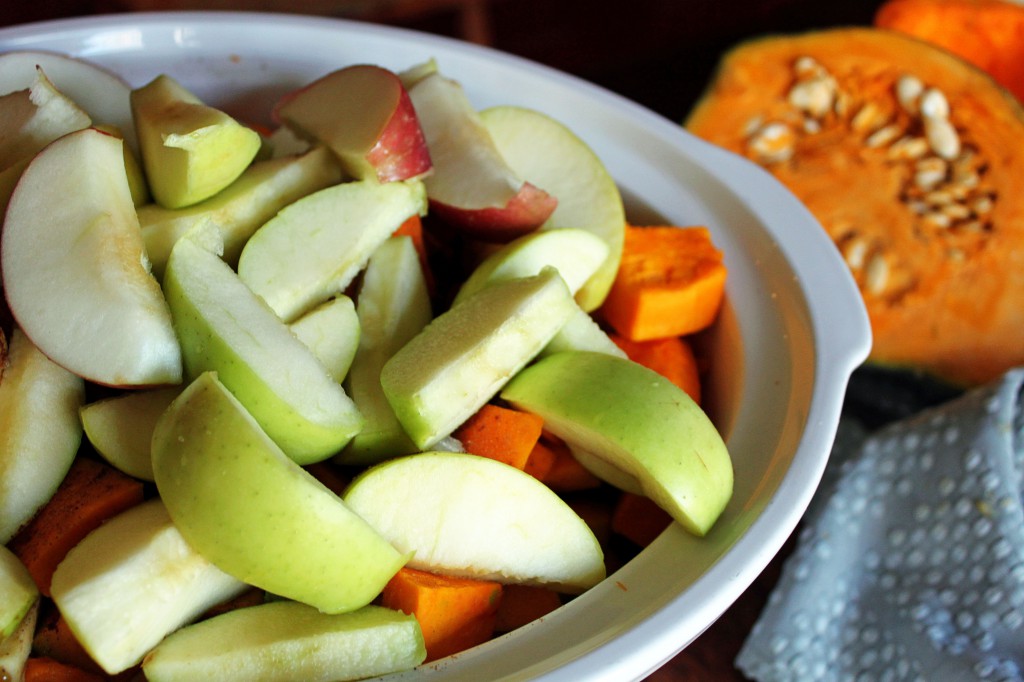 I used to cook this in a covered crock in the oven, but more often then not now, I use the crockpot.  You can of course use either method!
Peel and cube whatever kind of squash you have around.  Slice the apples of your choice.  You can peel them as well, but I never bother.  You want about equal amounts squash and apple.  Layer them in your crockpot or baking dish.  As you can see from the picture above, I go right up to the top and then some.
Next add a couple of pats of butter, ghee or coconut oil, a spoonful of blackstrap molasses (about a tablespoon full for a whole crockpot), and a good glug or two of maple syrup (maybe a quarter cup?).  Top with a teaspoon or so of nutmeg and a pinch or two of allspice or clove.  Add half a cup or so of water, cover and cook.
I tend to cook it on low, overnight.  It wonderful at this time of year to wake up to the house smelling delicious and have something warm and spicy to serve along with breakfast.  Other days I might get it in early in the day, to go with dinner that night, especially if it's going to be a busy afternoon.
The kids tend to eat it as it is, but I like to mash everything up on my plate with a fork so that all of the flavors get mixed together.  I think there is too much goodness that gets lost in the juices other wise.  But this may just be my own personal quirk.