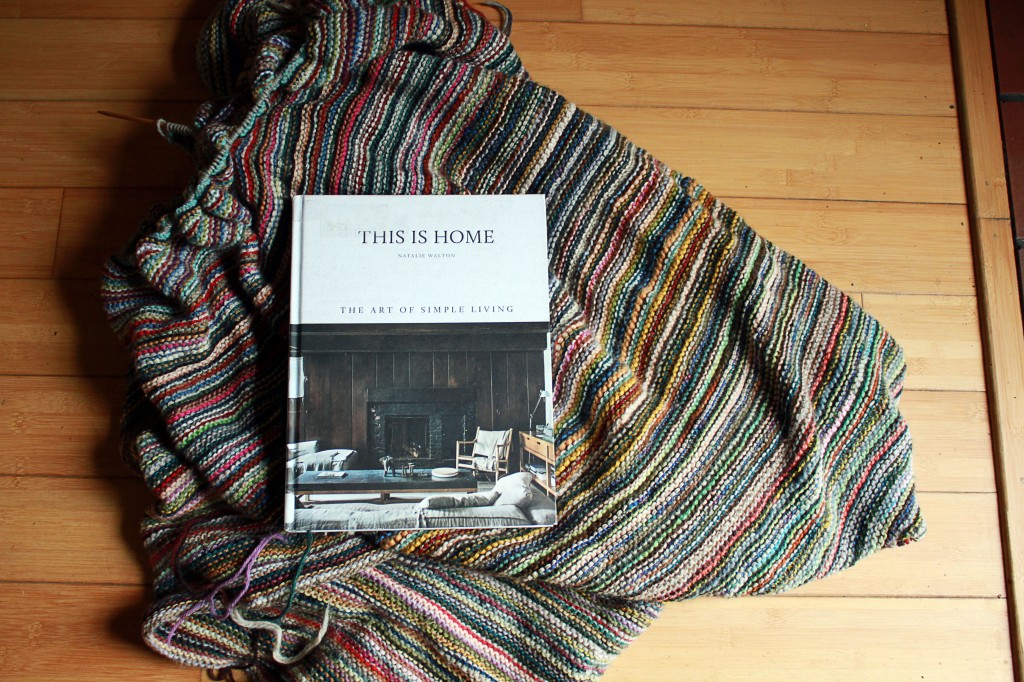 I've been puttering my way through reading lately.  Picking something up, putting it down.  Just looking at the pictures.  Reading a paragraph or a page or two and then skipping ahead a hundred pages.  Some books lend themselves better to this than others.  Cookbooks for example.  Some knitting and sewing books.  Or this one: Carl and Karin Larsson: Creators of the Swedish Style.  So many pretty pictures to look at!  And short captions to read to kind of get the gist of it all.  I did read the whole of the chapter devoted exclusively to Karin and found it very interesting.  Also, there is a child's dress (designed by Karin, of course!) featured in several of Carl's paintings, that I totally wish to recreate for Seraphina.
I read around two-thirds of Soulful Simplicity by Courtney Carver before it had to be returned to the library.  I'd like to finish it some day.  This is Home: the Art of Simple Living is my current putter, but I'm not finding it as exciting as I had hoped.  The photo on the cover is probably my favorite.
I'm all sorts of flitty and flighty these days.  There are reasons of course.  Since my concussion, back in March, I've struggled with reading leading to headaches.  It's getting better.  Much better than it was, surely, but I'm not quite back to normal and I haven't yet found my usual groove.  Also, the book supply has been spotty since Steve has been unemployed.  He used to drive by the library every day on his long ride home from work.  I would order books on-line and they would just magically show up with him when he arrived home.  It was a good system.  Perhaps it was a little too easy, we generally had 30-40 books out at any given time and sometimes upwards of 65!  Now trips to the library are rare.  We have a grand total of three books out at the moment.  Often by the time we finally pick up a book, it's nearly time for it to be returned.
My knitting has been much the same.  Usually I knit my way through much of the day, during car rides, while talking on the phone, as I teach… but my brain is still struggling to coordinate multiple things at once.  And more often then not I still find myself dropping my knitting back in my lap after only a stitch or two so that I can concentrate on whatever else is going on.  I've made some serious strides with this in the last couple of weeks and I'm hoping to find that I'm back to my old self soon.
In the month of May I finally worked in all the ends on the twin sized blanket that I crocheted for Seraphine, I knitted a tie for Iain to wear for his senior photos, I made a bonnet for a friends baby, and I photographed not a one of them.  I discovered that mice had made a stash of quinoa in the scrap blanket that I've been knitting on sporadically for the last several years and I decided that it's time to get it finished up, out of that work basket and in use.  I've been putting in some work on that and inviting others to do the same.  It will be a generous full-queen size when all is said and done and I probably have nine or ten inches worth of length to go.  And just two days ago I decided that I would really like the option of wearing the blue sweater that I had been working on, before I started bopping all over the place, to Iain's graduation next week.  So for the time being I'm concentrating on that and sort of nervously knitting away.