Let me start by saying that this post was completely unplanned.  If I had planned on writing it, I would have done it a couple of weeks ago to help people prepare.  Instead what happened was that I was deep in my own preparations, when I thought back to previous years and the fact that I occasionally get this question from readers, and I thought huh, maybe I should just write a post.  So if this is coming too late to be of much help to you this year, maybe it will be of help next year.*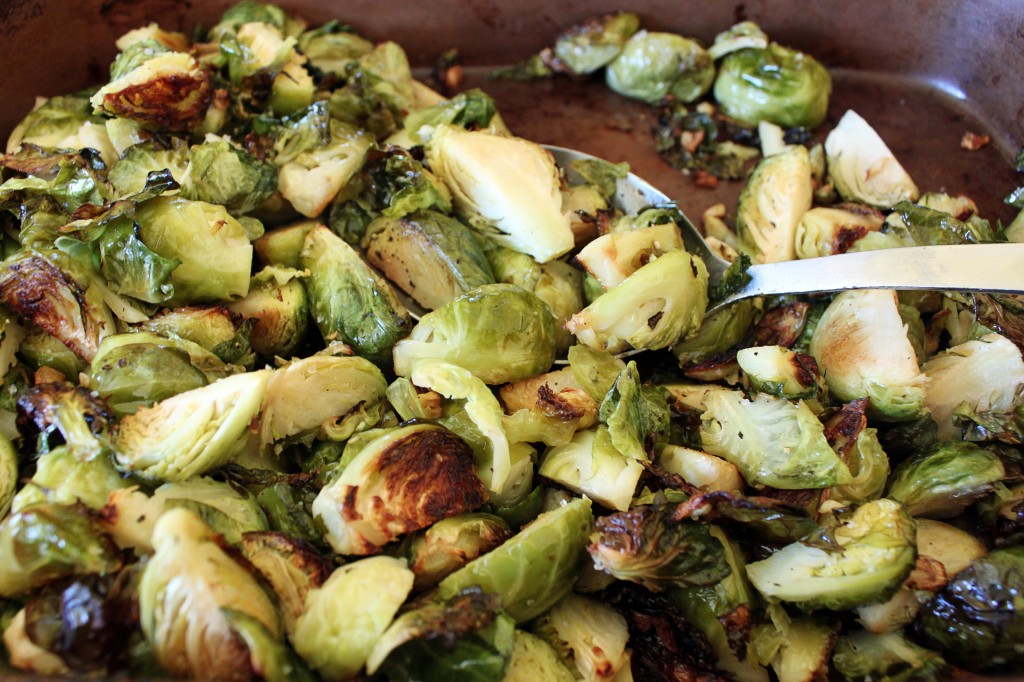 All photos from years gone by.
Cooking such a large meal from scratch is a major undertaking, but it needn't be stressful.  The key to success, as with so many other things in life, is careful planning.
Plan on doing your shopping the week before Thanksgiving.
You'll save yourself the stress of crowded stores and have everything you need on hand well in advance making it easier to do a little bit at a time.
Make a detailed menu
Before you shop you need to know what to buy.  Before you can know what to buy, you need to know what you are making!  Write out a full menu.  Don't forget sauces and drinks.
Determine amounts
There are calculators all over the internet to help you determine how big a turkey you need and so forth.
Plan for leftovers 
You don't want to spend all of this time making a single meal that's going to be gone in one sitting.  After all that time in the kitchen, I know that I'm all for taking a day or two off.  In our family, the day after Thanksgiving, after the guests have left, is traditionally devoted to laying low; playing board games, sledding with leftover pie for breakfast!
Once you have your menu and amounts determined, it's time to make your list.  Look at the recipe for each thing on your menu, one at a time, and make sure you have every ingredient you will need.
Consider bake ware and other supplies
Do you have a large enough pan to roast the size turkey you are trying to cook?  Do you own two pie pans, but plan on making four pies?  Do certain recipes require twine or cheesecloth?  Make plans to buy or borrow whatever you need.
Clean out your refrigerator
I can't stress this one enough.  Probably best done before your big shopping trip.  Eat up all of the leftovers. If you have multiples of the same item, try to condense containers.  Organize everything to make the most of your space.  Fair warning: you will be re-organizing many times over the next several days to make everything fit.  Save some time and energy by starting off with a fair bit of open space.
Make a schedule
There are a lot of considerations here.  Some things can be made in advance, some can't.  Only so much can fit in a single oven or refrigerator at once and different dishes need to cook at different temperatures.  It's something of a balancing act to be sure.  Come up with a basic plan that seems to work.  Write it down.  Don't even think about trying to keep it all in your head.  More on this below.
Make your base ingredients in advance.
What I mean by "base ingredient" is any ingredient that you need to make something else.  So if you make your own ghee, cheese, pumpkin puree, bread, broth, etc, make a nice big batch in advance so that when you go to make say, stuffing, it's not actually making 4 or 5 things, it's just making stuffing.
Consider your assets 
Does your oven have a warming tray?  Do you have a double oven? (if so, lucky you!)  Does your mother-in-law live right next store, making her kitchen possibly available to you as well?  Are there certain dishes you can prepare in the crockpot, freeing up oven space?
Start cooking well in advance
No one wants to spend all day Thanksgiving in the kitchen while everyone else visits and enjoys themselves.  Plan on having as much ready as possible so that you can do the bare minimum on the actual day of.
Think of easy ways to pad out the meal
If you have a lot of guests coming and you put up a lot of apple sauce this year, put a few jars out on the table.  There is no extra work for you and everyone has another dish to sample.
Enlist help
Can you do it all yourself?  Yeah, actually, you can.  There have been years that I've done it out of necessity.  But it's always nicer to have an extra set of hands around and someone to chat with while you work.
Wear an apron
Just trust me on this one.
To put it all together in an example, this is the menu and schedule for our family this year.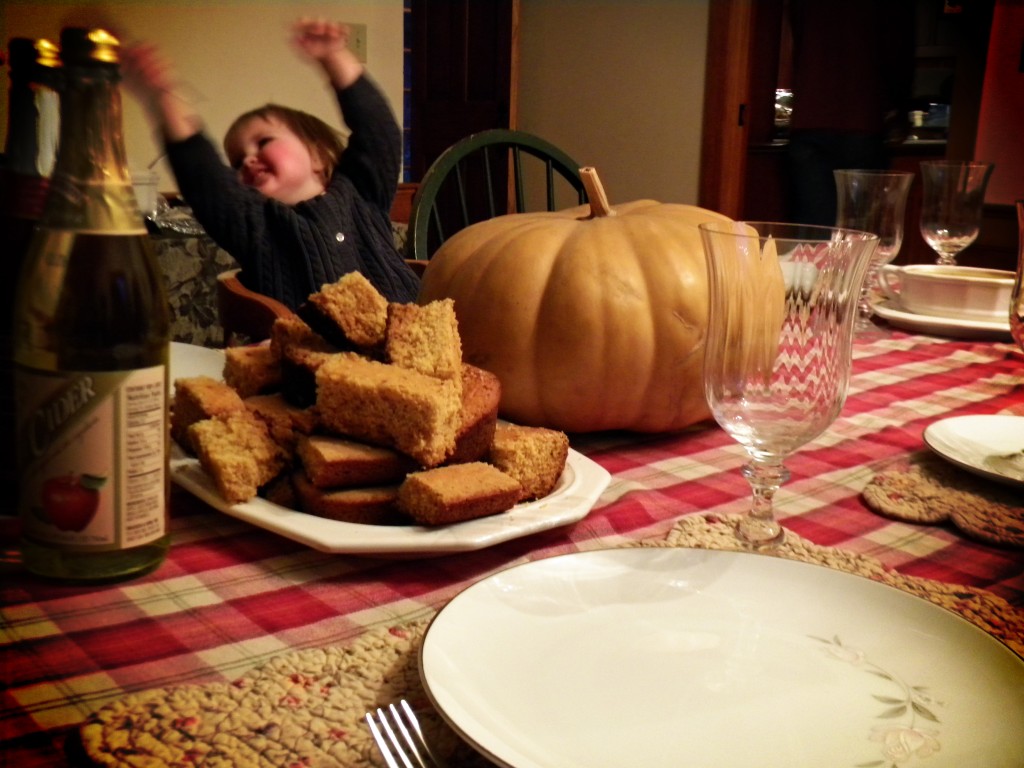 Menu
Bacon Wrapped Turkey
Stuffing
Gravy
Steak
Twice Baked Potatoes
Cranberry Sauce
Roasted Brussels Sprouts
Squash
Sparkling Cider
Sparkling Grape Juice
Apple Pie
Pumpkin Pie
And our schedule:
Friday
clean out the refrigerator
shopping
Monday
cook pumpkin (the last one from our garden)
make pumpkin puree- there are some nice instructions here.
make cranberry sauce
Tuesday
start chicken stock- to have on hand for gravy and stuffing later in the week
thaw bread
harvest (out of the snow!) and prepare brussel sprouts- I don't cook them at this point, just chop and season them and store them in a baking pan in the fridge, all ready to slide into the oven Thursday morning.
make ghee
Wednesday
thaw steak- for the non-turkey lovers- I usually do a roast in the crockpot, but steak was requested this year making day of oven timing extra tricky, we'll see how it goes!
brine turkey- I use this brine- I have a large stockpot that fits the size turkey we usually get.  I tie and tape the lid on tightly and store it on the porch overnight, as it's always cold enough here at this time of year.
make stuffing- again just preparing, not cooking
first bake the twice bakeds- this is Steve's specialty, he's even mastered a dairy free version for us.  On this day the potatoes get baked, the filling gets made and they are stuffed, all ready to be heated through on Thanksgiving.
And Iain, who acted as secretary when we sat down to make a schedule as a family wrote:
"pie, pie, pie, pie, pie and more pie"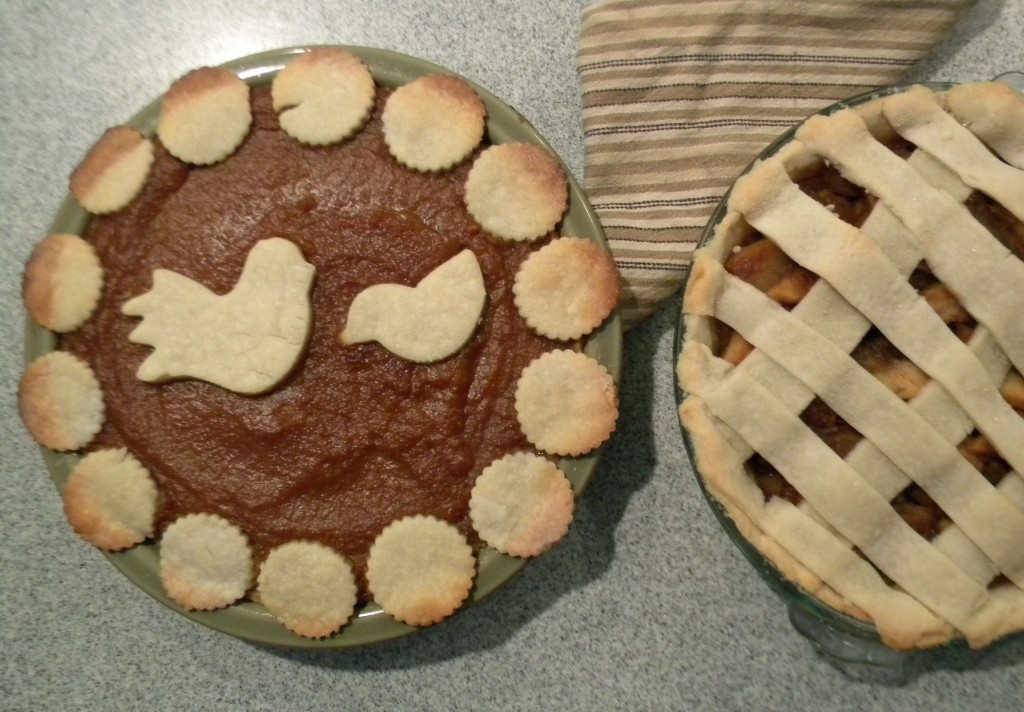 The kids and I usually make and decorate all of our pies on Wednesday night.
Thursday
Set out cider to chill first thing- our cider also tends to get chilled on the porch, unless there happens to be room in the fridge.
Prepare the turkey for roasting.  I use this recipe.
Cook turkey and steak, heat up everything else.
Put in the squash to cook.  If there is room in the refrigerator I'll cut it and de-seed it the night before.  If not it's not a big deal to do it the day of.
Make gravy right before dinner is served.
And that's it.  As you can see there is no one day that contains an over-whelming amount of work, instead a little bit gets done and put away each day.
A very happy Thanksgiving to one and all!
*We had a surprise snowstorm, causing Steve to work from home and me to not have computer access, so now it's really, really late!