I'm not the only one in need of warm legs.  Baby Roo seems to have suddenly outgrown most of her woolly bottoms.  The other day, when I was searching about for something entirely different, I came across the sleeves and neck of this women's cardigan (the body having been already sacrificed to a pair of slippers that I don't believe I ever managed to post about).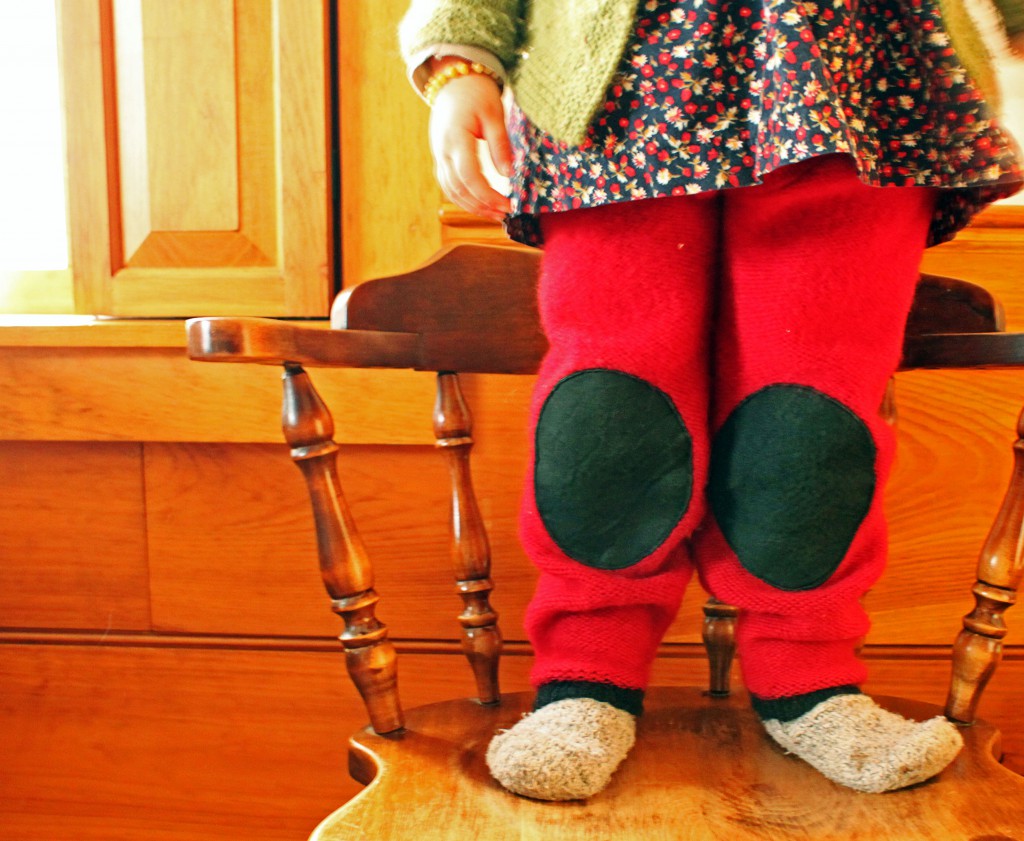 I found myself wholly and entirely distracted by this discovery and my plans changed accordingly.  Actually the plan was to whip these up, quick as can be, then move on to my original project.  But after cutting them I discovered a number of small holes in need of darning, so it wasn't a quick project after-all.  Quick enough though.  And now the girl has a super-thick pair of warm woolies, with elbow patches becoming knee pads and lots of room to grow.  To make them I simply laid a pair of her pants, folded in half, over the sleeve to see how far in to cut.  Easy.
I think most of today will be spent in the kitchen.  I'm making a turkey for the first time ever.  A couple people in the house aren't turkey fans, but it seems there are enough now that are to warrant it.  I had several requests and the turkey roast of last year wasn't enough to satisfy them.  I'm trying this recipe for a brined turkey, so work has to begin on it today.  It's supposed to be very juicy.  I despise turkey that's too dry.  There will be a couple of pies to bake today as well, and cranberry sauce.  I'll also get up a marinade for the pot roast (for those who aren't keen on turkey).  I might prepare the Brussels sprouts, but not cook them just yet.  And I'll probably get the stuffing underway as well.  Yes, it will be a full day, with lots of time in the kitchen.  And lots of time to reflect on our many blessings.  Is it strange that I find cooking a large meal like this to be a somewhat meditative practice?  I tend to get lost in it and don't find it a nuisance at all.
I don't think I'll be here tomorrow, so Happy Thanksgiving to all of you in the US and I hope that everyone, everywhere, has some time this week to think of the things they are thankful for.