noticing :: how very delightful it is to have a stack of brand new supplies for creating something beautiful.
feeling ::  excited, inspired and a bit over-whelmed as I start making plans for homeschooling next year.
smiling knowingly :: at this bit of wisdom from Donna Simmons (found in "A Rough Guide to Sixth Grade"), "And the more children you have, the more you have to be, on one hand, rigorously well-organized and, on the other, relaxed.  It's a question of balance – when to let go and when to make sure it happens, whatever it is!"
wondering :: how it is that a 4th grader and a 6th grader sounds so very much older then a 3rd grader and a 5th grader?  I have no explanation.
thinking :: that people just really shouldn't talk to me in the morning during the hour after I take my pill (which makes me feel unwell) before I can eat (which makes me feel better).  If only they realized that we would all be a lot happier that way!
finally :: starting to learn to use my camera the way that it's supposed to be used…but just starting.
enjoying :: the couple days a week that the big kids randomly send the two little ones out with tiny market baskets to gather herbs from the three half-barrel gardens I planted, for kneading into the herbed almond flour bread that's fast becoming their specialty.
thinking :: I may have found a new craft to become obsessed about.
The darling stitch holders above are a gift from a dear friend.  And she sent along the little bits of tatting below, just to entice me.  And well, it worked of course!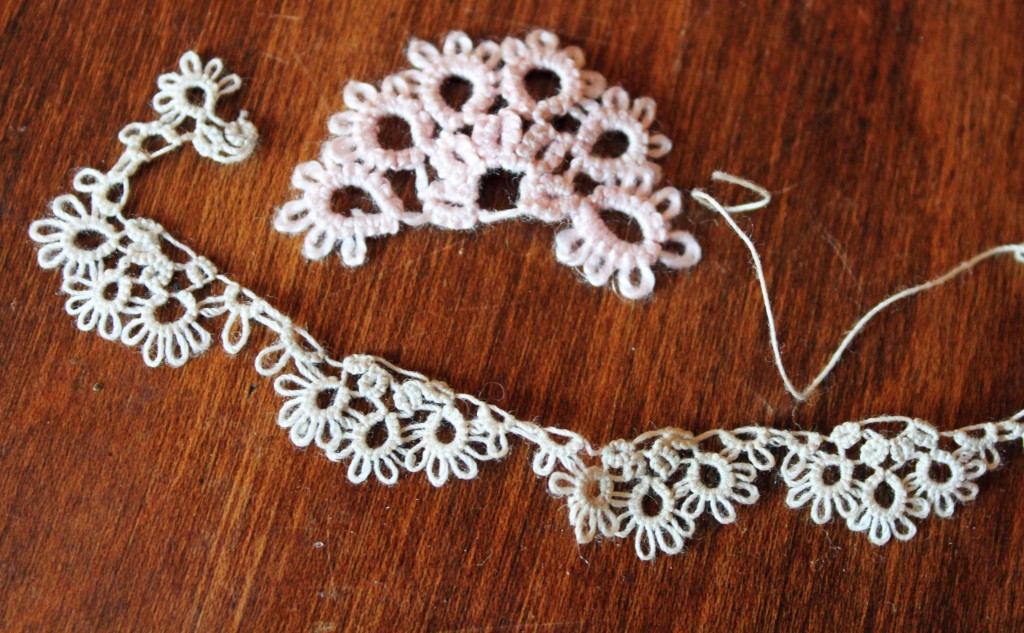 I really should have pressed them before the photo so that you can see how truly sweet they are in their miniature perfection (instead of in their rumpled, just pulled from the envelope state).  I'm thinking these can't go to waste.  Maybe some dainty trim on a pocket?  Part of a necklace?
glad, so very glad :: to be able to knit again
appreciating :: the old vanilla extract bottle full of flowers, that Iain placed at the window beside me when I was too ill to be up and around.
pleased :: to see them still blooming and also to know that I no longer bound by their side night and day.
loving :: berry season being underway!
missing :: the freedom to go outside whenever and however I want (photosensitivity concerns).
thinking :: that if nothing else, our shade gardens will be well weeded.
finding :: twilight rapidly becoming my favorite time of day.
feeling :: tired still.  Still moving slow.  Still needing to take it easy, but taking more of an active part in life as each day passes.  And that is a very good thing.